Musicians tend to attract quirky nicknames, and more than a few of them stick for life. Louis Armstrong was Satchmo, Coleman Hawkins was Bean, Charlie Parker was Bird, and Lester Young was known as Prez or Tickle Toe. Sometimes they take over an artist's identity. When Furry Lewis was asked in the 1970s how he came to be known as "Furry", he responded that he couldn't remember anymore. In this mix, I'll go through five of my favorite musicians with cool sobriquets. Of course, I'm leaving a lot of people off of this list, but here are a few of the really outstanding ones.
See all Forgotten Gems & Dusty Classics Posts
Huddie "Lead Belly" Ledbetter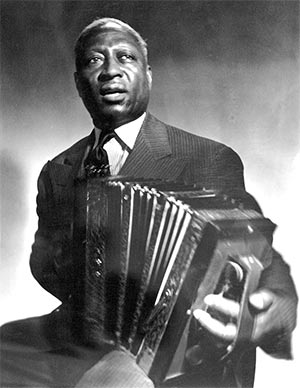 Huddie "Lead Belly" Ledbetter was a crucial figure bridging blues music and folk music. Bob Dylan joked that he's probably the only convicted murderer to record a popular children's album. Born in 1888, Lead Belly was in and out of prison for much of his life for a murder and an attempted murder, yet his musical talents earned him repeated pardons. He was a human jukebox, able to play in numerous different styles based on what his audiences wanted and was proficient on six-string guitar, twelve-string guitar, and the accordion. When John Lomax "discovered" him, he secured release his release from prison and employed him as a driver while Lead Belly established himself in the New York musical scene. He became famous rather quickly, and he toured Europe before his death in 1948. His records have been reprinted numerous times since then, and he has been covered by rock acts from Creedence Clearwater Revival and Bob Dylan to Nirvana. Lead Belly's nickname has numerous possible explanations, none of them definitive. One theory held that he was shot with a shotgun in the stomach and survived -- a possibility given his violent life. Another theory is that he earned the nickname drinking the homemade liquor inmates offered him in prison. Among his most famous songs, "Midnight Special" stands out and has been covered numerous times. "Goodnight Irene" is another song he helped to popularize. Finally, "Boll Weevil" is another great Lead Belly song about the Boll Weevil epidemic that ravaged the cotton-growing regions of the South.
1
Lead Belly - "Midnight Special"
[audio:/wp-content/uploads/2014/12/Lead-Belly_Midnight-Special.mp3|titles=Midnight Special]
Lead Belly - "Goodnight Irene"
[audio:/wp-content/uploads/2014/12/Lead-Belly_Goodnight-Irene.mp3|titles=Goodnight Irene]
Lead Belly - "Boll Weevil"
[audio:/wp-content/uploads/2014/12/Lead-Belly_Boll-Weevil-Song.mp3|titles=Boll Weevil]