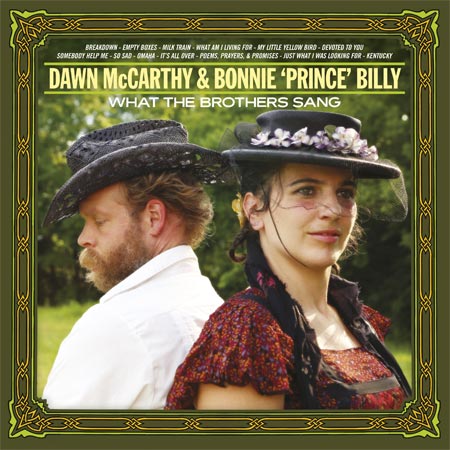 Dawn McCarthy & Bonnie 'Prince' Billy What The Brothers Sang Drag City
Can we appreciate older music, without it being retrostylized, sculpted and reconfigured for modern ears?
Will Oldham
, the right honorable
Bonnie 'Prince' Billy
, and
Dawn McCarthy
(of
Faun Fables
fame) seem to think so, dishing up thirteen slices of pure unadulterated Americana on
What The Brothers Sang
. In 2013, we are seeing an increasing trend of reissue labels, tribute bands, and artist-curated mixtapes (read
Simon Reynold's Retromania
for an exhaustively thorough look at the issue). It's just an exaggeration of what has always been going on in pop music: artists referencing bands referencing musicians. Any aspiring musicologist will follow the riverbed to the source of inspiration.
The Everly Brothers
themselves explored a similar theme, with their 1968 album
Roots
. On this most recent collaboration between BPB and Dawn McCarthy, the pair act as tour guides through The Everly's catalog, which in turn acts as a microcosm of American music of the '50s and '60s. The Everly Brothers themselves didn't write many of their hit singles, so Bonnie 'Prince' Billy and Dawn McCarthy end up paying tribute to Ron Eliot, Kris Kristofferson, Tony Romeo, and the duo of Boudleaux & Felice Bryan, who wrote many of The Everly Brother's first hit singles. They focus more on deep cuts than the obvious hits. There's no "Wake Up Little Susie", no "Bye Bye Love", no "All I Have To Do Is Dream"; some of these songs have only seen the light of day on ultra-rare completist boxsets. It seems like Oldham and McCarthy are enthusiasts and patrons of the Everly's art, and just want to spread the gospel.
Dawn McCarthy & Bonnie 'Prince' Billy – "Milk Train" (The Everly Brothers Cover)
The Everly Brothers – "Milk Train" (Original)