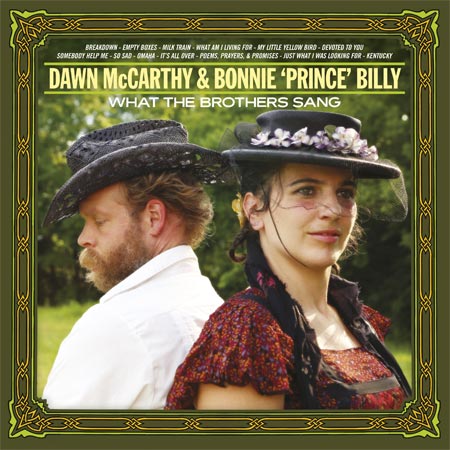 Dawn McCarthy & Bonnie 'Prince' Billy
What The Brothers Sang
Drag City
Can we appreciate older music, without it being retrostylized, sculpted and reconfigured for modern ears? Will Oldham, the right honorable Bonnie 'Prince' Billy, and Dawn McCarthy (of Faun Fables fame) seem to think so, dishing up thirteen slices of pure unadulterated Americana on What The Brothers Sang.
In 2013, we are seeing an increasing trend of reissue labels, tribute bands, and artist-curated mixtapes (read Simon Reynold's Retromania for an exhaustively thorough look at the issue). It's just an exaggeration of what has always been going on in pop music: artists referencing bands referencing musicians. Any aspiring musicologist will follow the riverbed to the source of inspiration. The Everly Brothers themselves explored a similar theme, with their 1968 album Roots.
On this most recent collaboration between BPB and Dawn McCarthy, the pair act as tour guides through The Everly's catalog, which in turn acts as a microcosm of American music of the '50s and '60s. The Everly Brothers themselves didn't write many of their hit singles, so Bonnie 'Prince' Billy and Dawn McCarthy end up paying tribute to Ron Eliot, Kris Kristofferson, Tony Romeo, and the duo of Boudleaux & Felice Bryan, who wrote many of The Everly Brother's first hit singles. They focus more on deep cuts than the obvious hits. There's no "Wake Up Little Susie", no "Bye Bye Love", no "All I Have To Do Is Dream"; some of these songs have only seen the light of day on ultra-rare completist boxsets. It seems like Oldham and McCarthy are enthusiasts and patrons of the Everly's art, and just want to spread the gospel.
Dawn McCarthy & Bonnie 'Prince' Billy – "Milk Train" (The Everly Brothers Cover)

The Everly Brothers – "Milk Train" (Original)

What usually happens is that a band or musician will pick an influence, and reinterpret the original through an acceptably modern lens, like Mazzy Star or The Jesus And Mary Chain's drug-addled take on '50s rockabilly. The danger in this is a watering down of diversity as more people reference the trappings of a genre, rather than getting to its beating heart. It's erasing that Old, Weird America. The question remains, does this album of covers improve upon the originals?
Yes and no.
ALBUM REVIEW CONTINUES BELOW

What The Brothers Sang is recorded in glorious country hi-fi, a direction Oldham and Co. have been moving in since he and McCarthy first worked together on The Letting Go. The hyper-clarity of these recordings removes some of the warmth and aura of the original recordings, and these ears actually prefer the originals, in many instances. Take, for instance, "Milk Train", here transformed into an upbeat country/folk rock number, like the Counting Crows jamming with a traditional zydeco band. They remove all the echoing wistfulness, stepping it up to nearly double time, making it seem like the train in question is being piloted by Casey Jones on methamphetamines, trying to make it to the drug store before it closes. It's a good illustration of a theme running throughout Will Oldham's career and modern music in general. There is very little distinguishing Bonnie 'Prince' Billy's music from Top 40 country music at this point, with all of the possibilities and perils that come with it. On the plus side, though, Will Oldham has many resources at his disposal. There are 12 people listed on the album credits, with exotic instruments like tuba, euphonium, pedal steel guitar creating dense, lush arrangements for the duo to harmonize over. It's unavoidable, really; why would Will Oldham, or anybody, not take advantage of the tools available to them? Still, I miss the understated minimalism of I See A Darkness.
But that is mere hair-splitting, railing against the heavens, so to speak. This is now, and this is what Will Oldham has deemed worthy to give us. He's a pretty prolific artist, and this feels like a minor contribution to his canon. The main feeling I am left with is of a group of close friends, getting together to share in music that the clearly love and know well. There are little flourishes, like the little "Ooh ooh"'s in the background of "Milk Train" or the mandolin fills in "Empty Boxes" that sound like Buddy Holly & The Crickets, whom they Everly Brothers convinced to start wearing spiffy suits while on tour. This is just a small example of the influence that The Everly Brothers had on popular culture, and the development of popular music in the 20th century. You can hear it in the range of styles across the disc, from straight-up country music, to pastoral British folk, a la Simon & Garfunkel. In fact, Simon & Garfunkel were strongly influenced by The Everly Brothers vocal harmonies, as were The Beatles.
Similarly, it's in the vocals that the pair take the most inspiration. The Everly Brothers had a lifetime to practice harmonizing with one another. Dawn McCarthy & Will Oldham are not quite as perfect as the Brothers, but the contrast actually is their strength. Oldham & McCarthy are worn and warm, understated yet soulful, occasionally bursting forth into brilliance.
I find myself skipping about a third of the tracks on this record, but "Breakdown", "My Little Yellow Bird", "So Sad", and "Kentucky", have all worked their way into steady rotation. Even better still, is this record has gotten me listening to the originals, as well as reminding me of the brilliance of late '50s/early '60s rock 'n roll. I'll listen to every note that Bonnie 'Prince' Billy releases, (which is a lot), and find something stimulating in each. I, personally, would like to see a little more fuzz!
Ω