It's an early afternoon the day after Lumerians have played their last show of the year, headlining on a Friday in late November at The Chapel in San Francisco. The night was something of a hometown multi-generational happening, as local turn-of-the-'80s industrial pioneers Factrix, sometimes described as "gothadelic" and definitely ahead of their time back in the day, made an uncommon live appearance. Such a lineup is a reminder that to be a band from the Bay Area and play anything approaching psychedelic rock is both a natural choice and one that surely comes with a keener sense of history and expectation than it would in almost any other region. Able heirs with omnivorous musical appetites, Lumerians seem aware of – but certainly not burdened by – any weight of legacy, instead infusing it into their experimental approach. Lumerians' second album,
The High Frontier
, is about different manifestations of exploration. The record is named after a somewhat obscure book from 1977 about mankind moving into outer space, written by Gerard K. O'Neill. I speak to bassist/vocalist Marc Melzer and drummer Chris Musgrave one afternoon, and as Melzer explains, O'Neill's book isn't really science fiction, but a thoughtful manifesto about the colonization of deep space by human beings – perhaps as a means of preserving a unique life form. The band -- which also includes guitarist/keyboardist Tyler Green, multi-instrumentalist/vocalist Jason Miller, and percussionist Tony Peluso – was drawn to the idea of moving toward uncharted internal and external territories.
"For us, music is about exploration. We may start down a traveled path, but our real objective is to discover what is beyond. We're no retro-fetishists, but it seems like the future used to be more boundless and inspired," explains Melzer.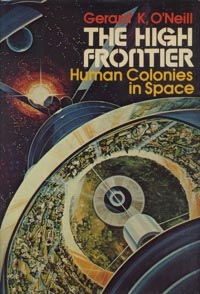 The band was initially inspired by seeing some of the artwork that was created for O'Neill's book, and were subsequently drawn in by its forward-thinking perspective, as it wasn't really about the destruction or abandonment of Earth, but about "taking what was cool about humanity and moving into other places." Given the innumerable times and ways people have been inspired by that boundless realm above our heads, I ask Melzer what he thinks it is about mankind's relationship to outer space that makes it such a creative influence. "It's all about exploration... and just wondering what else is out there. Also, on top of that," he continues, "... just sort of seeing what other peoples' visions of other worlds and other states of being really is, because there's an infinite amount of different worlds out there, whether it's internal or external."