It's an early afternoon the day after Lumerians have played their last show of the year, headlining on a Friday in late November at The Chapel in San Francisco. The night was something of a hometown multi-generational happening, as local turn-of-the-'80s industrial pioneers Factrix, sometimes described as "gothadelic" and definitely ahead of their time back in the day, made an uncommon live appearance. Such a lineup is a reminder that to be a band from the Bay Area and play anything approaching psychedelic rock is both a natural choice and one that surely comes with a keener sense of history and expectation than it would in almost any other region. Able heirs with omnivorous musical appetites, Lumerians seem aware of – but certainly not burdened by – any weight of legacy, instead infusing it into their experimental approach.
Lumerians' second album, The High Frontier, is about different manifestations of exploration. The record is named after a somewhat obscure book from 1977 about mankind moving into outer space, written by Gerard K. O'Neill. I speak to bassist/vocalist Marc Melzer and drummer Chris Musgrave one afternoon, and as Melzer explains, O'Neill's book isn't really science fiction, but a thoughtful manifesto about the colonization of deep space by human beings – perhaps as a means of preserving a unique life form. The band — which also includes guitarist/keyboardist Tyler Green, multi-instrumentalist/vocalist Jason Miller, and percussionist Tony Peluso – was drawn to the idea of moving toward uncharted internal and external territories.
"For us, music is about exploration. We may start down a traveled path, but our real objective is to discover what is beyond. We're no retro-fetishists, but it seems like the future used to be more boundless and inspired," explains Melzer.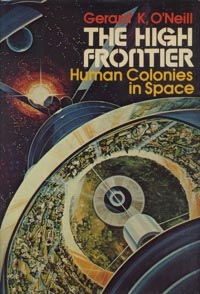 The band was initially inspired by seeing some of the artwork that was created for O'Neill's book, and were subsequently drawn in by its forward-thinking perspective, as it wasn't really about the destruction or abandonment of Earth, but about "taking what was cool about humanity and moving into other places." Given the innumerable times and ways people have been inspired by that boundless realm above our heads, I ask Melzer what he thinks it is about mankind's relationship to outer space that makes it such a creative influence.
"It's all about exploration… and just wondering what else is out there. Also, on top of that," he continues, "… just sort of seeing what other peoples' visions of other worlds and other states of being really is, because there's an infinite amount of different worlds out there, whether it's internal or external."
Kicking off The High Frontier, the propulsive "Dogon Genesis" immediately propels forward the overarching theme with the lyrics, "Orion is rising/the stars will align/ The shadow of shadows erased from our mind." The title itself begs a bit of contextual unpacking, referring as it does to the Dogon tribe of Mali, who are known for having passed down from generation to generation inexplicable fragments of ancient astrological knowledge. Lumerians perhaps recognized a certain kinship with this outward-searching aspect of the Dogon tribe's history.
As Melzer explains, "We… came across this story of the Dogon and became fascinated with it, you know – how in their midst there was a star behind Sirius that they knew about, supposedly for thousands of years. They knew about that star, which is not visible to the naked eye at all. Then later on, scientists figured out that there really was a star there. They said a ship of light had come from this star behind Sirius, which is called Sirius B, and the ship of light came down and actually helped populate the earth… We're fascinated by these other types of reality that are out there."
Nonetheless, The High Frontier is not quite a "concept album" in the way that label is typically understood. The energy and vibe are constants, but the five different minds at work, and the broadness of their palette, ensure a commensurately diverse artistic vision.
"There [are] a lot of influences on the album and it's more [tied] to the overarching theme of exploring different phases basically," Melzer notes. "We're influenced somewhat by African music, or Tropicalia, or Thai pop from the '60s, or just playing with those themes and seeing what's out there, and then pushing it forward in our own way."
Audio-Visual Explorations
Asked for the names of other similar books or authors that had a hand in inspiring The High Frontier, both Melzer and Musgrave note that, when it comes to sci-fi, they are personally more influenced by movies from the '50s, '60s, and '70s, particularly for those aforementioned visualizations of other worlds. This makes perfect sense, of course, given that Lumerians are a visually-oriented group that has long incorporated large-scale, immersive projections into their live show.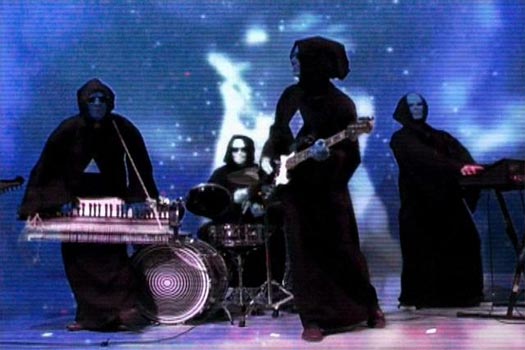 "When we play live, we bring the projections to elevate the experience and to try and make people forget where they are," Melzer explains.
Lumerians loosely considered The High Frontier "a sort of mixtape of interplanetary space rock" – but beyond what the band comes up with, Melzer puts as much, if not more, faith in the listener's own imagination. "As far as visualizing music, I think the best imagery comes from closed eyes and a set of headphones," he says.
To come up with the music video for the album's sinuous and fluid centerpiece, "Smokie's Tangle", the band approached someone they all admire, notable digital artist Geoffrey Lillemon. Watching the hypnotic and provocative results, the pairing seems an obvious choice, given the darkly psychedelic tone that Lillemon's work can take.
Melzer confirms, "We… ran across his artwork with one of my friends that showed me one of his earlier pieces. Right away, we really felt some kind of connection there because of his visions and the way he was pushing things. He really had a unique approach to what he was doing."
To get started, the band brainstormed some ideas with Lillemon, who then took it from there. "It's mostly him but we did have a little bit of influence on it," says Melzer.
"When you do something like collaboration with somebody like Geoffrey," Musgrave adds, "you just really don't want to color what he's going to do too much, because you never know what an incredibly creative person like that will come up with. We didn't push any type of a stand. We were just like, 'Whatever you want to do.'… and he was like, 'Okay, so here's the idea.' We would make some comments on it, but not really try to influence it either way."
The result was 3D animation that's nearly a short film in its scope – one that would turn out to be a surreal take on an old mythological tale. It seems clear from watching the video, which has its own distinct title, "Smokie and Lady Chronus", that Lillemon felt a bond with the music, so symbiotically matched do the two feel. Without getting into too much hallucinogenic detail (the video really must be experienced for itself), let it be noted that the delightfully graphic creature/god procreation scene that triggers the plot led the band to simultaneously release a second version of the video – one that would be a little more safe for those watching at work, though the only difference is that said love-making is then pixelated. "We wanted to make sure that we had a safe version just in case somebody were offended," notes Melzer.
Lumerians – "Smokie's Tangle" Music Video (NSFW)
Spatial Explorations
The High Frontier was recorded in Lumerians' home base, a studio they built up in a hundred-year-old building in East Oakland. The ever-evolving space was once home to a storefront church and had even been used by the band as a brewery, though that side activity has fallen off as of late. The motivations for having their own studio are apparent to the whole group; they don't have to be on the clock paying hourly rates to record, which then allows them time to play around with their gear and explore possibilities without outside pressure. The result is a more organic process – one that might take a little longer to see come to fruition than going to a studio for a defined session, but it does allow the band the time and space to be able to generate and record their improvisations, which are an intrinsic part of their songwriting.
"It's a valuable thing for us, I guess, to be able to capture this magical, ephemeral, moment as opposed to having to rehearse a song, like going into a studio and trying to get everything perfect," Melzer says. "There's something kind of interesting about capturing these special moments… and just to be able to go at a song in the right point in time and develop it when it still has all this energy and hasn't 100% completely formed."
"There's some point where you can maybe play something a bit too much that it might lose a particular sort of essence," Musgrave adds. "You don't want to drive things into the ground. We want to be able to document that whole process because we're like, 'Okay, here's that Batch 1 right there. We got it.' That would be near impossible to do in a conventional studio situation."
Such is the way the album took shape, with the five members bouncing off one another to bring out the interesting ideas, then developing them organically – typically one song at a time in a kind of serial fashion, without forcing any of the pieces to fit together.
"All the songs did originate from improvisations," says Melzer. "It was more like… capturing inspiration and then shaping that inspiration into some kind of a more formal presentation."
"Another interesting thing," he adds, "is [that] we all start playing with something that everybody will interpret… slightly differently, as opposed to us really planning something out and saying, 'We're going to do this retro or Tropicalia reproduction, or some kind of '60s garage rock thing,' or something like that. What makes it more interesting is… us interpreting these musical ideas differently, and everybody imparting some of their own personalities into the music."
Given how Lumerians work from that kind of open foundation, The High Frontier is a surprisingly concise collection, with the majority of its songs hovering around the five-minute mark or less. Considering how making this album differed from recording their first full-length, Transmalinnia (Knitting Factory Records, 2011), which saw the band scrap and re-record stretches of material, Melzer and Musgrave both remark that the band has come to read each other almost subliminally. They often don't even need to verbalize what direction a song might go, and instead just feel out whether it clicks or not. From there, Melzer says, they edit down to only what's necessary.
"[The High Frontier] really focused on what was essential about the improvisations, and really shapes down and minimizes to what we thought was the coolest and the most important essence…" says Melzer. "It's more edited than some of our previous things."
As successful as that method was to crafting the new album, Melzer notes that, for the immediate future, Lumerians are veering toward a more untethered approach. "Our next album is going to be a lot more freeform. After that, who knows; maybe we'll go back and do another pop type record."
At the moment, the band are in self-proclaimed studio hibernation, currently at work on said freeform album of improvisational music for the new-ish British label Cardinal Fuzz, which should hopefully be out in the spring of 2014. The routing hasn't been set yet, but they are planning to travel to Europe to play some shows for two or three weeks around the time of the record's release, along with at least a few dates in some major US cities. Those looking for a sensory warping experience would be wise to watch out for them.
Lumerians – "Life Without Skin" Music Video
Ω