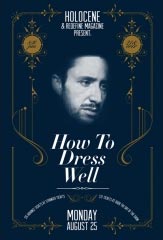 Philosophy and spirituality intertwine in this amazing three-part narrative for
How To Dress Well
's latest record,
What Is This Heart?
. Directed by
Johannes Greve Muskat
, this three-part trilogy for "Repeat Pleasure", "Face Again", and Childhood Faith In Love" touch upon dramatic themes of "how to live and love and die right, in a world that makes these things so difficult." Read on for a compare and contrast interview between How To Dress Well's Tom Krell and Muskat, as they speak about the videos themes, symbolism, and more.
REDEFINE will be co-presenting a night with How To Dress Well at Portland's Holocene on August 25th, 2014. Click the poster at right for details!
How To Dress Well - "Repeat Pleasure" Music Video (Part 1 of 3 of What Is This Heart? Trilogy)
You have an extensive scholarly background in Philosophy. This intellectual pursuit might at first glance seem incongruous with the deep mysticism of a shamanic figure like the one you play in "Face Again". How do you reflect on and make peace with your own relationship between the mystic and the intellectual, the cerebral and the spiritual?
"Whoa this is like 100% right on; I've always been interested in how to navigate these two modes, mystical-musical and the controlled-rational-philosophical. Not sure I have a full-blown answer yet. I think they are on the one hand incongruous modes and then on the other hand, I think they can contribute to each other obliquely." - Tom Krell, How To Dress Well
How To Dress Well - "Face Again" Music Video (Part 2 of 3 of What Is This Heart? Trilogy)
Speaking of Philosophy, your video for "Childhood Faith in Love" seems to point to an understanding of the child almost more akin to that "child" of Nietzsche's in Thus Spoke Zarathustra -- the Child as the final stage in a number of metamorphoses, as an advanced state of self-legislation and freedom that is only attained after a good deal of hardship and deep inner searching. Are we on the right track here? If so, why is this theme to be important to touch upon at this point in your life?
"I love you, you just so totally get me :) I've spoken before about a 'second naivete' as well -- something along precisely these lines." - Tom Krell, How To Dress Well
How To Dress Well - "Childhood Faith In Love" Music Video (Part 3 of 3 of What Is This Heart? Trilogy)