20 Aug

How To Dress Well – What Is This Heart? Music Video Trilogy (w/ Interview)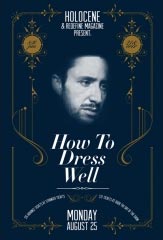 Philosophy and spirituality intertwine in this amazing three-part narrative for How To Dress Well's latest record, What Is This Heart?. Directed by Johannes Greve Muskat, this three-part trilogy for "Repeat Pleasure", "Face Again", and Childhood Faith In Love" touch upon dramatic themes of "how to live and love and die right, in a world that makes these things so difficult." Read on for a compare and contrast interview between How To Dress Well's Tom Krell and Muskat, as they speak about the videos themes, symbolism, and more.
REDEFINE will be co-presenting a night with How To Dress Well at Portland's Holocene on August 25th, 2014. Click the poster at right for details!
How To Dress Well – "Repeat Pleasure" Music Video
(Part 1 of 3 of What Is This Heart? Trilogy)
You have an extensive scholarly background in Philosophy. This intellectual pursuit might at first glance seem incongruous with the deep mysticism of a shamanic figure like the one you play in "Face Again". How do you reflect on and make peace with your own relationship between the mystic and the intellectual, the cerebral and the spiritual?
"Whoa this is like 100% right on; I've always been interested in how to navigate these two modes, mystical-musical and the controlled-rational-philosophical. Not sure I have a full-blown answer yet. I think they are on the one hand incongruous modes and then on the other hand, I think they can contribute to each other obliquely."
– Tom Krell, How To Dress Well
How To Dress Well – "Face Again" Music Video
(Part 2 of 3 of What Is This Heart? Trilogy)
Speaking of Philosophy, your video for "Childhood Faith in Love" seems to point to an understanding of the child almost more akin to that "child" of Nietzsche's in Thus Spoke Zarathustra — the Child as the final stage in a number of metamorphoses, as an advanced state of self-legislation and freedom that is only attained after a good deal of hardship and deep inner searching. Are we on the right track here? If so, why is this theme to be important to touch upon at this point in your life?
"I love you, you just so totally get me 🙂 I've spoken before about a 'second naivete' as well — something along precisely these lines."
– Tom Krell, How To Dress Well
How To Dress Well – "Childhood Faith In Love" Music Video
(Part 3 of 3 of What Is This Heart? Trilogy)
How did you come to collaborate with one another, and how closely did you work together on conceptualizing the pieces?
Tom Krell (How To Dress Well):
We met through a mutual collaborator, Luke Gilford. We worked for months developing the conceptual terrain of the work and then shot it all very quickly, actually.
Johannes Greve Muskat (Director):
I got to know Tom through my friend Luke Gilford, whom at first was going to direct the trilogy. Luke brought me along as a co-director/co-writer of sorts on his version of the trilogy, until he had to drop the project. He pitched me as the director to Tom and co, and they gave me a chance to do my own thing with Luke being the creative director, sculpting the work with me. I worked super closely with Tom the whole way through, which was an interesting experience (in a good way); he has good ideas and very philosophical concepts that were a little daunting, but fun to explore.
Following the "& It Was U" video, this trilogy has been among the first narrative music videos of How To Dress Well's career. What inspired you to delve so deeply into the medium for "What is this Heart?"?
Tom Krell (How To Dress Well):
I've been feeling like most music vids these days are just shiny psychedelic distractions/ad pieces. I wanted to take the opportunity to make something thematically rich and with a little bit more humanity and depth than, say, a video with a few cool outfit changes.
What did you strive for — emotionally, aesthetically — in these three? Was it always clear that all three tracks would be linked, or did that come later?
Tom Krell (How To Dress Well):
Ya we picked these three tracks together when developing the themes of the project; it's all about how to live and love and die right, in a world that makes these things so difficult.
Johannes Greve Muskat (Director):
It was always clear that it would be a trilogy, [with] all of them linked together to form a narrative. Aesthetically, I wanted to make everything as beautiful as I could, as beautiful as they really are, even the ugly things.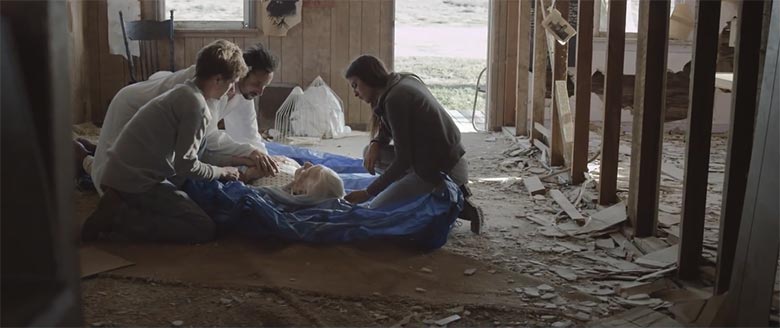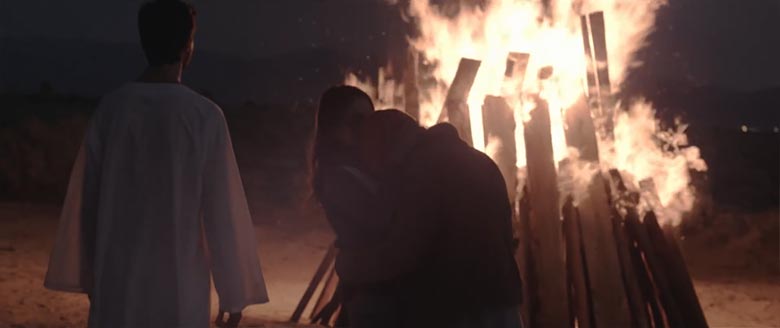 Tom is in these videos – first in more of a cameo role as a shopkeeper, then later as a shaman in a more key role. How did you understand these roles symbolically, and are they at all connected?
Tom Krell (How To Dress Well):
Ya I wanted to be present in the vids in a few different ways or valences— they're not unified or connected exactly.
Johannes Greve Muskat (Director):
That was something I thought of when the label expressed a desire for Tom to be in the videos in some form, and I liked the idea of him being a shapeless narrator in a way, and I like that people can derive their own meaning from it.
The funeral wrap and funeral pyre in "Face Again" are very visually striking. How were those decided upon, and are there any specific religious rituals they are echoing?
Tom Krell (How To Dress Well):
No specific rituals. We just wanted to point up that the medical context has a stronghold on death and there are many other ways to deal with death.
Johannes Greve Muskat (Director):
I decided on the pyre because of how dramatic and deliberate it is, while still being a beautiful rite of transition. It's not echoing any funeral rite in particular, but it might be inspired and look a lot like a Hindu cremation.
Ω
Gina Altamura is a live music and arts event curator, artist manager and DJ out of Portland, Oregon. She holds a degree in Philosophy from Lewis & Clark College. She currently has an avid scholarly interest in the realm of Jungian depth psychological thought, and is honored to volunteer with a wonderful organization called Oregon Friends of Jung. She has a deep interest in exploring archetypes through the lens of popular culture, as well as helping her generation connect to archetypal thinking via modalities such as artistic practice and tarot.