Captured Tracks
has figured out that the formula to creating a successful label is to have no specific formula: just do what feels right, and do it for the artists,
not for yourself
. The Brooklyn-based record label works hard at getting new artists exposure rather than getting themselves exposure; they've built up a reputation as a great label on word of mouth, and label owner Mike Sniper uses his intuition when making big decisions.

"We're a young company going about the music industry in what we think is the standard way, but it turns out we've been doing it pretty differently. There's no ethos or philosophy, per se. We're not looking for our label to be the topic of a release; we want the artist to be the focus. If exploiting whatever C/T is helps get a new artist's music out in the world, than that's great." – Mike Sniper, Founder of Captured Tracks
In 2008, Mike Sniper was a manager and buyer at Academy Records, one of the finest record shops in Brooklyn. Working at Academy Records and playing in the band Blank Dogs gave Sniper the unique viewpoint of seeing many trends come and go and many bands rise and fall. He learned how to speak authoritatively on what was trendy in Brooklyn at the time, and it seemed only natural that he would take that knowledge and create Captured Tracks in Brooklyn's Greenpoint neighborhood.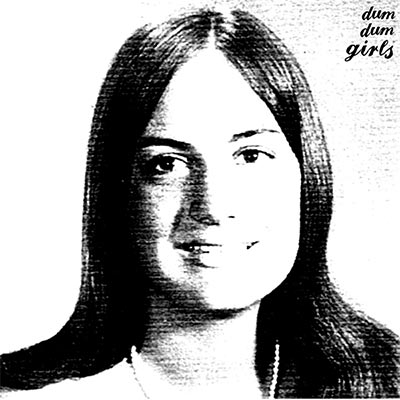 One of the label's first notable releases was the first Dum Dum Girls EP in 2009; they have since signed buzzy bands such as DIIV, Wild Nothing, and Beach Fossils. Sniper tells us that when the label first started, it was just a one man operation that released new artist EPs and 7″s and relied on favors from friends.
"We [first] started doing releases with The Soft Moon, Wild Nothing, Beach Fossils, etc., and I decided to build the label off the A&R rather than working with known entities," explains Sniper. "It was just a bit more exciting."
In the past decade, the trend of "big indie labels" like Sub Pop, Kill Rock Stars, and Merge has died down, but record label culture still thrives on the internet, and labels like Captured Tracks are still able to create subcultures around their bands with social media.
"I'd say on the one hand, we were/are the most ambitious of the 'smaller indies', if you could still call us that. I immediately hired people, paid office rent, re-invested all capital while I worked full time at another job when we started, and I think making that initial plunge really forced us to become a bigger label," recalls Sniper. "If we are now a 'big indie' — and I suppose we are with our growing staff — we're definitely the smallest of those, but that's because we don't have the catalog. You know, I'm of course envious of Matador or Merge or Domino with this amazing catalog of releases that sell all the time. Stores will always reorder Pavement, Cat Power, Neutral Milk Hotel and all that. We're getting there, but we have a ways to go."
Discerning Curation
Captured Tracks is not always looking for the next big thing, however. They're looking for bands that round out the label's roster in a constructive, innovative way, and that are in it for the long haul. One can look to the fact that many of the musicians they sign weren't looking to be signed at all as a testament to the label's diligent and deep-digging nature.
"It felt like cosmic intervention when C/T contacted us," recalls vocalist and songwriter Charlie Hilton of Portland's Blouse. "We were such a new band and we really needed mentors, but we didn't want to jump into anything too formal, so they seemed like a good fit."
"​I come from a really small area in California where getting signed to a record label is almost a miracle," explains Justin Vallesteros, vocalist and band leader of Craft Spells, who joined the label in 2011. "I went from working at a shitty coffee place to traveling the world to share my music."
Likewise, Olympia, WA-based Naomi Punk weren't necessarily looking to sign to a label, but due to the "good vibe" that they got from Mike Sniper and Katie [Garcia], they weren't hesitate to bring their punk sound to a NY-based label without a heavy punk roster.
"They were like, 'We love your band keep it as it is; we want you to keep your weird website and play punk shows, [and] we just want everyone to be able to hear it.'… [the label is] approachable, and they really take care of their artists. We feel like kings," Naomi Punk explain.
Sniper insists that they don't want a label of musicians that sound exactly the same; Captured Tracks strives for a diversity of music on its roster. They're not looking for certain bands to fit into certain slots, and don't want it all the be in the same genre. Quality music is the goal, not following trends.
"We're looking for a disparate group of musicians; we don't want to have a label sound. We tend to get a lot of demos that are kind of heavily influenced by Wild Nothing, DIIV, Craft Spells, Beach Fossils.. but we already have those bands, you know? Our newest signees, like Perfect Pussy, Naomi Punk, Chris Cohen, Axxa/Abraxas, Donovan Blanc… they are all vastly different," Sniper explains. "We're looking for artists who are good songwriters or make interesting compositions who may be a little, maybe diamonds in the rough? We're looking to try to get them to a level that would otherwise be difficult for them, give them a platform. We want them to come to us with their own vision realized and intact, not like 'I'm a C/T artist so therefore I sound like 'x' and my LP art looks like 'x.'"
Naomi Punk is one of the bands that respects the label's curatorial approach and diverse billing. "We didn't wanna be some random band on a 100-band roster full of hip-hop comedy groups or something stupid… no disrespect to that at all to anyone doing that… but yeah, like indie rock labels are just clearinghouses for putting out whatever nowadays I guess," says the band. "I knew if we did sign to a larger label, we would only try to do it if it had the right energy and focus and was run by someone who cares about records and building their own world."
"I think being on a label that's so well-curated helps all of the bands because we're given exposure to the right audience," explains Charlie Hilton of Blouse, whose second album, Imperium, came out last year on Captured Tracks.
Family Relations
What makes Captured Tracks notable as a label is their ability to put together a cohesive roster of previously unsigned bands, and make them not only a success, but a family. In speaking with six out of the seventeen bands on their roster, all of them had the same praises for the label: they were supportive and helpful in business endeavors, but also provided a source of strength during troubling times.
Joseph Black, one half of the indie pop duo Donovan Blanc, agrees that the support the label offers beyond basic label functions is important. C/T's help with release, distribution, and touring have been specifically instrumental.
"We enjoy writing and recording, so I mostly appreciate that they allowed us to make the record we wanted and still offered us that much support," says Black. "It's nice to have a great team like that behind something you've made. They're also more accessible to us in New York than other labels we've worked with. But the most valuable thing that we've gained was Mike Sniper's insight into making the perfect marinara sauce."
For touring musicians, this can be of serious import, and Sniper sees his relationships with bands as a partnership.
"It's totally 100% a partnership. I didn't write/record the record so they aren't indebted to me. Sure, we found them in whatever state they were and hopefully elevated them…" says Sniper, and he continues, using Mac DeMarco as an example. "… I think when [Mac DeMarco] got signed and did the first EP, he saw that there was a a lot of people talking about it so he reacted with "2," which is an amazing album. That was obviously always in him to be able to do, but maybe if no one gave him the green light to go for it, to be like "you will now for sure be heard" than maybe he wouldn't have hunkered down and made that classic. It's hard to really sink your teeth into a long term project like making an LP when you're not sure if it's just going to be a Bandcamp and 100 cassette release."
Juan Wauters, who put out his first solo album, N.A.P.: North American Poetry, on Captured Tracks earlier this year, plays a style of quirky, playful folk, and often performs with a revolving cast of international musicians. As a former member of The Beets, Wauters had experience working with other record labels, but that doesn't take away from the enthusiasm he expresses about Captured Tracks.
"I like how they have always supported me as an artist and they have always encouraged me to do the work I do the way I want to do it and they never tried to shape the way I work," explains Wauters. "This working relationship we have had it is what has encouraged me to continue this working with them."
Captured Tracks places a big emphasis on artistic freedom, which keeps the bands signed to their label happy and thriving. Every artist needs their own space to grow, create, and evolve, and Captured Tracks understands that sometimes needing space means actual physical space. They happily sign bands from around the country, splitting their roster between home coast bands and west coast bands such as Craft Spells and Blouse.
"Captured gives me overall control with all creative efforts," explains Vallesteros of Craft Spells. "I wasn't rushed during any of my releases, it's been relieving to be given the time to write the record I want to write. I like the idea of being able to communicate well with the label and be as distant in proximity so it never feels like a day job. Also makes it more special each time I get to visit."
For example, Captured Tracks is still putting out cassettes for a bunch of their artists, including Axxa/Abraxas and Craft Spells. Solo musician Axxa/Abraxas, who has a self-professed penchant of maintaining a "really tight aesthetic for releases", uses screen-printed art for his inserts, which are all influenced by the music itself. As Ben Asbury of Axxa/Abraxas considers this largely a curatorial project, he greatly appreciates that Captured Tracks supports the artistry behind what they're doing.
"The best thing about having a really awesome team of music business folks behind me," says Asbury, "is that they take care of that stuff for the most part which allows me to focus on the art of it rather than the business of it. [I also appreciate] the ability to have my music available in more formats and available more widely."
What's nice about this methodology is that because Captured Tracks isn't look for the "next big thing" but just interested in releasing high quality music from high quality artists for the long haul. When asked what was next for the label, Sniper responded that, "Captured Tracks as a label will stay a steady course. Probably not sign too many bands. We have a ton going on outside of that, though."
Ω