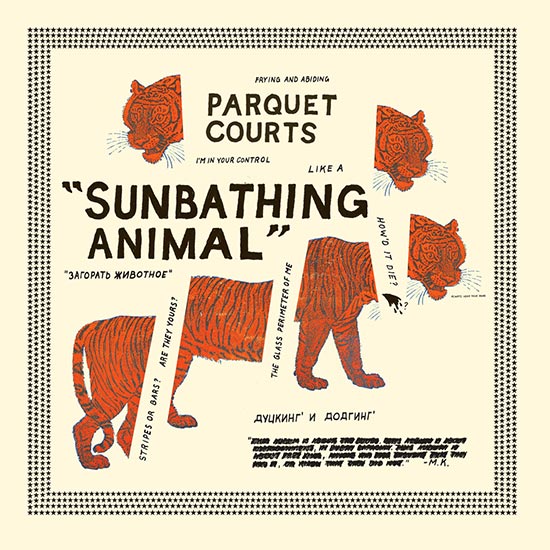 Sunbathing Animal
, for everyone who went mental over
Light Up Gold
: it doesn't cohere as well as its predecessor, in which all the songs flowed naturally and felt of a piece. Parquet Courts have been touring endlessly, and
Sunbathing Animal
often gives off the feel that the band has made songwriting less of a priority, and/or they had more than a few also-rans from the
Light Up Gold
sessions. Their 2013 EP,
Tally All the Things That You Broke
, was a mixed bag as well, but it had two of the most memorable songs of their career: "You've Got Me Wonderin' Now" and "The More It Works." If they'd been patient and held off until
Sunbathing Animal
's release to show those tracks the light of day, we might have a stronger album. The rave-up songs, seemingly inspired by the punk energy of their live shows, don't have as much personality as
Light Up Gold
, and hearken back to the lack of definition on their debut LP,
American Specialties
. Of the fast songs, "Vienna II" shows the most promise, taut and swaggering like
Pink Flag
-era Wire. It's also only a blink-and-you'll-miss-it length, at 1:02. Similarly, the instrumental "Up All Night" posits an alternate-universe Parquet Courts that grew up on Love Tractor and mid-period Feelies instead of early Pavement and 1970s downtown touchstones.