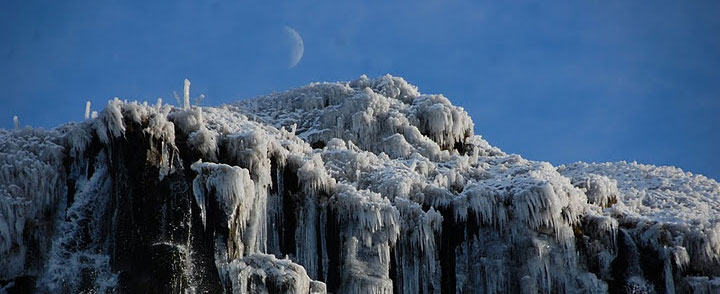 In spring 2010, Iceland's Eyjafjallajökull volcano erupted, billowing an ash cloud so large it disrupted air travel in Western Europe for nearly a month. News stations scrambled to cover the event, and all eyes turned to Iceland, both praising it and admonishing it for its native geographic wonders. But once the ash settled, so did the attention. Once again, Iceland found itself inhabiting its own isolated region of the world.
Iceland is a small country with a reputation built upon a foundation of misinformation. Few people have first-hand knowledge of the country, but many think they do. They spread the myth that Iceland is frozen over by glaciers year-round, that it's barely inhabitable during the winter months. They harp that quirky Icelanders have a widespread belief in the existence of fairies. No wonder a musician as eccentric as Björk would spawn from such a curious land! These hastily-draw conclusions do not paint the whole picture.
Iceland is certainly cold in winter months, but the famed landscape of eternal tundra is reflective of Greenland, not Iceland. Belief in mythological spirits certainly does exist, but Iceland is far from being an underdeveloped rural society of loons. The country's most famous export, Björk, is considered unique by any standards. Her musical and aesthetic choices are hardly reflective of the conventional norms of the country, and your average Icelander is far from outlandish.
Björk's recent accomplishments have taken the form of collaborative projects with musicians like Dirty Projectors and Antony And The Johnsons. Ostensibly, her solo career has been deferred, and to fill in the void, the world has shifted towards Iceland's other successful musical acts. Few and far between, those acts have wielded tremendous power, their sheer dearth providing them the opportunity to mold global perspectives on Icelandic's music scene.
Post-rock quintet Sigur Rós has, in the recent past, contributed to the rebranding of Iceland with a new visual and musical face -- a move that has unwittingly opened the scene up to another slew of stereotypes and associations.
"Icelanders are blessed with beautiful nature, lots of water, and space, and there's great energy in the country. But I think that more importantly, the most successful Icelandic musicians have been led by their curiosity and put a lot of time and effort into their art, and as result, created their own unique musical world." -- Ólöf Arnalds