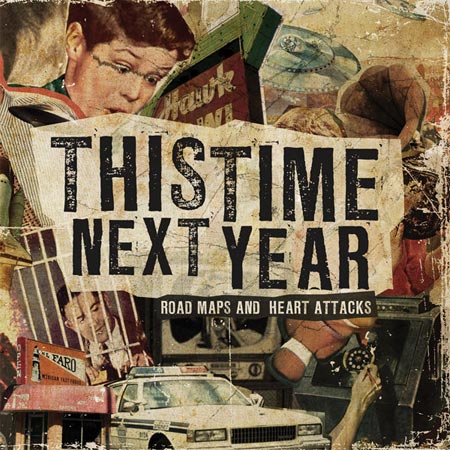 What's in a name? Well, if you have a great name like, let's say, The Beatles or Fucked Up, it can lead you a place of legend, hearsay, and an always welcome presence on Fox TV. This Time Next Year apes their name from an old song by The Movielife, singer Pete Dowdalls sounds like Tom DeLonge, and the clean and scream vocal interplay with guitarist/singer Brad Wiseman recalls a Californian version of Taking Back Sunday.
Even with that tepid description, This Time Next Year's debut disc, Road Maps and Heart Attacks, plays like a great update to some of Equal Vision's better-known records like Saves the Day's Through Being Cool or The Stryder's Jungle City Twitch.
Starting off with the catchy song "Rise and Fall, Curtain Call," This Time Next Year go through over 30 minutes of easily digestible, and mostly likable, pop-punk songs that could be commonplace at a skate park, a basement show, or a high school auditorium.
Other tunes like "Cheers to a Late Night" and "Mischief With No Direction" help round out the album to be a favorite among hardcore and power-pop purists who still clamor for bands like the aforementioned Saves the Day and Home Grown. The only misstep is in "New Sensation," a song that takes aim at plastic-sounding bands, who are usually This Time Next Year's contemporaries. It's a little bothersome to talk poorly about the bands that you're lumped in with. Just sayin'.
Ω