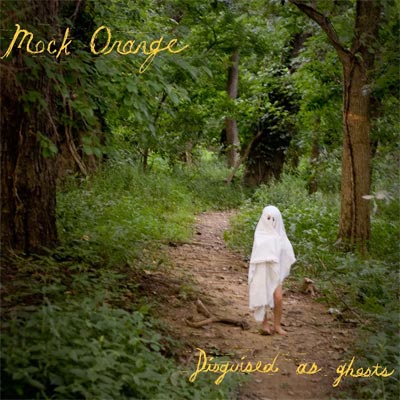 Long-running outfit, Mock Orange, began as an auspicious post-hardcore band, but over time, they have shifted towards much more musically greener pastures, culminating in 2008's "Captain Love," a massively underrated testament to the group's desire to push boundaries.
Listen to "Grow Your Soul" – DOWNLOAD MP3
For their latest record, Disguised As Ghosts, Mock Orange once again reinvent themselves as a folkish pop rock band. The album's second track, "Silent Motion," features a banjo, but the fuzzy bassline and syncopated drums recall Revolver-era The Beatles. Midway through the album, "End Of The World" stands out as the track that can bring together kids who grew up on Mock Orange in the late nineties with ones who heard of them because of Captain Love.
Overall, it's worlds away from their breakout record, Nines And Sixes, and yet, it's Mock Orange's ability to try new things and constantly reinvent themselves that have kept them going strongly while their contemporaries from a decade ago have either broken up or hit the reunion tour circuit, left to play the old hits.