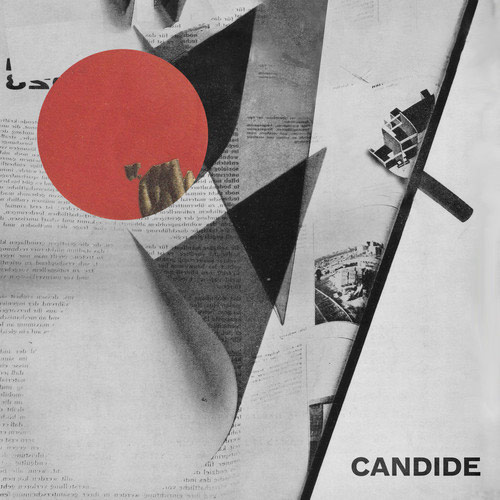 Heavily inspired by an extended trip to Berlin, Candide is the duo of Candice Strongwater and Adam Brodsky, who imported the city's European sounds to their home in Brooklyn, creating a brand of dark and sultry disco that is equally inspired by Rhythm & Sound as Donna Summers and Bee Gees. This could be the alternate soundtrack to the summer of 1977, if the disco clubs had acknowledged the paranoia and dread of the Son Of Sam running rampant, while still losing themselves in the sweltering heat of romantic dancefloor abandon.
Don't You Go starts off with "Scaredy Cat", a solid, thumping disco boom-bap that finds Candide creating their own world, as Strongwater's soulful diva vocals cry out, "That's the way that you build a fantasy." It's not so much the sound of a city as the idea of a city, as the invisible architecture of Berlin lays itself over the concrete geography of a New York borough. It shows the duo inspired and refreshed by their time overseas, with newfound resolve, as they see their city, fresh and new. "You've got to see it through another's eyes."
"Work Hard" is a funny one, as, on one hand, it realistically portrays Candide's work ethic and drive to succeed, with a driving beat and a repeated admonition from Strongwater to "Work hard/ You gotta work hard today", while at the same time, seeming to critique this incessant grind. "Work Hard" is the dark shadow twin of Britney Spear's "Work Bitch", portraying society's expectations of artists to constantly churn out new material for consumption and distraction. Luckily, the airy, effortless funk guitars show that Candide are relatively unaffected by the demands, even if they're aware of and influenced by them, as "Work Hard" coasts easily and effortlessly.
Likewise, on "Weary of You", the most personal and confessional track on Don't You Go, Strongwater asks the question, "Do I just fall and join the race?", while she tries to get her head together on a lunch break. It's a search for meaning — for trying to have a wild, vivid and passionate life in the face of real life problems and obligations. It raises questions about the necessity of imagination and emotions in a world full of pressure and problems. Strongwater shows us how a feeling can have social implications, as the city comes alive with potential whenever she is with some unnamed partner, recalling that feeling of empowerment, when the, "It's all been said before, done before," falls away in the present. It is the opposite of defeatism, an antidote to anathema, as she and Brodsky strive to create the world of their dreams. There's no room for cynicism, even with missteps or mistakes.
"BIT" is a lovely slice of Michael Jackson-style electro-funk, where a greasy bassline meets a stuttering, staccato guitar lick. The track seems to suggest that Candide have laid their existential concerns down for the moment; it's a straight rocker for the eternal disco, for dancing on LED dancefloors as shooting stars whiz by overhead. Yet even as their bodies become lost to close-eyed abandon, they can't totally abandon philosophy, as Strongwater sings "a self-portrait from a different view". File under transpersonal, post-modern disco funk.
In addition to its four original tracks, Don't You Go also comes with two remixes from fellow Brooklynites AIMES and Rush Midnight. AIMES' vocal mix of "Work Hard" removes the post- from post-modern, time-travelling us back to 1984; ColecoVision tracers surround analog drum machines and synthesizers, while the vocals sound as if they were sourced from an answering machine tape salvaged from a thrift shop, guaranteed to rock the retro parties. Rush Midnight's remix of "Scaredy Cat" brings the track fully to the dark side, as the growling plastic bassline is brought to the forefront, and a scabrous, sighing guitar is brought in. This is "Scaredy Cat", through the looking glass.
Don't You Go is for those that wish there was more ART in Gaga's ARTPOP; for those that dig both Agalloch and Arthur Russell. For those that find strength and meaning in dreams and imagination, and are willing to work hard to bring it into reality, put Don't You Go into your mix.
Candide – Don't You Go EP (Zappruder Records) Full Album Stream
Ω