Amassing rare and forgotten music is a peculiar sort of hobby -- one that slowly transforms into an addiction. It's not that I don't love mainstream music. It's just that the thrill of listening to some forgotten gem that everybody else has overlooked is powerful. It also feeds into the collector's impulse I have to overturn every stone to find that song, and my love of complete collections. Not surprisingly, I also like to collect comic books. I guess I'm the type. In any event, here are five lesser-known musicians that I believe everybody should give a listen to, dating as far back as the 1920s and focusing on jazz, folk, and blues.
Mississippi Joe Callicott (1899 - 1969)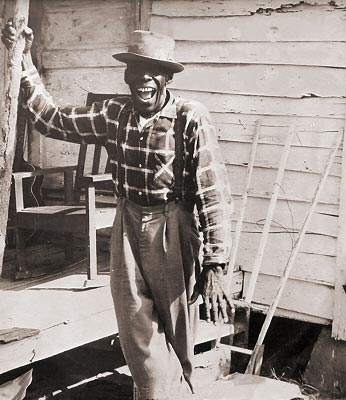 Callicott was not your typical North Mississippi blues musician. Musicians from the hill country tend to vamp on a few chords, focusing on a droning, almost hypnotic sound; Callicott was a fingerpicker in the vein of a Piedmont guitarist, with a dash of Jimmie Rodgers. He recorded three songs independently in 1929 and 1930: "Fare Thee Well Blues," "Traveling Mama," and "Mississippi Boll Weevil Blues", the last of which went unreleased. Two additional tracks were recorded with Garfield Akers, the "Cottonfield Blues" -- and here, his finger picking is energetic and nimble, bordering on aggressive.
1
After the 1930 session, he went unrecorded for 37 years. He was not totally forgotten, however, as his songs started to appear in anthologies of Delta Blues. He was eventually found in Nesbit, Mississippi by George Mitchell, who recorded several songs with him in August 1967. These became the basis for a number of records and re-releases, the best of which was probably Fat Possum's
Ain't a Gonna Lie to You
. Unfortunately, his guitar playing had diminished somewhat by this time, but his voice had matured beautifully. His singing on "Frankie and Albert" is expressive and full of sadness yet was beautiful and nuanced throughout. After these sessions, he recorded several songs for Blue Horizons which were a bit lower-quality and rougher. He died in 1969 and was only recently given a proper headstone.
Purchase Mississippi Joe Callicott Albums On Amazon
Mississippi Joe Callicott - "Cottonfield Blues"
[audio:/wp-content/uploads/2013/04/Joe-Callicott_Cottonfield-Blues.mp3|titles=Mississippi Joe Callicott - Cottonfield Blues]
Mississippi Joe Callicott - "Frankie And Albert"
[audio:/wp-content/uploads/2013/04/Joe-Callicott_Frankie-And-Albert.mp3|titles=Mississippi Joe Callicott - Frankie And Albert]