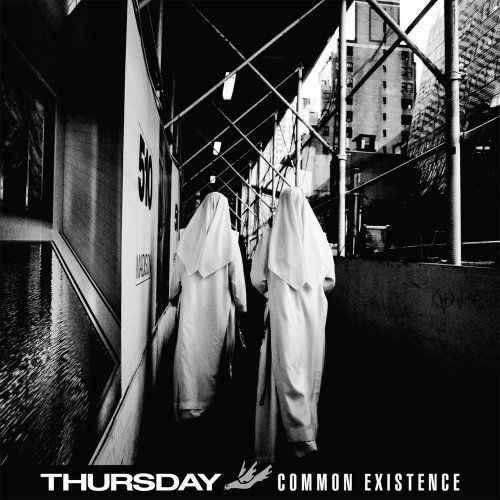 There are few bands from the 2001-2003 screamo explosion that have lasted as well and as long as Thursday has. While some bands (Finch, Glasseater) broke up or reformed, others such as Thrice and Senses Fail have altered their sounds dramatically to stay as relevant as possible. Thursday has managed to find a fit between the two, and their candid interviews in published articles and in documentaries such as Bastards of Young and their Victory-sanctioned Kill the House Lights have made Thursday one of the most honest bands out there.
While many fans dismissed their last full-length release, A City by the Light Divided, the album's experimental nature was applauded by critics. Now on a new label, Epitaph, Thursday's fifth studio album, Common Existence, captures the excitement and raw energy of fan favorite Full Collapse all the while maintaining the music variety of City.
"Resuscitation of a Dead Man," the album's opening track, is loud and brash, and moments in other tracks like "As He Climbed the Dark Mountain" find quiet and indie rock-esque parts surrounded by the familiar post-hardcore territories that Thursday has embraced since its inception.
The album pretty much goes balls out until the second to last song, "Love Has Led us Astray," which begins as a mid-tempo Brit-pop number and has a bridge in which the listener thinks they're going to rock it out before a subdued Geoff Rickly comes back in.
In many ways, Thursday is a lot like beloved hardcore band, Refused, the Swedish band that captured the attention of Americans after their demise. Both bands are representative of the proletariat nature of man, but luckily, Thursday has been steadfast in not kowtowing to pressure and releasing albums that are not only sonically challenging, but will probably inspire a generation of like-minded bands who will find the balance between beauty and abrasive hardcore.
Ω