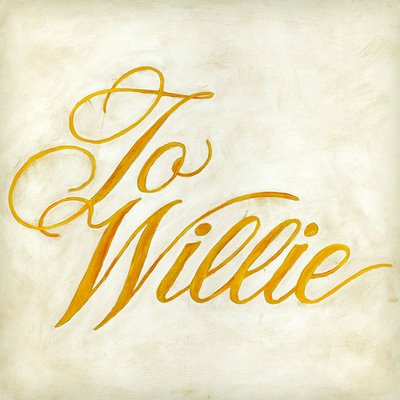 Taking on a cover album by one of the biggest legends in country music is an impressive feat. Doing it tastefully is a whole other story. Matthew Houck, or Phosphorescent as he is more commonly known, is an accomplished musician in his own right, with several full-lengths under his belt, the most recent of which, Pride, has garnered a lot positive press. Doing an album of Willie Nelson cover songs, which is what To Willie consists of, is a respectable yet well-trodden path. Willie Nelson, who may be one of the most prolific musicians to ever record, has a very specific, instantly recognizable voice and instrumental style — one that Houck emulates with grace. However, Houck's voice is slightly more delicate and his delivery lacks, for lack of a better term, that "country sparkle" that makes Nelson's music twinge with essence.
Both men have a calming effect in their lyrical delivery, but Houck's vocals are more accustomed to a different palate. With a voice that is more accessible to a younger generation of listeners that is tuned into to alt-country or folk rock like Calexico and even Wilco, Houck touches those who weren't exposed to Nelson in his prime. Nothing if not earnest, it is clear that he is an avid fan and dedicated to making To Willie a respectful and valuable addition to the cannon. The album is mostly smaller hits of Nelson's, and it seemed a wise choice to leave out the more covered tunes like "Red Headed Stranger" or anything from Stardust. This makes it a mixture of ballads and upbeat ditties, such as "I Gotta Get Drunk," and "Pick up the Tempo."
The problem is, that while most of these songs are about heartbreak or being on the road, it all came straight from Nelson's gut. It is hard to reproduce that sort of passion without having the experiences Nelson sings about. This is not to say that Houck hasn't experienced any heartbreak or pain, but Nelson became a star later in life, allowing for many years on the dusty trail.
This is not to detract from the musicianship on To Willie, which is excellent; it's a modern take on the bobbing, steady beat of traditional country music. This emphasis on solid form comes out, especially during live shows, with Houck fleshing out some of the starker tunes with a full band (and a set list that consists of the entire album, in order).
Overall, Houck's effort to channel is subtle, and for Nelson loyalists, may not be consistent. For listeners interested in a casual introduction to some of Nelson's off the radar hits, this is a good place to start. For Phosphorescent fans not so familiar with Willie Nelson, this is also a nice introduction to the very large and very satisfying discography.
Ω