19 Dec

David Parker's "Light" = A Commentary On Energy Waste

At just slightly over a minute long, this short film is visually what you might expect from a mixture of lava lamp luminescence and The Blob's flesh-eating ways. And I guess it is intended to be scary, though less in a movie monster type way and more in a "horrors of humanity's callousness" kind of way.

Filmmaker David Parker created to bring awareness to energy waste. The Sunday Paper's website writes:
Bleeding, crying lights were meant to metaphorically parallel the way in which we invisibly squander our natural resources without much thought. While the original sentiment remains, the film also grew into a poetic statement about a world run amok and the human tendency to exploit that which we hold dear.

The film was shot over a couple nights in Los Angeles as two friends drove around with a camera exploring the city's architecture and abandoned landscapes. Keeping in this vain, the film will be projected in selected US cities in vacant storefront windows and onto walls in alleys as a moving piece of public art.
First seen on thebib.is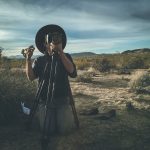 Vivian Hua 華婷婷 is a writer, filmmaker, and organizer. As the Executive Director of Northwest Film Forum in Seattle and Editor-in-Chief of the interdisciplinary arts publication, REDEFINE, much of her work unifies her metaphysical interests with her belief that art can positively transform the self and society. She regularly shares human-centered stories through her storytelling newsletter, RAMBLIN' WITH VEE! In 2020, she will [hopefully] begin production on a comedic Asian-American series entitled Reckless Spirits.
Ask Vivian about MARSHMALLOWS, cuz she's gross... and being tips for being frugal while nomading!