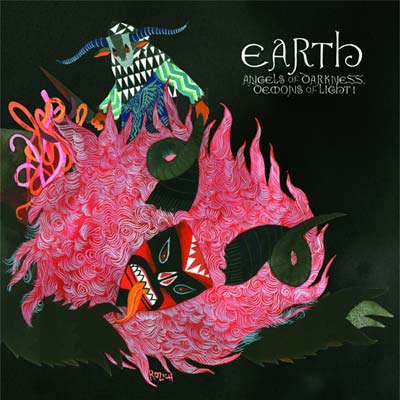 Pretty much any band out there would kill for Earth's success. Dylan Carson and his rag tag group of musicians pretty much created the drone metal sound, only to go on an extended hiatus, and follow-up with a re-tooled country/Americana sound that the band is now known for. It's because of the second half sound that Earth have to practically address the sophomore slump again, almost twenty years later. So, pretty much any band would kill for Earth's success, but most wouldn't kill to have to design the follow-up to what many consider Earth's finest achievement, 2008's The Bees Made Honey In The Lion's Skull.
Carson may have realized this, and recruited cellist Lori Goldstein (Nirvana, David Byrne, Black Cat Orchestra, Laura Veirs) and bassist Karl Blau (Microphones, Laura Veir) to round out the line-up, along with drummer Adrienne Davis, on Angels of Darkness, Demons of Light 1. The album picks up right where Earth previously left off, a meandering Americana-drenched drone album. But the elements of drone that made Earth so popular are becoming less and less apparent, or at least better integrated with the country sound. Goldstein's cello drags "Old Black" through the dusty, western sunset, until Carson brings in a bit more of the distorted sounds that Earth is known for.
Listen to "Father Midnight" – DOWNLOAD MP3
"Father Midnight" treads along at an even slower pace, like an old farmer dragging his even older horse along for a trip that neither plans on completing any time soon. The eerie thing about the song, and the proof that the members of Earth are genius songwriters, is that at over twelve minutes long, the song never gets old or boring. Davis just does enough on the drums, bordering on creative minimalism to keep the beat going. Blau's high bass echoes in every now and then while Carson is slowly picking and fingering away each note.
Angels of Darkness, Demons of Light 1 ends with the opus track of the same name, that slowly, but surely, saunters in at a mere twenty minutes long. Blau's bass forcefully pulls the song along over a bit of distorted fuzz, bringing in the more traditional drone elements of Earth's sound. As the song slowly fades, it is clear that Carson's second coming of Earth is his better one. Angels of Darkness, Demons of Light 1 carries the torch that The Bees Made Honey in the Lion's Skull so solidly lit — with equal parts drone and equal parts country. It is two genres that seemingly shouldn't mix as well as they do, but Earth has the solution. The bleak picture of the wild west has never sounded so pristine, clean, and natural.