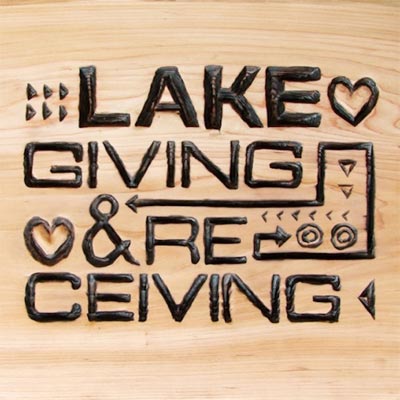 Kudos to a band that is able to start their album with a 30-second wordless track — titled "Intro," even! — and not sound pretentious! More than that, LAKE, in their latest effort, Giving & Receiving, have created an album that is warm, inviting, and catchy. With a touch of Belle And Sebastian, a pinch of something Abba-esque, a dollop of French band Air, and a whole lot of something entirely their own, LAKE is giving a solid, unassuming gem of an album, and, appropriately, we are readily receiving it.
This is an album of gentle hooks: the second track, "One Small Step," has a great guitar hook, the fourth track, "Within/ Without," has a great vocal hook, and the eighth track, "Mother Nature's Promise" has a great synthesizer hook. The lyrical content appears, at first, to be as light and poppy as the melody and instrumentation. A good example of this phenomenon is heard in the one-minute-long track five, entitled "The Stars," which has lines like, "The stars up in the sky would never bat an eye/ And never press deny for your friend request." However, after listening a little deeper into the disc, lyrics from track seven, the title track, deliver messages not so superficial with words like, "Are you happy?/ Are you free?/ There is a correlation I believe…/ When you are addicted to the things that bring you down/ It's not just you you are affecting/ So take a look around." They may still be simple messages, but only in the sense that the concepts presented are easy to understand. There are serious messages in this album; it is merely that they are conveyed softly.
In some ways, Giving & Receiving is like an extended lullaby. There are tracks that pick up the pace and make you want to dance or sway — songs like "Mother Nature's Promise" — and there are very short tracks — like the previously mentioned song "The Stars" and also the aptly named track "Interlude," — which help to smoothly transition the album. However, the majority of the tracks have a dreamy quality to them; or, in other words, they could easily be the soundtrack to one's unconscious journey through imaginary landscapes.
The only potential drawback as I hear it, is that the listener needs to have the patience and the calm for this album. One has to allow this record it sink in; or perhaps one has to sink into it. This album is the soft blanket that tucks you in to bed, not the sugar high that keeps you from getting into it.