15 Sep

MusicfestNW 2011: Suuns Live Show Review
September 15th, 2011 – Branx, Portland, OR
Suuns — which, for the confused, and for me prior to MusicFestNW is pronounced "soons" — play exactly the kind of dark dancey art rock that works for me. The Montreal band's ability to bridge pop and dance elements with seemingly contrasting elements of noise and general gnarliness make them a fascinating listen with a dramatic live show. Every track in a Suuns live set is bridged by an underlying constant of noise, driven by controlled tensions which balance chaos and order. Though the underlying structures of their songs are fairly well-ordered, it is when they let loose with affected guitars that they truly shine.
As he does on record, vocalist and guitarist Ben Shemie sings with a hushed terseness — but the recordings lack the same intensity. Through pursed lips, gritted teeth and a voice barely raised above a whisper, Shemie seems wound tight, with facial expressions and posturing that exude stress. Drummer Liam O'Neill and bassist and keyboardist Max Henry follow suit with the same level of intensity, leaving only guitarist and bassist Joe Yarmush the odd one out, as he seems to have not a care in the world.
Though Suuns' set fell inappropriately between that of locals Breakfast Mountain and Talkdemonic, one could not have asked for a more ecstatic crowd; every track they executed from their full-length record, Zeroes QC, was met with wild applause and dancing.
Having failed at many attempts to see Suuns throughout the past year at many different events, my expectations had been high. They were the act for me to see at MusicfestNW this year, and I'm proud to say that they did not disappoint.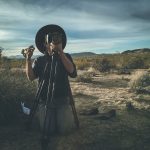 Vivian Hua 華婷婷 is a writer, filmmaker, and organizer. As the Executive Director of Northwest Film Forum in Seattle and Editor-in-Chief of the interdisciplinary arts publication, REDEFINE, much of her work unifies her metaphysical interests with her belief that art can positively transform the self and society. She regularly shares human-centered stories through her storytelling newsletter, RAMBLIN' WITH VEE! In 2020, she will [hopefully] begin production on a comedic Asian-American series entitled Reckless Spirits.
Ask Vivian about MARSHMALLOWS, cuz she's gross... and being tips for being frugal while nomading!