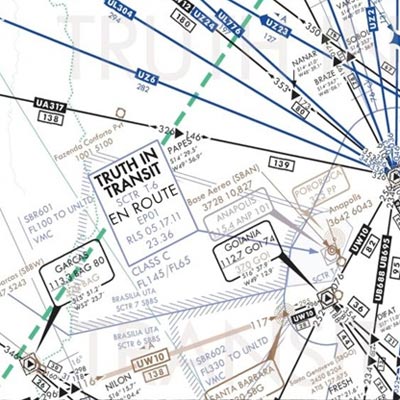 I really wanted to dislike this record, but I can't. Simply put: there's something about pop-punk that appeals to me in a very basic way, and while you can argue that Truth In Transit is much more than a pop-punk band, the simple fact is that, lke a pop-punk band, they can write a fucking hook, and that is something more than half the bands that take up space in dive bars and shitty clubs.
On a first listen, particularly on songs like "Friends for Never" and "DCC," it's really easy to peg Truth In Transit as a Coheed-like and, but the further you dig into En Route, you'll find a range of influences, such as Fairweather and Anatomy of a Ghost.
Listen to "Friends For Never" – DOWNLOAD MP3

What's great about the record is how consistent it is a whole piece. Many times, new bands will spend their first record figuring out their sound before settling on something that is able to complement their writing style. Truth In Transit seem to have gotten growing pains out of their system pretty early, so there's a pretty solid EP here.
There's nothing groundbreaking about En Route, but that doesn't mean it's not enjoyable. There's certainly enough punch in this record to keep it as a steady summer soundtrack.