Welcome to Remix City! A recurring, no-bullshit series of posts that will highlight remixes that are actually worth a damn (as we all know, there are plenty that truly aren't).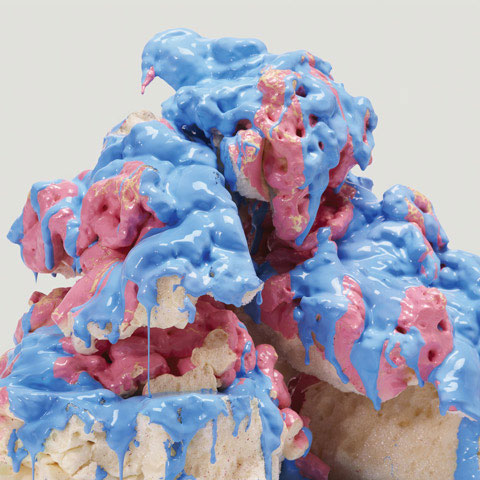 Battles
To kick it off are two from the almost infallible Battles, as a part of their upcoming Drop Gloss 12″ series. These two tracks, remixed by Gui Boratto and The Field, are on opposite ends of the dance spectrum yet form a satisfying whole: one keeps your dance spirit jumping; the other drones you into blissful, breathy submission. And given enough time, both turn into the other, become either of the above.
[a1] "WALL STREET"
(GUI BORATTO REMIX)

[b1] "SWEETIE & SHAG"
(THE FIELD REMIX)
And, of course, being the visually-minded minds that they are, Battles have been sure to include the Drop Gloss album art packaging as extension of their similarly-minded gushy, pile-centric existing branding.
This particular 12″ drops February 7th in North America, and you can subscribe to the entire series at BLEEP.
Making Friendz
Making Friendz is the project of Tami Hart, a New York-based musician who created this collaborative project as a way to stretch beyond her punk roots and into dance territory. This first remix, for "Something To Believe In," was done by Brother Bruno, aka Bruno Caviello of Light Asylum. This remix is some fun stuff.
Listen to Making Friendz' "Something To Believe In" (Brother Bruno Remix) – DOWNLOAD MP3

Blood Orange
Taking time out of his production schedule (where he works with such notable figures as Theophilus London and Solange Knowles), Devonte Hynes of Blood Orange is going on tour with Florence On The Machine. This remix by Mike Simonetti is a R&B-funk party that feels schizophrenic sometimes, but that's part of why it's so interesting, really. Tour dates below.

ABOUT MAKING FRIENDZ
FROM PRESS RELEASE
Making Friendz is a sweet, sweaty mixture of lo-fi punk and glossy pop, R&B and disco, rooted in the spirit of Hart's collaboration with fellow artists and friends. Formerly signed to Mr. Lady Records, Hart recorded two full-length albums by the time she was 21, and was awarded an impressive 8.0 on Pitchfork for her album What Passed Between Us. By 22, Hart consciously moved away from the "folkie" image her critics had constructed and began her foray into noisepunk. She played guitar and sang in Gangway (bandmates included members of Band Wives who would later become No Age) and played with Coach whips, Abe Vigoda, K.I.T., eventually touring with Mika Miko. In 2005, Hart moved to New York City and started a two-piece garage band, Winning Looks, which Kathleen Hanna (Bikini Kill) recorded and pressed a limited 7" of. Most recently, Hart has been playing bass for JD Samson's latest band, MEN.
BLOOD ORANGE TOUR DATES
Apr 14 – Santa Babara Bowl, Santa Babara, CA
Apr 15 – Coachella Festival, Indio, CA
Apr 17 – Grand Sierra Resort, Reno, NV
Apr 18 – Mondavi Center – UC Davis, Davis, CA
Apr 20 – Comerica Theatre, Phoenix, AZ
Apr 21 – The Cosmopolitan Las Vegas, Las Vegas, NV
Apr 22 – Coachella Festival, Indio, CA
Apr 27 – Hennepin Theatre, Minneapolis, MN
Apr 28 – Eagles Ballroom, Milwaukee, WI
Apr 29 – Peabody Opera House, St. Louis, MO
May 1 – Palladium Ballroom, Dallas, TX
May 2 – Verizon Wireless Theatre, Houston, TX
May 3 – New Orleans Jazz & Heritage Festival, New Orleans, LA
May 8 – Radio City Music Hall, New York, NY
May 11 – Mohegan Sun Arena, Uncasville, CT
May 12 – Borgata Spa & Resort Event Center, Atlantic City, NJ