REDEFINE magazine, record label
Boomarm Nation
, and Portland nightclub
Holocene
are collaborating together on an evening for zoning out and tuning in to exploratory and diverse new sounds. Ambient, dub, psychedelic, minimal, and experimental tracks, with reference points in the global and otherworldly, will submerge listeners in a hypnotic world that stresses meaningful listening experiences over mindless fleeting ones.
The event will take place at Holocene on October 14th, 2012, and will feature sounds from Portland musicians like Strategy, Ethernet, Daniel Menche, Gulls, and Invisible Ziggurat, with projections by E*Rock and VEE. This mixtape serves as a preview of the Deep Listening experience to come, and follows with a breakdown of all of the performers' works — including an exclusive new track from the well-reputed Strategy.
Curated and Mixed by Jesse Munro Johnson of Gulls and Boomarm Nation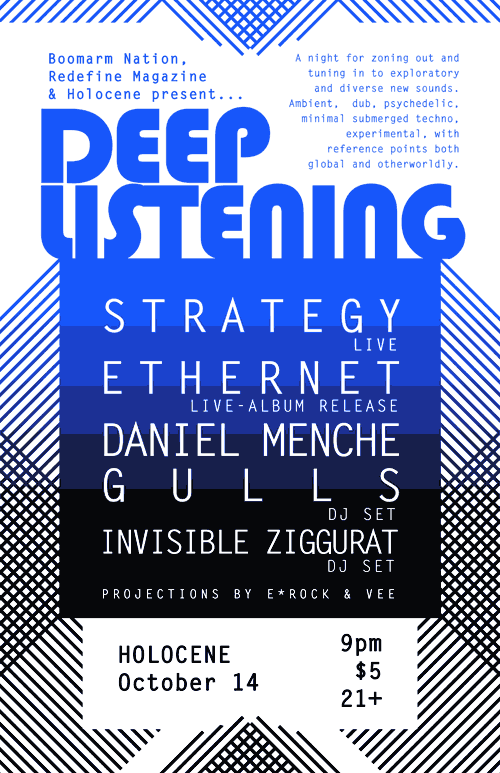 Stream Entire Mixtape
[audiotrack title="Deep Listening" songwriter="Record Label Mixtape" mp3="/wp-content/uploads/traxxx/REDEFINE_022_Deep-Listening.mp3″]
TRACKLISTING
Lucky Dragons – Clipped Gongs
Gas – Side D – POP
Echospace – Orbiting
Tim Hecker – Currents to Electrostasy
Ethernet – Kansai
Alva Noto – M03
Vladislav Delay – The Second Quarter
Walter Carlos – Fall
Echospace – Lisbon
Rhythm and Sound – Roll Off / B
Sound People – Plastic Bag Mobile
Kudsi Erguner – Ulvi
CV313 – Beyond the Clouds (reprise)
TRANSCENDING SOCIAL CONSTRUCTS ++ REVELING IN SHARED PARADIGMS
Strategy
Closing out the Deep Listening evening will be Portland musician Strategy. It will be his first headlining gig in Portland in several years, and his latest full-length, released by LA's Peak Oil, has been getting rave reviews (see: Rhapsody and XLR8R). The exclusive track below comes from his forthcoming Boomarm Nation release, which will be out December 4th, 2012 on cassette and digital formats.
E*Rock
Eric Mast, also known as E*Rock, is a musician, DJ, artist, and video artist who will be crafting visuals for Strategy for the evening.
Ethernet
Deep Listening will be the record release show for Ethernet's latest record, Into The Woods, out on TAMARACKmusic. Expect a nature-inspired foray into ambient, drone, and deep house soundscapes, with visuals by VEE. Some tracks from the record will be played, and you can stream it in its entirety to the right.
Daniel Menche
Prolific Portland musician Daniel Menche is excited to take this opportunity to play a mellower set than his usual.
Gulls
Label owner, DJ, musician, and event curator Gulls will spin an array of sounds for the evening, similar to the ones in this mixtape he crafted.
Invisible Ziggurat
Invisible Ziggurat, also known as Neglect, will double-up with Gulls on DJ duty for the evening.
Press
Portland Mercury: DEEP LISTENING: STRATEGY, ETHERNET, GULLS, DJ INVISIBLE ZIGGURAT
(Holocene, 1001 SE Morrison) Working the soul out of a drum machine is no problem for Strategy, AKA Paul Dickow, who indulges us with ever-evolving forms of electronica—most recently delving into a futurized pop with vintage flair. A multi-instrumentalist and veteran producer, Dickow has continued to explore many different styles including ambient, experimental, and straight-up dance music with stellar results. Expect a live performance filled with any combination of drum machines, noisemakers, and synthesizers synced up to lay the groundwork for some impressive improvisation. The night's festivities are presented in part by forward-thinking arts and culture publication Redefine magazine and the experimental Boomarm Records. They have put together an exotic blend of ambient artistry sure to send you into an otherworldly orbit. – CHRISTINA BROUSSARD
Willamette Week: Strategy, Ethernet, Daniel Menche, Gulls (DJ set), Invisible Ziggurat (DJ set)
[SPACE IS THE PLACE] The subtitle for this incredible lineup of electronic and experimental performers is "Deep Listening," which speaks volumes about how far down a sonic wormhole you can go with everyone involved. To help you not get lost along the way, we encourage you to hold on tightly to the reggae-speckled house grooves of Strategy, Paul Dickow's longtime musical project that just released an electrifying self-titled album on Peak Oil Records, and Tim Gray's solo synth-drone experience known as Ethernet, also on board to celebrate Temples, a collection of songs created in a state of trance meditation. – ROBERT HAM
Ω