SPECTRAL HYPNOSIS
is a recurring series, featuring mesmerizing songs for one to lose sense of time and space, mind and body. This post highlights the exciting new project from
Tim Hecker & Daniel Lopatin
and a track from Seattle's relatively unknown
Stenskogen
.
SEE ALSO: FULL POST + ALL SPECTRAL HYPNOSIS POSTS + ALL COLUMNS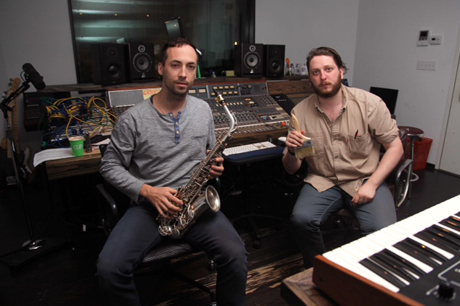 Tim Hecker & Daniel Lopatin
Opening track "Instrumental Tourist" comes from Tim Hecker's collaboration with Daniel Lopatin of Oneohtrix Point Never for the ambient electronic collaboration of the year! It is the first project under SSTUDIOS (Software Studio Series), where Software Recording Co. will be inviting electronic musicians to collaborate with one another. In this case, most of the works were spontaneous creations with little forethought. Get ready to take a tour around, where analog and digital sounds are thrown into a confusing and inseparable mix.
More details on the release in the full post, along with full tracklisting.
Tim Hecker & Daniel Lopatin (cont'd)
FROM THE PRESS RELEASE:
With a deliberate focus on source material of a synthetic and mimetic nature, Hecker and Lopatin designed a sound palette from the acoustic resonance of digitally-sourced "Instruments of the World." The intrepid cowboy sound-voyager was inverted, forging a synthesis with the Ecstatic Other; digested exotic instrumentation fuel the tepid journeys of a sampler tourist. Instead of leaning heavily on the proverbial Malian time signature's sublime truth, Instrumental Tourist pictures the synthetic veneer of exoticism as pushed air captured by oscillating ribbons.
Instrumental Tourist is available via the Software Recording Co. November 20th, 2012 in limited vinyl edition as well as CD and digital formats.
TIM HECKER & DANIEL LOPATIN – INSTRUMENTAL TOURIST TRACKLISTING
1) Uptown Psychedelia
2) Scene From a French Zoo
3) Vacinnation For Thomas Mann
4) Instrusions
5) Whole Earth Tascam
6) GRM Blue II
7) GRM Blue III
8) Racist Drone
9) Grey Geisha
10) Instrumental Tourist
11) Ritual For Consumption
12) Vaccination
Stenskogen
"Weavers Of Ash" from Seattle's Stenskogen is a slow circulating swirl through subtly electronic-textured landscapes. Enjoy this track, as they don't seem to surface too often and like to preserve an air of mystery.
Ω