There has been much lamentation and gnashing of teeth about the decaying music industry, with many opinions and conversations about what to do about it. If you were to believe the soothsayers, we'll be reduced to a generation of SoundCloud demoes and buskers in 10 years' time. We may not know what will come, but it's not worth bemoaning the point. True musicians and record labels, the ones who are in it for the love and the art of the thing, are rolling up their shirtsleeves and getting down to work.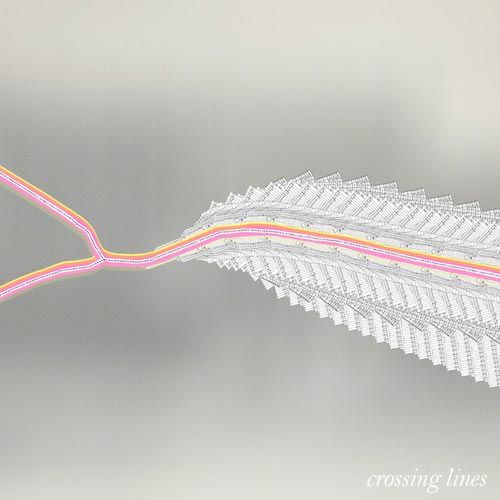 Enter NX Records, a collaboration between Goldsmith's, University of London's music department and Matthew Herbert's Accidental Records. Students and alumni are actively involved in the release of music, not just as musicians, but also in all aspects, including marketing, legal and administrative. Some recent graduates of the program include Mercury Prize winner James Blake, as well as members of Nigel Godrich's Ultraista, so this is no fly-by-night operation.
Crossing Lines is the inaugural transmission. ranging from airy, experimental pop to widescreen anthemic rock, with all points in between, wrapped in a rather spiff map of the New Cross area that NX Records calls home. Crossing Lines manages to sound both classic and hypermodern; super-polished to raw, immediate and lo-fi.
There is no overriding theme to this collection; rather, it is like a scrapbook of sonic portraits of the musicians working with the project, in a mixtape fashion. There's a wide array of styles represented here: modernist electronic pop (Holy Milk "Born And Die", Machines "On This Spot"), trance-y electro jazz improvisation (Scopic Frames "Paradigm Paralysis") to baroque chamber rock (James Marples' "Best Behavior"). There's something for everybody here, although the patchwork mixtape vibe may turn off genre specific listeners. Whatever, we're living in 2013; people need to open their ears.
You might discover some new styles to love, during your dalliance, as tracks like Buffalo Ink's "Hungover" brings back early 2000s spazzy mathcore – the kind practiced by The Blood Brothers or Japanese weirdos Melt Banana – to evoke the feeling of a morning after walk of shame. It's abrasive, but it masterfully creates a mood, complete with a slinking mysterious guitar line, approximating the sensation of skulking through alleys, so I judge it a complete success. Consider also Jamie Coe's swaying, iddylic "My Ocean", whose slack-key guitar, windchimes and wooden flutes will have you swaying on a hammock in your mind, a refreshing balmy breeze to help you get through the coming dark, cold months. This style of island worship was popular with late-'90s/early-'00s retro-fetishists like Stereolab and Broadcast, but you don't hear as much of it these days. I, for one, am a sucker for a good tiki record.
It's not all homage, however; Scopic Frames' "Paradigm Paralysis" creates something entirely new, blending sultry seething free jazz saxophones with electronic beats and noise. It's a unique combination that manages to create an intriguing blend of electronics and improvisation, dosing the techno with some much-appreciated soul. It's like watching The Night Of The Hunter on your laptop, while Karl O' Connor mixes play in the background.
My favorite track is Niomi Eve's "Sounds You Made", with a minimal skeleton of reverbed piano hanging in space, over a black backdrop of religious organ drone, and some lovelorn vocals delivered in a lovely, high, clear voice. It is the same kind of slow motion R&B being made by James Blake or The Weeknd, but "Sounds You Made" speaks more to hearbreak than drug hangover. Miss Eve is the spiritual descendant of Portishead's Beth Gibbons, minus the jungle beat.
The rock songs have the greatest crossover potential, with some bonafide hits in the treasure chest. Tom Morley's "Figure Skating" sounds like The Strokes as interpreted by U2 and comes fully formed; readymade pop to rock mid-size venues. It will probably be one of the standouts of the crowd, but ironically, it's also one of my least favorites. It's a bit predictable and formulaic, what's understood to be "epic anthemic folk rock", not taking any risks or pushing things forwards, although it does sound great.
One of the downsides of this presentation is that more raw, homemade fare gets butted up against pristine, full-band cinematic lusciousness. Compare Thefft's "Ethos" with James Marples' "Best Behavior". It's not entirely a fair comparison, even, as they're presenting two widely different styles, but the Fisher Price kick drums, hissing high hats and coconut woodblocks of Theft's "Ethos" sound almost unbearably thin by contrast.
In the press release, Accidental Records labelhead Matthew Herbert says, "A new generation of musicians aren't waiting around for some mythical A&R person to discover them and make them a star, they are making it happen on their own terms, both creatively and in business. I'm proud that NX is a new kind of structure that empowers and enables them rather than ties them up in knots chasing the next big single."
This puts the focus back on the music, where it belongs, and the artists support each other, like a proper scene. With institutions like NX Records in place, this generation stands to be the strongest ever.
Crossing Lines: An NX Records Compilation Full Album Stream
Ω
Recommended Tracks:
Holy Milk – "Born And Die"
These Ghosts – "The Great Unknown"
James Marples – "Best Behavior"
Niomi Eve – "Sounds You Made"