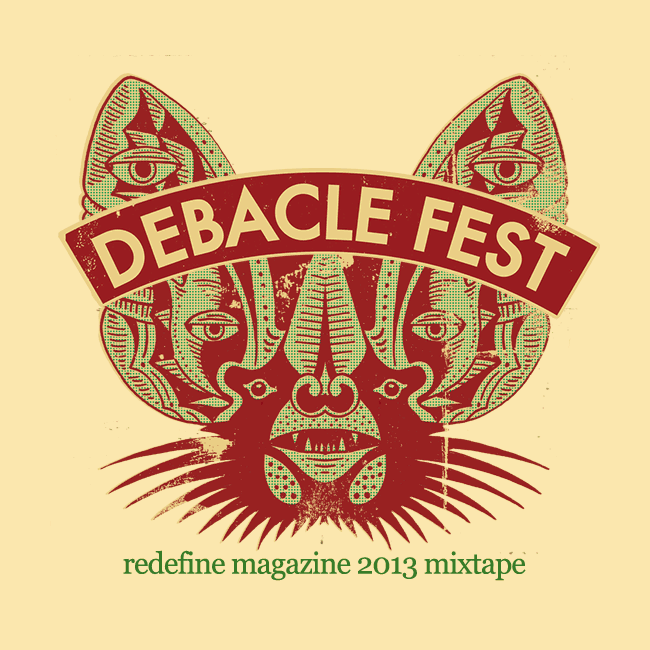 Seattle-based label
Debacle Records
celebrates its sixth annual
Debacle Festival
taking place May, 3rd, 4th, and 5th. The three-day event showcases national and local electronic, drone, noise, techno, improvised, metal and synth musicians. This year, the label is proud to partner with community instigator Hollow Earth Radio as non-profit beneficiary. Debacle Fest will be held at our partner venues the FRED Wildlife Refuge, The Highline, and Lo-Fi Performance Gallery.
Curated by Samuel Melancon
of Debacle Records
Complete Schedule & Lineup
Friday, May 3rd @ FRED Wildlife Refuge (127 Boylston Ave. E)
8:00pm – $20 door/$15 adv
Expo '70
Swahili
Plankton Wat
Monopoly Child Star Searchers
Brain Fruit
Panabrite
Total Life
LA Lungs
Secret Colors
Saturday May 4th @ Highline (210 Broadway Ave. E)
Matinee show at 3:00pm SHARP – $7
Sissy Spacek
MTNS
BLSPHM
WaMu
Stan Reed
Saturday, May 4th @ FRED Wildlife Refuge (127 Boylston Ave. E)
7:00pm – $20/$15 adv.
Date Palms
John Wiese
Nate Young
Golden Retriever
Mind Over Mirrors
Marielle Jakobsons
Gabriel Saloman
Morae (Emuul & Hemosis)
Biosexual
Sunday, May 5th – MOTOR Night @ Lo Fi Performance Gallery (429 Eastlake Ave.)
8:00pm – $20/$15 adv
Hieroglyphic Being
Moon Pool & Dead Band
Strategy
GOODWIN
Prostitutes
Black Hat
TJ Max
Patternmaster
Plankton Wat – "Metamorphosis"
I have been a big fan of Dewey Mahood for a good while now. A while back, I read an interview where he said somebody he really admires is Justin Wright AKA Expo '70. I had recently released a CD-R of some live jams from Expo '70, and decided to connect those guys. The result is a forthcoming split LP out soon on Debacle. In the meantime, Dewey also has a good history of playing the fest both as Plankton Wat and as a member of Eternal Tapestry.


Biosexual – "Silent Cuts"
I have released two albums with Zac Nelson. Biosexual is his new full band project with the equally talented Jocelyn Noir and Michael R. J. Saalman. It is full on electronic psych pop, which makes me think of Dave Fridmann and mid-'90s Bjork having sex on Trent Reznor's coffee table. Their debut will also be out shortly on Debacle.


Mind Over Mirrors – "You Ain't Reeling"
Jamie Fennely actually lived out in the PacNW for a while there, and I had no idea. In fact, he snuck on to Debacle Fest 2010 by jamming with Debacle heavies Dull Knife mere days before he left for Chicago. Ever since, we have been chatting about a way to get him back here for an honest to goodness Mind Over Mirrors set.


Prostitutes – "Dial Tone Degradation"
This year is the first year of the fest since we have started MOTOR — our psychedelic dance series of shows and releases. May 5th, the last night of the fest, is dedicated to joining the MOTOR crew up with national level artist on similar wavelengths for a big night of whacked out jams. Prostitutes is a rising name in the empty expanse between minimal techno and industrial noise. He recently released a new album on Digitalis, Crushed Interior.


Black Hat – "Singing Point"
Black Hat is one Nelson Bean, a local Seattle head who has releases coming up from Further Records and Field Hymns. He is one of the most talented and exciting voices coming out of Seattle right now and I am very stoked to be able to work with him time and time again. Don't sleep on this kid.


Moon Pool & Dead Band – "Human Fly"
Moon Pool & The Dead Band features Nate Young of Wolf Eyes jamming with his bud Dave Shettler, making freaked out Detroit techno and skunked up electro. Very stoked to be bringing these dudes out for our MOTOR night; their Human Fly album on Not Not Fun is a steady source of inspiration and ideas for the whole MOTOR crew.


GOODWIN – "Ramparts"
Scott Goodwin was once a founding member of super drone heads Bonus, and has since been exploring various forms of analog dance and noise with Operative, Polonaise and Vepa. His newly minted solo project is still evolving, but it seems to fit in well next to Polonaise and the now defunct Operative. It is fitting to have Scott be a featured element of the MOTOR evening, as the Operative performance from last year was a key influence in the formation of the whole MOTOR project.


Swahili – "Soma"
Swahili should be well known to REDEFINE readers; they seem to have an amazing back story and working relationship with each other. Their amazing album was released on fellow Seattle label Translingustic Other, and their pounding psychedelic whirlwinds will be the perfect cathartic end to the first night of Debacle Fest.


Expo '70 – "Subtle Afterthoughts"
Finally: a preview from Expo '70's meditative side, from his split LP with Plankton Wat.

Ω