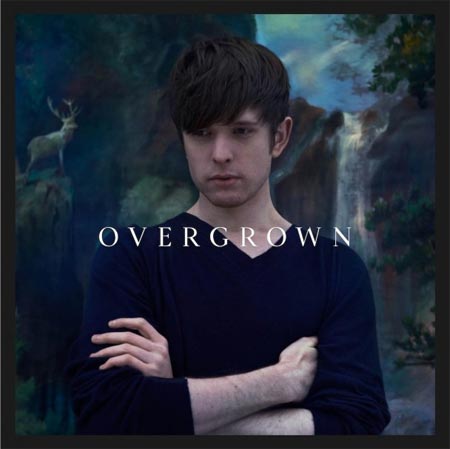 James Blake
Overgrown (2013)
Universal Republic
Few artists are as conscious of their position in the music industry as James Blake. Seemingly spawned from the hype of music blogs and the irresistible "Limit To Your Love" cover which made him famous, Blake knows how volatile and fickle the wicked cycle of fame can be. But such awareness is not necessarily a bad thing; in fact, it is what has driven him to be successful even when the situation was unfair. At the time of his debut album — a record which he was pressured to piece together by his record label — Blake felt cheated out of the ability to craft an album he could truly call his own. On Overgrown, however, Blake has crafted a world all his own. And it's as beautiful as anything he has ever created before.
In setting the scene, it's important to note the kind of relationship(s) Blake has been in since his bedroom producer days. Much has already been made of his long term relationship with Warpaint guitarist Theresa Wayman, but it's an important development that even Blake has admitted to be an influence on Overgrown. In a recent Guardian interview, when asked about being in love and if it affected his process, Blake responded, "Yeah, it did. And the uncertainty also did. The uncertainty of the nature of the relationship. The uncertainty of touring. The uncertainty of the music industry, and the uncertainty of my position in it." It's an important shift in lifestyle that bears its weight on the whole of Overgrown, a record more grounded in soulful, downtempo electronica than the booming stretch of dubstep EPs he began his career making. Be it the sound itself or the record's lyrical content, Overgrown is the natural evolution of a brilliant artist in his early twenties.
Where tracks like "CMYK" and "Love What Happened Here" — some of Blake's most infectious work to date — began with the tick of a drum pad or the scaling of a piano key, Overgrown is rooted in Blake's ability to charm with his voice. From the very first croons on the titular track, Blake sets a precedent that remains in place for the rest of the album, a kind of calming feel. "Retrograde", the album's first single, carries itself with a vibrancy unmatched by anything else on Overgrown, as a tense examination of just how far a twisted synthesizer tone can bend without breaking. Intensified by Blake's line, "Ignore everybody else/ We're alone now," the track stands alone as something altogether more powerful than Overgrown as a whole. That's not to say that rest of the album pales in comparison, but few tracks harbor the sort of punch that "Retrograde" relies upon.
What this means for the rest of Overgrown is that the devil truly lies in the details. Much has been made about Blake's collaboration with RZA on "Take A Fall For Me", but it ultimately falls flat when RZA's usually vigorous verses come across as restrained. "Voyeur" relies upon Blake's ability to sample his own vocals, layering them over the drum kick and tight snare beat that eventually bursts into a dark, claustrophobic club anthem. Whether it's the sound of sirens or steel drums, Overgrown manages to weave together a myriad of styles and influences in such subtle ways that they come across as completely organic. "Wilhelm Scream", one of the most memorable tracks from James Blake's debut, sounds comparatively empty when up against anything from Overgrown. And sure, there was a beauty to the way Blake crafted his songs on his initial release — but Overgrown is the kind of maturation that Blake ultimately deserved: a lively, inviting effort that assures he won't be left in the digital urn of post-dubstep.
Overgrown could benefit from a bit more flare and vibrato, the kind of genre indeterminate madness that makes "Retrograde" stand out — but ultimately it's the perfect Sophomoric album for Blake. With an understanding of how his music comes into, and so quickly out of, the world, Blake appears more confident than ever in making music that makes him happy, regardless of outside noise. It just so happens to be that it should make his fans happy as well.
Ω