AURAL DEVASTATION
is a regular column about heavy rock music. This month,
Nails
claim the title of most brutal band running at the moment, and
Children of God
combine sludge and aggressive hardcore into one swampy sound. Plus songs from
Akimbo
and
Paint It Black
and
Gaytheist
.
+++ FULL POST + AURAL DEVASTATION COLUMNS + ALL MUSIC COLUMNS
Nails – "Abandon All Life"
Nails were once known only for being the band featuring ex-Terror guitarist Todd Jones. Nothing can be further from the truth now, as Terror has continued to release their meat-headed moshcore albums for the hardcore community and Todd Jones has successfully gravitated Nails towards being one of the better grind bands out there. Abandon All Life, released on Southern Lord Records earlier in March, is 17 minutes of pure, unadulterated brutality, not for the faint of heart. Recorded at Kurt Ballou's God City Studios, the trio have mastered their combination of grind, power violence, metal and hardcore into a full out World War III assault on the ear drums. Nuclear holocaust is hardly something to be worried about in today's world, just what happens if Nails stays on this path of destruction.
Akimbo – "Equal Opportunity Asshole"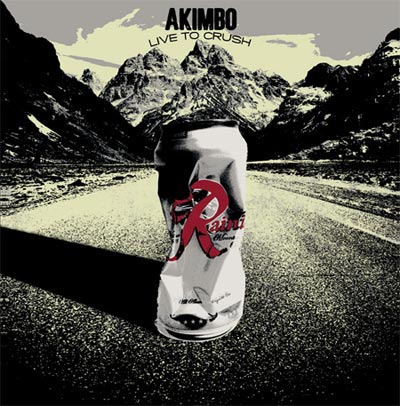 Record Store Day came and went on April 20th, and amongst the chaos of independent record stores nationwide, Seattle power-trio Akimbo released their swan song album Live to Crush to 500 eager souls. The trio called it quits last year, but recorded their final unreleased material and released it on Alternative Tentacles. Outside of having one of the best album covers of the year, Live to Crush is everything that Akimbo was the best at. Monster rock riffs, bludgeoning basslines and ferocious drums sound like army of orcs manning the helm of a hard rock band. Akimbo carried the heavy torch in Seattle as the rest of the city fell prey to bearded and flanneled indie folk rock pretty boys, and now the phoenix rising of the band Sandrider continues the lonesome slog. If you got your hands on this one, you are one of the lucky ones.
Children of God – "We Set Fire To the Sky"
This doom outfit takes the slow and steady pace of Neurosis and injects it with the youthful vigor of thrash and grind. Comprised of members of the hardcore scene down in sunny Southern California, Children of God's album We Set Fire To the Sky is a depressing, lonely, all-encompassing affair to listen to, but also showcases a band that will be one worth following as the years pass and their members get older.
Paint It Black – "Invisible"
Dan Yemin, the lead singer of the Philadelphia-based hardcore outfit Paint It Black, is an angry man. He is also one of those guys whose hardcore pedigree makes people drool; he started out playing guitar for both Lifetime and Kid Dynamite. Paint It Black, his anger outlet, plays a melodic brand of hardcore that takes more from the late '80s scene then it does the current 2000s breakdown-minded subset of the musical population. The band is full of people whose lives have gone beyond the touring lifestyle, so Paint It Black shows and releases are few and far between. But their recent 7-inch release on No Idea Records is a great one and shouldn't be missed. The Onion's AV Club has an exclusive stream of the title track of the EP.
Gaytheist – "MANhattan"
Portland's Gaytheist are like a poor man's verison of Future of the Left, combined with elements of the Jesus Lizard. There is some serious noise-sludge going on in "MANhattan" and guitarist/vocalist Jason Rivera throws down some well-spoken criticisms of city culture in just a few minutes. The song has the bulldozing feeling of metal with the speed of a punk rock driver, plowing along as fast as the treads will take Gaytheist. Their latest album, Hold Me… But Not So Tight, came out on Seattle's Good to Die Records on May 21st.
Mouth of the Architect – "How This Will End"
Mouth of the Architect are turning 10 this year, and there is no better way to celebrate a birthday than with the release of a new album. The post-metal sludge rockers look like they might be turning less to the dredges of the swamps and embracing their inner Led Zeppelin enthusiasts on this brand new track, currently streaming courtesy of Lambgoat. Their new album Dawning is out on June 25, courtesy of Translation Loss Records.
Fuck the Facts – "L'enclume et le Marteau"
With a name like Fuck the Facts, listeners know they're in for something hard-hitting, heavy, and borderline unlistenable. The Canadian grind act has a new EP coming out on June 18. The first taste off of it is exactly what Fuck the Facts does best: relentless, attacking grind sounds combined with some just perfect riff selection. Fuck the Facts are like fine authors; every musical word has its place and its meaning, and nothing is left up to chance with these guys.
Ω