As
Record Store Day
celebrates its 6th anniversary, with vinyl sales posting decade high numbers in 2012, there's no reason to think the yearly event won't continue to expand in 2013, making the dash for collectors and fans alike an even more chaotic experience if you're looking to score the most rare or exciting vinyl. Here are some of the releases we're most excited about. Now if only we had the bank accounts to match our wish lists.
View the complete list of recommended releases.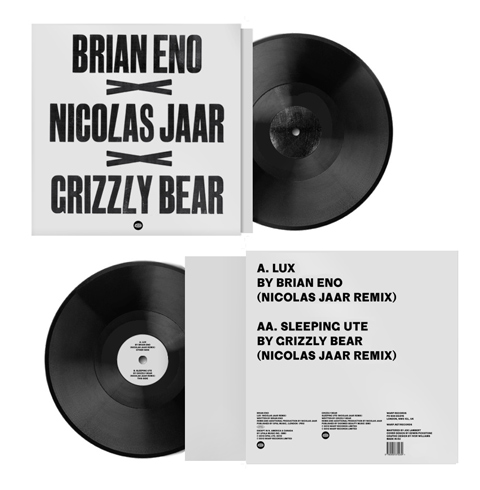 Brian Eno X Nicolas Jaar X Grizzly Bear
As far as superstar collaborations go, this year's Brian Eno X Nicolas Jaar X Grizzly Bear 12″ is as exciting as they get. Not only do the three artists bridge decades worth of musical output in their own right, their creativity and collective mastery has surely inspires countless others. This Warp Records package finds Jaar remixing Brian Eno's "Lux 2" and Grizzly Bear's "Sleeping Ute." All 2,000 of these 12″ double A-sides should go quick, as this is no doubt one of the most anticipated releases of the event.
VINYL INFORMATION
Designed and printed by Edwin Pickstone & Ivor Williams on a FAG Control 525 Swiss-built semi-automatic cylinder proofing press in Glasgow. Type was a mix of 35 line sans condensed and 50 lined grotesque super-condensed and was left 80% black, deliberately broken print to echo the sentiment of remixes carrying the remnants of the original.
BRIGHT LIKE NEON LOVE TRACKLIST
A1 Time Stands Still
A2 Future
A3 Saturdays
A4 Saturdays (Reprise)
A5 Going Nowhere
B1 DD-5
B2 That Was Just A Dream
B3 Zap Zap
B4 The Twilight
B5 Autobahn Music Box
B6 Bright Neon Payphone
B7 A Dream
Cut Copy
Before the release of In Ghost Colours in 2008, the thought that Australian electro poppers Cut Copy would soon become a transcendent and influential dance act seemed impossible. It was only their second record in four years, and their debut Bright Like Neon Love was a faded memory, only ever charting in their native country. But it was a critical darling of sorts, heralded as something akin to Daft Punk, The Human League and New Order. And while Record Store Day won't propel Bright Like Neon Love to soaring sales numbers, this year's reissue of the 2004 record will hopefully cement the album's legacy to a newer generation almost a decade later. 4,000 of these 12″ long players will be pressed and released by Modular.
TAME IMPALA EP TRACKLISTING
A1 Desire Be Desire Go
A2 Skeleton Tiger
A3 Half Full Glass Of Wine
B1 Forty One Mosquitoes Flying In Formation
B2 Slide Through My Fingers
B3 Wander
Tame Impala
Tame Impala's Innerspeaker burst onto the scene in 2010 with it's crunchy, psychedelic guitar work and overall retro tinted sound. Bold but not overstated, Innerspeaker re-established proper rock 'n roll in a lot of ways for the coming decade. But in 2008, the band's self-titled EP was really what set the group on this path. While it maybe doesn't have the bravado and polish of Innerspeaker, or last year's Lonerism, the Tame Impala EP does feature a great deal more for diehard fans who originally missed this record. Modular will release 5,000 of these 12″ records, all pressed to red vinyl.
Sly and the Family Stone
Few song are as magnetic, triumphant and overwhelming as Sly and the Family Stone's "I Want to Take You Higher." It was music for music's sake, a celebration through horns, harmonica and bursting vocals about the power of music. Though it was originally a b-side for group's "Stand!" 12″, "I Want to Take You Higher" went on to become a Top 40 itself. This Record Store Day exclusive features a rare Mono master of "Higher" along with an special, never before released medley produced solely for the Merv Griffin Show. Legacy Records will put out 3,000 of these 10″ packages.
El Michels Affair
When I first heard about El Michels Affair and what they were setting out to accomplish on Enter the 37th Chamber, I couldn't help but be immediately attracted to the project. If it wasn't obvious from the title, Enter the 37th Chamber is a riff on Wu-Tang Clan's classic debut album Enter the Wu-Tang (36 Chambers). What makes El Michels Affair's take different is the group's ability to blend classic orchestration and soulful rhythm into a unique experience completely removed from the original yet still acting as a loving recreation. Record Store Day see Fat Beats releasing Enter The 37th Chamber as a picture disk, limited to 1,000 copies.
Ty Segall
Because Ty Segall certainly doesn't have enough music to keep himself busy (sarcasm), the bay area garage rocker will release another new EP on Record Store Day. 2011 brought the Ty Rex EP, a collection of T. Rex covers, and in 2012 Segall continues the series with Ty Rex 2, a 7″ featuring covers of "Cat Black" and "The Motivator." The 1,500 copies will be released through Segall's longtime partner, and original proprietors of Ty Rex, Goner Records.
Orange Juice
As springtime slowly arrives, the sun peaking out and people steadily creep out from the holes they have been hiding in all winter, it's music like Orange Juice's Rip It Up that I immediately blast from car stereos, putting a smile not only on myself but hopefully those around me too. It's energetic, hook-laden 80's music that doesn't take itself too seriously, the kind of music that existed for too brief a period. If you missed Rip It Up when Domino reissued it last year as part of a box set, now's the perfect time to find one of the 750 copies.
Sonny And The Sunsets
For as much reverence as Sonny Smith has for classic rock 'n roll and the influences which have shaped his music, it's astounding how strange he often gets in accordance to those. Look no further than the art for this cover of John Lennon's "Imagine," a mere Photoshop of Smith's face in place of Lennon's original. It's funny and possibly a little off color, but most importantly it's exactly what I would expect from Smith. Polyvinyl will release this brilliant 7″, limited to 800 copies.
GZA
Trying to encapsulate the energy and gusto of GZA's Liquid Swords in a few sentence paragraph is a fool's errand. From "Duel of the Iron Mic," one of my favorite hip-hop tracks of all time, to Inspectah Deck's performance on "Cold World," Liquid Swords remains in the pantheon of great rap records. On Record Store Day, Get on Down will release Liquid Swords as a 4 LP package complete with instrumentals, liner notes and a playable chess set. With only 750 copies pressed, this might be the most hard to find release during this year's Record Store Day.
Burger Records
In the past few years, the growing buzz around Fullerton, California label Burger Records has really turned into more of a roar. From their limited edition cassette releases of oddball grunge rockers to their astounding packaging and social interaction, Burger is the epitome of what a little luck and a lot of hard work and dedication can create in this ever shifting industry. Limited to 250 cassettes, The Taste of Burger Records is the label's first proper compilation.
Ω