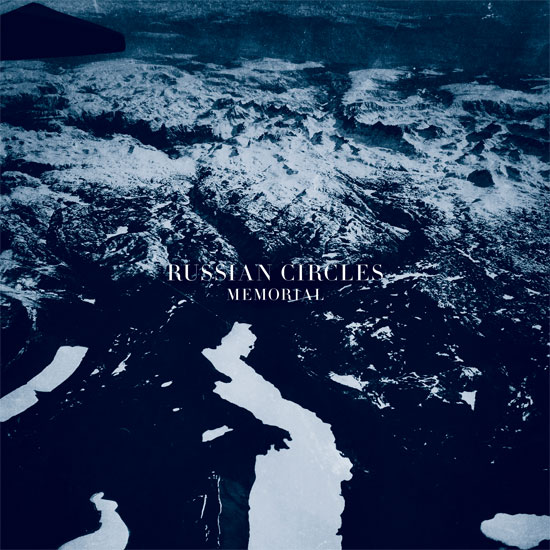 Russian Circles
Memorial
Sargent House (2013)
"Memoriam", the opening track off of Russian Circles' latest effort, Memorial, is exactly how a band of such heavy magnitudes should begin each album. The guitars are quiet; ambient tones echo throughout as a violin softly plays in the background; and for those short 90 seconds, the brain is lulled into a soothing beauty that the band rarely grants its listeners.
After 91 seconds, Memorial is full of carnage. "Deficit" begins with a thunderous crash of drums, bass and guitar, before Mike Sullivan's wailing guitar tones lead into the other kind of beauty Russian Circles creates so well. As with all Russian Circles albums, Sullivan loops, Dave Turncrantz wails on the drums, and bassist Brian Cook masters the low end like few other trios can. They are experts at making the most amount of noise possible, yet it all remains perfectly restrained. Turncrantz throws in stellar fills, but at no point does he ever go off the deep end to overtake a whole song. Sullivan is the main focal point of the slow trudge forward, but rarely does he hop off and dazzle in a way that stands out extraneously.
Few bands are as adept as Russian Circles at knowing the limits of their sound and working within those confines. Heavier is always better, but heaviest isn't always best. Halfway through "Defecit", the band crashes into a combo seen often, but always done perfectly: Cook thunders single notes, setting the stage for Sullivan's quick picks. Just as quickly as the song starts to reach its cavernous conclusion, the trio picks it back up and sends the tune into a fantastic light-hearted melody.
There are a lot of instrumental bands out there, but the reason why Russian Circles stand a cut above the rest is because they didn't start at a young age. Russian Circles sound like veteran musicians making music for the older crowd. The music never slams so directly in your face that you become aware of a boneheaded guitar riff showing up. It doesn't predictably crescendo and fall at the drop of a dime. The highs aren't ever as high as you want them to be and the lows appear out of nowhere, but after the whole song is digested, the entirety of it all makes perfect sense.
"1977" plays out with a grandiose urgency, like you are in a beautiful Renaissance city that is crumbling around you as you speak. It is tragic, but at the same time, something unlike anything else. Memorial has a much more gentle theme than other Russian Circles albums. "Cheyenne" echoes softly and takes four minutes to build up and set the stage for "Burial", but the wait is worth it; "Burial" creeps in under the wail of distortion and doesn't relent. Despite the common recurrence of soft moments on Memorial, when the band hits hard, buildings still fall apart.
Memorial ends with a track of the same name, which almost comes as an extension of the opening track "Memorium". It is an ethereal outro, muted in presentation and clouded in haze. Cook's bassline thunders, but does so quietly. Turncrantz plays relentlessly, but does so with brush strokes. Sullivan fades in and out softly behind one of the most important additions to the whole bunch — gentle vocals.
In a way, Memorial sounds like the most Russian Circles song possible — only under the guise of a new and more mature direction. And once again, like always, the latest Russian Circles album is the best one yet.
Ω