2014 was an amazing time for music, and this year, rather than asking the Gina Altamura and Van Pham of the interdisciplinary Portland venue and nightclub
Holocene
to list their favorite up-and-coming Portland musicians, we decided to give them the opportunity to highlight their favorite shows of 2014, both local and international. The dynamic result is not exclusively Holocene-centric, and definitely gives ample nods to Portland's experimental music scene.
PHOTO: SZA @ Holocene, Courtesy of Red Bull Sound Select
SEE ALL POSTS RELATED TO: PORTLAND MUSICIANS + HOLOCENE PORTLAND
Grammies, Like a Villain, W @ Habesha (May 21, 2014)
First things first, I totally missed W (featuring members of WL — but they're a great band), so I can't give a holistic picture of the evening, but what transpired in the time I was present was remarkable. This grouping of artists doesn't have the acclaim/exposure as the other big ticket acts on this list, so it's worth noting that this one bowled me over in a way the others didn't. I went to the other shows on this list with great excitement and anticipation. This particular night was a pleasant surprise and a welcome reminder to keep taking chances on local lineups/smaller billings, and you know, support friends' bands.
The inimitable Holland Andrews performs under the moniker Like A Villain; this was the first time I'd ever seen her perform. It doesn't do her much justice to call her a singer-songwriter, or to attempt to categorize her music with a specific genre, though perhaps one could say it lives somewhere in a gnarled little witch hut on the fringes of the pop woods. It's a little Bjork, a little Diamanda Galás, and so very soulful, with a great amount of control; she seems to channel heaven and hell in the turn of a phrase. Her performance is the kind you drown in, and after the howl of her powerful voice dies down, the room is still electric with her energy. She makes you feel all the feelings.
Grammies is a power pair of far out sax and drums, a sonic slingshot straight from the universe of SNL opening credits – on acid. Their sets are laden with tongue-in-cheek uses of time-worn drum pad samples that are as hilarious and irony-laden as they are brilliant and well-placed. It's rad, and they're both rippers on their respective instruments. – Van Pham
Grammies returns to Habesha for their album release this Friday, Jan. 3; if you're around, this is the thing to go do this weekend. RSVP ON FACEBOOK
Pop + Puppetry + Beady Little Eyes Present: PWRHAUS, Sara Jackson Holman, Mojave Bird @ Holocene (August 7th, 2014)
This year I became aware of a very robust and vibrant artistic community of puppet artists in Portland and was immediately fascinated by their creations. I found their whimsical creative energy so inspiring that I asked the wonderful Katie McClenahan of Beady Little Eyes to help me curate a show pairing live music with puppetry. Artists PWRHAUS, Sara Jackson Holman and Mojave Bird were paired up with puppet artists of various mediums for a dazzling audiovisual experience, with original puppet shows specifically tailored to each act's set. Tiny puppet shows using overhead projectors, handheld puppet figures with elaborate costumes and shadow puppetry utilizing live dancers were all incorporated in the show. It was an enchanting evening for audience, puppeteers and musicians alike, and it really did feel as though the combination of the two artistic disciplines helped both to achieve a new and deeper resonance. – Gina Altamura
---
We've hosted avant-garde R&B auteur Tom Krell several times, and it's always a great pleasure. His performance this time around was part of his tour for his exquisite new album What is this Heart?, and proved to be my favorite incarnation of his live show yet. The set was highly orchestrated with a backing band, with live strings and percussion. Wall-to-wall projections made for an immersive visual experience as well. His video artist had essentially crafted a built-in light show, with strobes, spotlights and other effects built right into the projections, which were pointed right on to Krell and flooded the stage around him. At the center of it all, as ever, were Krell's heartrending vocals. he stood as usual in front of two mics: one mic distorted, one mic crisp and clean (used for both story and song, as his onstage banter is a thing of beauty), and bounced between the two with passion and grace. – Gina Altamura
Bey Day @ Holocene (September 4th, 2014)
We throw a great many dance parties at Holocene, but Bey Day took the cake this year. In celebration of Beyonce's 33rd birthday, we put on a tribute dance party devoted to the Queen and had nearly 600 people show up to celebrate (many of them dressed to the nines for the costume contest). Live visuals by Four Eels included projections with Beyonce's name on highest windows, as a sort of bat signal that could be seen from a block away, and encouraging people to take to IG & Twitter with #birthbey. Great vibes abounded… all were feeling fancy, wild, sassy and free. It's nearly impossible to think of another current pop star that has such widespread appeal for men and women with such diverse aesthetic sensibilities. In a time of ever-telescoping subcultures and mega-hyphenated subgenres, Queen Bey really is a unifying and uplifting force in pop music… Queen Bey, our genuflection before you won't be seeing an end anytime soon. – Gina Altamura
Photos:
(R) Live visuals by vVv Stardust courtesy of @rchlmldr on Instagram; (BOTTOM L) Live visuals by Four Eels courtesy of @karahaupt on Instagram; (BOTTOM R) Live visuals by Four Eels courtesy of @analysa
Tim Hecker @ Lincoln Performance Hall for TBA Festival (September 14th, 2014)
Hats off to the folks at PICA for a week of what might have been my favorite musical stacking they've pulled off for the performance festival: OneohtrixPointNever, Arca, Liz Harris, and THEESatisfaction (among an array of other performances and installations). This was Tim Hecker's first time in Portland and the anticipation was grand; I can't remember the last time I've waited in a proper line to go see a show, much less one this experimental in nature. Alongside the music, I was pleased that the show was situated in the black box of Lincoln Performance Hall, the audience all but disembodied, with just the faintest light outlining Hecker at the helm of din and drone. The darkness in the room was its own silent performer for the evening – suspending a view of our surroundings left more energy for the crowd to feel their way around what was happening sonically, and to chase trails of audio in the same way we might've experienced imagined shapes in the low lighting. It was not unlike the fleeting nature of all the thoughts that swim in your field of perception during a group meditation, and Hecker was a fantastic guide. – Van Pham
---
SZA @ Holocene (October 7th, 2014)

The young R&B songstress Solana Rowe, aka SZA, is tremendously talented. Our entire staff had been buzzing about her debut LP, Z, for some months, and it was absolutely a dream come true to host her at Holocene, in partnership with Red Bull Sound Select. The first woman to be signed to Kendrick Lamar's Top Dawg Entertainment label, she not only holds her own within the boys club, she outshines just about everybody. Her radiant smile, down-to-earth nature and genuine warmth were infectious qualities that night, as a packed house fell in love with this up-and-coming star. Prior to soundcheck, I had gone to show her to her private green room, and Solana responded with a humble little giggle, "oh, I'm not much of a green room person." Sure enough, much of her time not on stage was spent chatting and taking pictures with fans. If you ever have a chance to see SZA perform live (with her extremely talented 5-piece band behind her, no less), don't sleep on it. – Gina Altamura
PHOTO: SZA @ Holocene, Courtesy of Red Bull Sound Select
Grouper, White Gourd, Tyler Brewington, vVv Stardust 2 Alberta Abbey for M.A.S.S. (November 1st, 2014)
Full disclosure: the writer helps to curate this series of multi-disciplinary performances, but as it stands, I feel this was a special edition of M.A.S.S.
Opener White Gourd is the tarot-informed solo act of the striking Suzanne (I haven't the foggiest what her last name is). In conjunction with great visuals by vVv stardust, her act got to the heart of the curatorial mission of the series overall – some sense of esoteric ritual through conceptual performance. It was a perfect seance and portal-opener for other, more tender ghosts called forth by Liz Harris' set. I've seen Grouper several times and none of them have hit me the way that this one has. Backed by simple but stunning visuals from sometimes collaborator Paul Clipson, Harris explored another side of her most recent from work on Ruins, opting for guitar where the album features piano. It was a really delicate and earnest performance to a full house in the sanctuary of a church. It's an environment I think Harris and her kind of cozy blanket/warm water/ghostly sound excels in, where people have gathered to perhaps explore or experience something thoughtful and beautiful that is both communal and personal. It felt like a collective surrender, or a sigh. – Van Pham
(Honorable mention goes to Cloaks for the precious moment in an earlier iteration of M.A.S.S. in which they handed out a score of cheap keyboards to audience members for a plinky, glitchy, heart-warming jam.)
Slowdive, Low @ Crystal Ballroom (November 5th, 2014)
SO GOOD. Maybe this is something of a check-one-off-the-list concert, but it's satisfying nonetheless to get enveloped in the deliciously '90s shoe-gaze sounds of Slowdive (complete with seizure-inducing projections that fit the kind of dated vibe). Of the recent reboots of Creation Records acts, this was the most exciting for me – Souvlaki has gotten me through a lot of long drives and heartaches, so the sentiment factor was high for this concert, and it didn't disappoint! – Van Pham
---
Nils Frahm, Dawn of MIDI @ Mississippi Studios (November 9th, 2014)
(Can I just note how awesome the first half of November 2014 was?)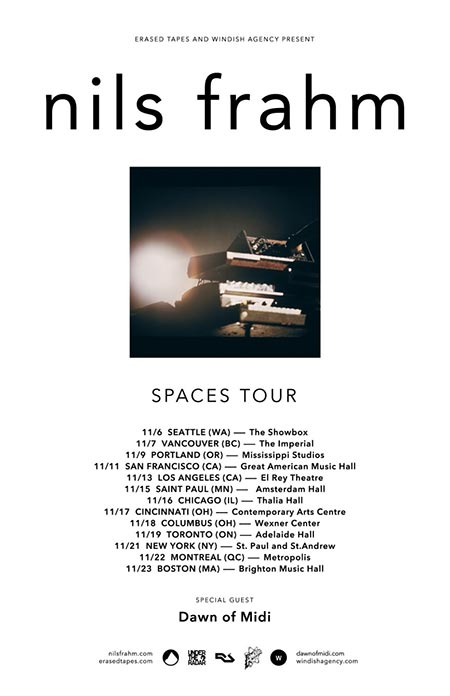 I don't think there's an artist I've seen more in the past year than Nils Frahm, and it's been rewarding every time. One of the more exciting, enthralling young modern composers, he's a brilliant crafter of space, sentiment, and sound — not to mention an endearing and humorous presence in between his sprawling, expansive piano and keyboard pieces that run the gamut of daring exploration to introspective fragility.
I had foolishly skipped out on the Oneohtrix/Dawn of MIDI apparance in town earlier in the year (I'm almost positive I was having dinner at P.F. Chang's this night; go figure), so the chance to finally see Dawn of MIDI was a treat; they're a fluid unit of three incredible musicians, flowing in and out of seemingly simple patterns and melodies with deft execution and incredible timing. The band is mathy, hypnotic, and almost dizzying in their style. – Van Pham
(Various regrets/aka shows in Portland I had in my calendar that I wanted to see but didn't for various reasons: Fear of Men, Madalyn Merkey, Kevin Drumm, Nick Cave and the Bad Seeds. I'm sorry, self.) – Van Pham