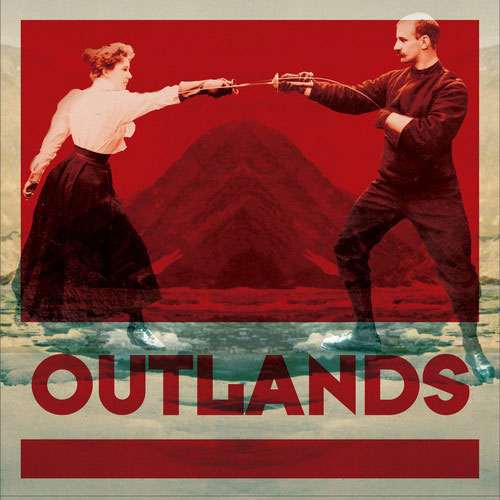 We all come from somewhere.
Outlands, the duo of Melissa Smith and Mark Arciaga, are obviously more concerned with where they're going than where they've been, as evidenced by the fact that they hail from Virginia but currently reside in LA. They're willing to travel thousands of miles to find somewhere that suits them, somewhere they belong. And you can hear this same sense of adventure, this quest for self, for something unique and personal, on Outland's debut LP for LebenStrasse Records.
Love Is As Cold As Death is both smart and sexy, downbeat but charging. It is both classic and reverential and entirely up-to-the-second. Their beats and synths are sick-nasty, and Melissa Smith has a beautiful, clear voice, like some gilded tropical bird. The production is warm and lush-solid, thumping bass, adorned with sonic bric-à brac, like lazer swooshes and ping-pong bounces, without ever becoming busy or cluttered. "Someone To Hold You In The Dark" and "Devout" stand to be this season's slow-jam, makeout mixtape staples, while the title track sounds like Burial spinning in the corner of David Lynch's Black Lodge.
Outlands are frequently mentioned in the same breath with the '90s R&B resurgence of late, what some have rather cleverly taken to being called noir&b, along with artists like The Weeknd and Frank Ocean, while proclaiming their love for TLC, BoyzIIMen, and Justin Timberlake. Their press release also mentions Smith and Arciaga being inspired by the "Fairlight worship of early Kate Bush & Peter Gabriel" and the '90s trip-hop of Lamb, Massive Attack and Tricky. Another review called Love Is As Cold As Death "post-punk" and "synthpop". That's a lot of signifiers! So which is it?
Outlands' debut cuts right to the quick of the current retro-fetishism, possessing a glowing nucleus that suggests a new trend — something unnamed, perhaps unnameable. Doom 'n gloom philosophers have railed on for thousands of pages about "The End Of History", our lack of anything original to say, our retreat into decadence and nostalgia. These are the cards that are stacked against creative types in the present tense; the sense that there is nothing new to be said, that we are doomed to a half-life of spewing out increasingly degraded tropes and acceptable idioms. The revolution has been lost, and it's all sneaker commercials and car adverts from here on out.
Outlands, like many others, have decided to say "Fuck it," and continue on, ignoring the critical shitstorm raging outside of their practice space, and get about the business of Making Good Music. Something unique, and personal, like I said before.
While not being afraid to wear their influences on their sleeves, with even the steel to mention them in their presss release, Outlands are also consciously inventing themselves, moving beyond the lo-fi murk and samples of their first EP, In Times Like These There Are No Boundaries (Crash Symbols/Chill Mega Chill) into a much brighter and stronger modern, production style. While Outlands may be influenced by the past, there is no mistaking this music as anything but utterly current.
Outlands also bring to light another important point of the postmodern creative condition: Choose Good Influences. On top of all of the musicians, Outlands also borrow sentiments from George Orwell (album opener "Politics") and the recent papal concave, by way of Flannery O'Connor's Wise Blood ("Chrome"), all over solid, stately beats, and smooth, seductive basslines. Rather than being derivative, Outlands remind us how amazing and influential a lot of these 20th Century artists are/were. I need to listen to more TLC.
Anybody that's been hanging on any of the recent trends in modern music, whether that be noir&b, future pop, or the millions of shades of dance music, will find something to lust after in Love Is As Cold As Death. It is, quite simply put, a stunning debut.
Ω