On their sophomore LP,
Breathing Statues
, musical duo Isaac Emmanuel and Melati Melay — aka Young Magic — take advantage of expansive, production-heavy songwriting in order to explore themselves and the world through art. The result is an understated record that moves in extremes, touching upon the minuteness and vastness of self and the natural world through a bed of melting synths, novel electronic sounds, heavy-duty percussion, and elusive vocals. Forgoing the need to ground itself in a specific story or persona,
Breathing Statues
alternates between aimlessness and direct contact with the listener, guiding us as a wandering spirit does through the unconscious.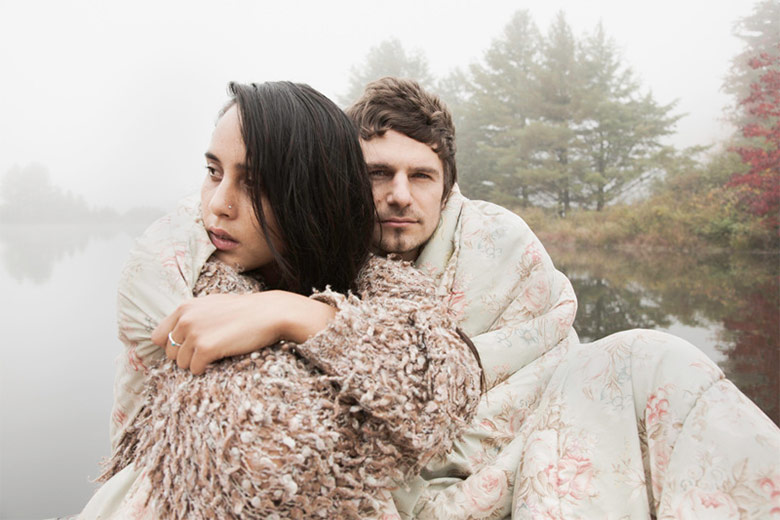 Photography by
Harrison Thane
"Metamorphosis [is] a running idea, which often reveals its true reach with hindsight," Melay says, of the album's themes. "We were also thinking about the 'undifferentiated unconscious' – something which manifests itself in any work and gives you this overwhelming sensation of eternal space being reconstituted. This quality, however you want to describe it, is something we're very much attracted to and something that appears ubiquitously in the natural world."
The brevity and spiritual quality of Breathing Statues' opening track, "One", offers an interesting introduction to the album. Melay's airy female vocals, which we discover in this initial track, continue throughout the rest of the album and take on various forms as it progresses. At one moment soaring above and beyond Emmanuel's wall of electronic instrumentation and at another lurking deep below it, Melay's vocals remain somewhat removed throughout Breathing Statues, only really becoming accessible on the LP's standout track, "Something in the Water".
"Fall In" subsequently introduces us to a combination of melting synths and upbeat percussion, conducted alongside instrumental and vocal licks that spin off into the ether of Young Magic's vast soundscape. "Foxglove" incorporates still more interesting electronic effects, which rasp and tap, and offer a bit more grit to the LP while still enabling it to float aimlessly in a deconstructed soundscape, best experienced as a whole instead of through its discreet parts.
"I think always in the back of our minds we are trying make recordings that are equally as fragile and heavy as the world is. But we're equally interested in finding this place in creation which is open to all shades of this spectrum, and not just repeating a past shade of yourself. A constant pendulum…" explains Melay.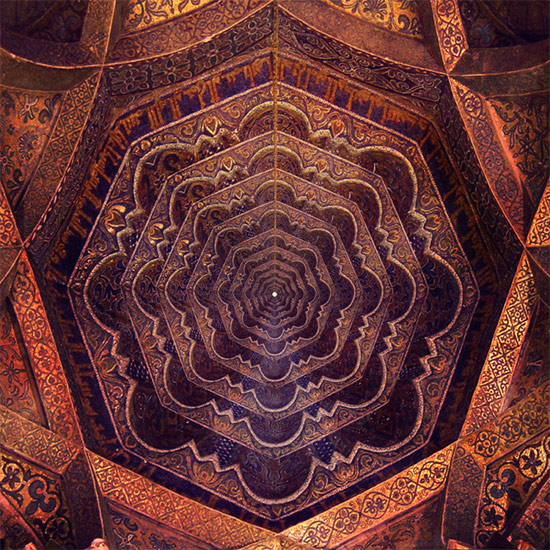 Throughout Breathing Statues, fragile vocals and heavy instrumentation come together and apart in a manner of ebbing and flowing. At one moment cohesive and at the next dissipated, their soundscape appears to hold itself together just barely, hanging first on a vocal line, then crowding itself around a guitar lick. As it guides us through a seemingly unobstructed natural and unnatural world, we follow it trustfully.
"We've always been interested in a potential symbiotic relationship between the natural world and new technology. It's a pretty fascinating time right now," says Melay. "And even more interesting that hackers, scientists and gardeners alike are throwing around these kind of revolutionary ways of looking at thought right now, but they aren't really new ideas… more like very old ones manifesting themselves in different ways. Words are trapping when trying to describe this feeling – but it's a positive one."
"I think it's a really amazing time to be a part of and contributing to, in any capacity," Melay continues, as though simultaneously speaking of artistic creation in this day and age. "It moves beyond language or description."
Their debut record, Melt, was the birth of something new, a release after a particularly euphoric and transformative year. In some ways, Breathing Statues is an extension of that — one which moves further into the pensive world Young Magic had already created, "but to a very different side of the color palette."
"[Breathing Statues] readily acknowledges the pensive side of our personal worlds at the time, and this was something we needed to do," explains Melay.
Young Magic – Breathing Statues Album Teaser
When "Something in the Water" finally bursts forth with a heavy bass drop and affected vocals that flit from ear to ear, it up-front nature grabs the listener's full attention for the first time since "One". Melay's rotating, swirling vocals are complemented well by the track's off-kilter dance beat and take on even more character when they become distorted themselves. For the first time, she seems fully present — feminine, interactive, and emotive with her lyrics — while her vocals rise and fall against the song's low, zooming bass. "I could give you everything you wanted if you want my love/ There's something in the water/ It's intoxicating how you feel," she sings, taking a moment to speak directly to the listener, before returning to the cloak of her swirling vocals and retreating back into the ether.
"There was a central theme with Breathing Statues which was very overwhelming during making this album," says Melay. "It's there in the titles, but we're wary of spelling out any personal ideas too overtly in words. It's nicer when they are cast out into the world, housed in their own medium, and let go of, completely."
Throughout Breathing Statues, Young Magic experiment not only conceptually and structurally, but by using a number of new hardware pieces as well. They drew often from old and broken machines, using flaws and limitations to create "interesting sounds instead of working solely in the box."
"There was a lovely Prophet 600 in the house which we dug up, and a few of the voices were broken, so it was extremely temperamental — a quality that I grew very attracted to over in time. Every 'mistake' you make when the recording had a way of speaking to us in an even stronger language, which I found interesting," recalls Melay.
Eventually, it became evident that even the ways in which the band interfaced with these new instruments seemed to be physical manifestations of the "undifferentiated unconscious" at play, resulting in a sound spectrum as exploratory as their intent in creating Breathing Statues.
"We'd look back at takes the next morning and realize it was helping explain to us as much to us as the calculated moves did," Melay continues. "It was a really interesting process… the type of psychic phenomena that eventuates when you give it the energy. Some kind of communication or love lying abeyant."
Such experimentation can be found on tracks like "Cobra", where Young Magic introduce a number electronic effects to give us pause, including rattling sounds, tiny dings, the delicate sound of a harp, and the effect of what sounds like an electronified marble against the surface of a drum. Yet during "Holographic," the album's third-to-last track, it becomes apparent that the album's seeming placelessness — its distant vocals and tendency to float within its own void — is tied specifically into its production. Sounding almost like a DJed track made up of smaller pieces, "Holographic" emphasizes the experimental songwriting that underpins Breathing Statues and allows for its wavey, spacious, washes-over-you effect.
All of these sonic effects, combined with Melay and Emmanuel's contrasting vocal styles, allowed Young Magic to fill a void that is purposefully built without limits, as they discovered new and polarized aspects of themselves along the way.
"The thing that has always resonated with me is a desire to explore incessantly, and to explore with art as the centerpiece of that window," explains Melay. "I can't remember who said it, but this idea seems to be constantly appearing to me in the work of many different people — many who have passed long ago — as I find their voices over time in books, films or songs. More often than not, exploring means you meet those extremes."
Ω
Young Magic – "Fall In" Music Video
"We had just moved out of the city up to the Catskill mountains and set up a little studio so had this new space and palette to work from… very isolated from the staring-into-phones-all-day-world. There is something about this landscape that strikingly poetic but very spartan at the same time… these little nuances in the environment that allowed space to meditate on lots of little strokes instead of the broad sweeping ones. We'd recorded mbira in Iceland, some bells in Morocco, a harpist in the city, and had all these little sketches and demos, and the way in which they all came together up here during the depths of long winter felt liberating. This time around, we felt as though it was working better when our movements were a little more understated." Melati Melay, on the making of Young Magic's Breathing Statues