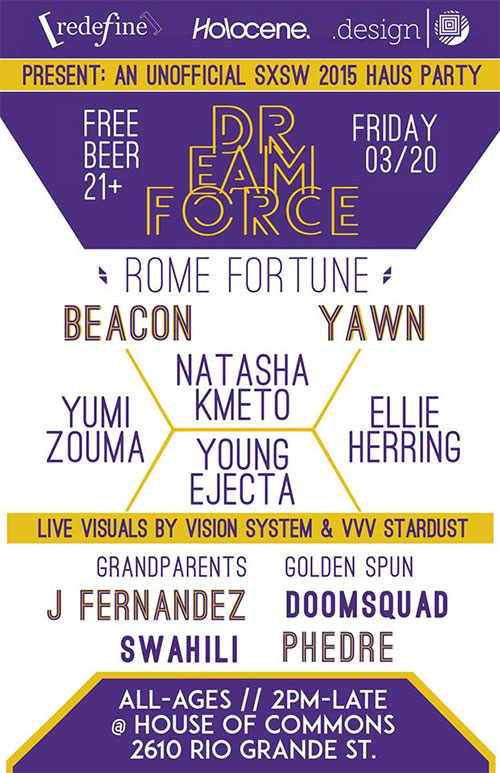 REDEFINE magazine,
Holocene, and
.design present…
Friday, March 20th, 2014
@ House Of Commons
2610 Rio Grande St., Austin, TX
2:00PM SHARP – 1:00AMALWAYS FREE, ALL-AGES, AND DIY
FREE BEER FOR 21+
VIEW SET TIMES &
RSVP ON FACEBOOK
"I must create a system, or be enslaved by another man's. I will not reason and compare; my business is to create!"
– William Blake
Since 2011, REDEFINE magazine and Holocene have been offering SXSW festival-goers an oasis within the chaos by offering up a tightly curated evening of backyard chill vibes and audio-visual delights.
2015 marks a dreamy year of intention-setting leading to action and manifestation. This year, in our fifth year running, our party DREAMFORCE follows suit as one of the most delightful and breezy booking experiences that we – your hostesses with the mostesses – have had at SXSW. Presented in partnership with .design, a brand new creativity-focused domain name extension, we're once again offering a lineup that is balanced between masculine and feminine energies; solo and group formations; electronic and organic sounds; pop leaning styles and those way, way out there too. We once again hope to pay homage to the transformative power of creative acts, and to celebrate communities — whether lasting or temporary — which emerge from work undertaken in true spirit. Calling dream warriors one and all to join our pop-up tribe for the day!
!!! CONFIRMED LINEUP !!!
TRANSCENDING SOCIAL CONSTRUCTS ++ REVELING IN SHARED PARADIGMS
VIEW SET TIMES & RSVP ON FACEBOOK
Stream DREAMFORCE Mixtape

Swahili – "Mokomokai" (Translinguistic Other)

Doomsquad – "Ovoo" (Hand Drawn Dracula)

Yumi Zouma – "Alena" (Cascine)

Beacon – "Only Us" (Ghostly International)

Phèdre – "APHRODITE" (Daps Records)

Young Ejecta – "Recluse" (Driftless Recordings)

Ellie Herring – "Mickie"

Rome Fortune – "The Experiment"

YAWN – "Follow You"

J Fernandez – "Cosmic Was"

Grandparents – "Pill Spectre"

Ω