For the second year in a row,
BAZZOOKAFEST 2022
returns as a free BIPOC-powered music and arts festival. Taking place at Jefferson Park in Seattle's Beacon Hill neighborhood, the two-day event will feature an array of gender-expansive artists and performers of varying styles.
On the evening of Friday, August 19, is BAZZOOKA BALL, featuring drag performances presented by BeautyBoiz and the Royal House of Noir, as well as live music from acts like R&B solo artist Jaiden Grayson. Saturday, August 20, features live performances including headliner Shaina Shepherd, who will close out the evening.
In the following article, REDEFINE speaks to BAZZOOKAFEST musicians Down North, Bijoux, Jaiden Grayson, Da Qween, Supercoze, and COMBAT//MOMMY — about the importance of festivals focused on BIPOC, as well as what they're excited for musically, whether it be related to their own careers or the local music scene.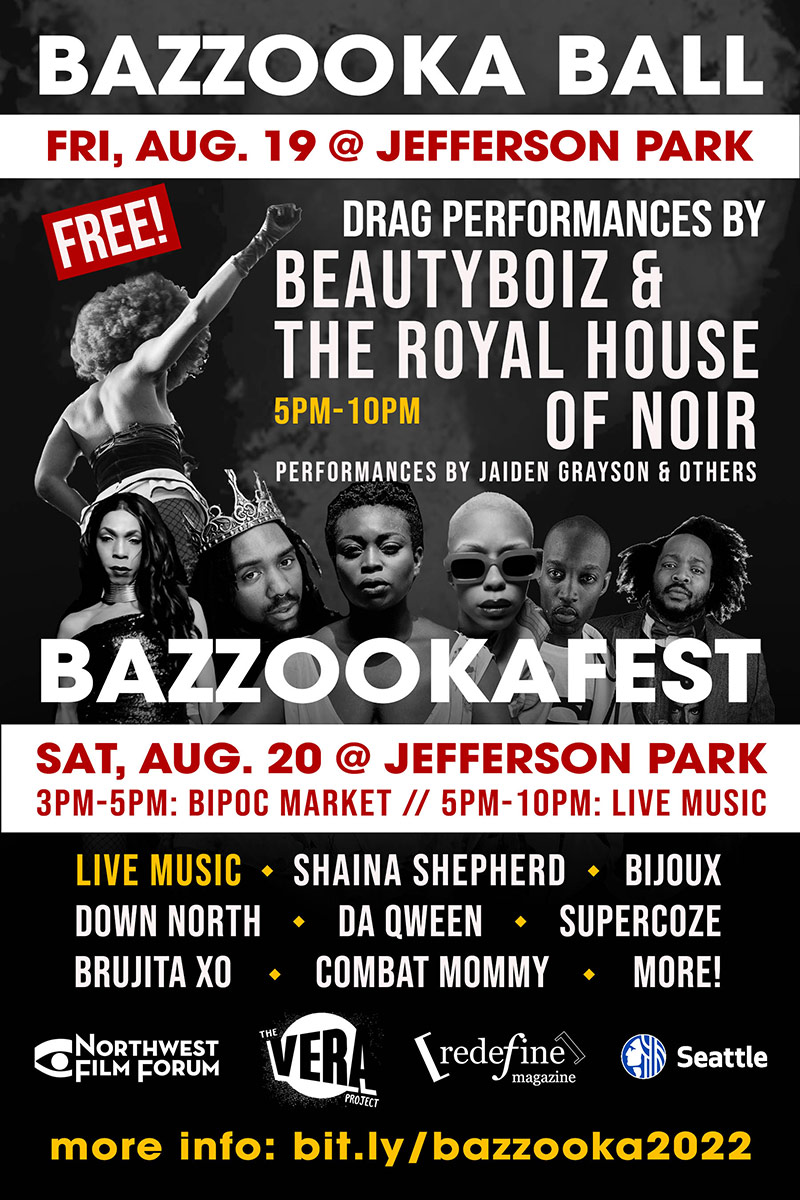 BAZZOOKAFEST is hosted in partnership with Seattle area organizations like The Vera Project, Northwest Film Forum, and REDEFINE magazine, BAZZOOKAFEST is funded by the City of Seattle.
Down North
Down North is a genre-expansive four-piece band whose influences merge punk, soul, and psychedelic into a energetic blend that sets the stage for an explosive live show. After the pandemic forced them into the studio much more than usual, they're excited to reemerge into the performance space with all of that pent-up energy.
"We have the five or 5,000 rule, which means you give the same exact show to five people in a room that you would give to 5,000 people," says frontman Anthony Briscoe. "We work hard on showmanship and our skills as musicians; I feel that a lot of people have been making music but don't have the skill to really play it. There's a reason why the Motown Records [acts] sound like they do, because you had jazz musicians make it pop music… people who really understood their instrument[s] [were] making those pop records."
Down North have recently signed a distribution licensing deal with Duet / Sony, and are in the process of developing their own streaming app because they believe that Spotify is taking too much power.
"We believe that every artist should have their own app," Briscoe says. "We need to treat Spotify and all the streaming services like the new radio, [where] you don't put your full album on the radio."
Bijoux
The highly danceable two-piece Bijoux recently released their debut album, Disco Diamond, on Cruisin Records. Now, Jayson Kochan (Airport, Midday Veil) and iconic Seattle artist Adé A Cônnére are focused on building their fanbase through performances and videos, as well as writing new music. With their expansive, synth-heavy jams, Bijoux is driven by a love of disco and nightlife, as well as a love of nostalgia and escapism in a dark time.
"What excites me about what we're doing is being able to be a part of an emerging scene post-lockdown," shares vocalist Adé A Cônnére. "And creating new art through a love of music and a great partnership."
"I think that as a gender-nonconfrming BIPOC artist, there have not been a lot of opportunities to be celebrated for what we do," she adds, regarding BAZZOOKAFEST. "So a festival like this is important to celebrate and show ourselves."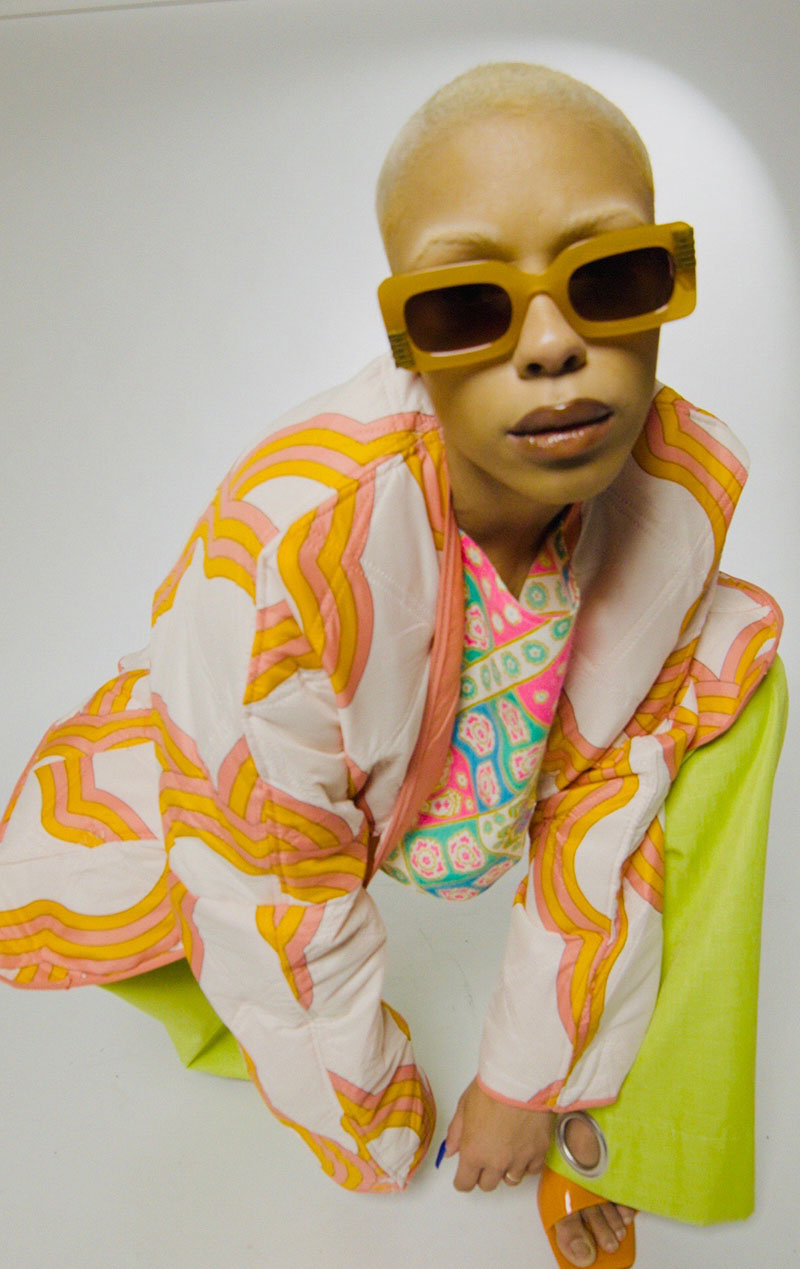 Jaiden Grayson
Solo artist Jaiden Grayson mixes R&B and spoken word to sultry-smooth effect. Most of her recent work, she shares, has been performance-centered; she's passionate about bringing audience members the "best live show possible," especially given the ongoing iterations of the pandemic.
"What excites me most about what I am doing right now is the opportunity to heal my fans with music and the celebration of art," she shares. "It is such a critical part of our connectivity and finding grounding during such uncertain times."
Grayson also identifies as an educator and activist. Thus, the philosophy that guides her work is the same one that guides her life.
"If I am going to do it, it must be done with integrity," shares Grayson. "Integrity is the driving force for my passion."
She recognizes that festivals like BAZZOOKAFEST "are critical installations in society because they platform traditionally marginalized artists. Creating spaces that are specifically for us, curated by us, is foundational in changing the framework of how we experience BIPOC artists in the larger scope of community," she says.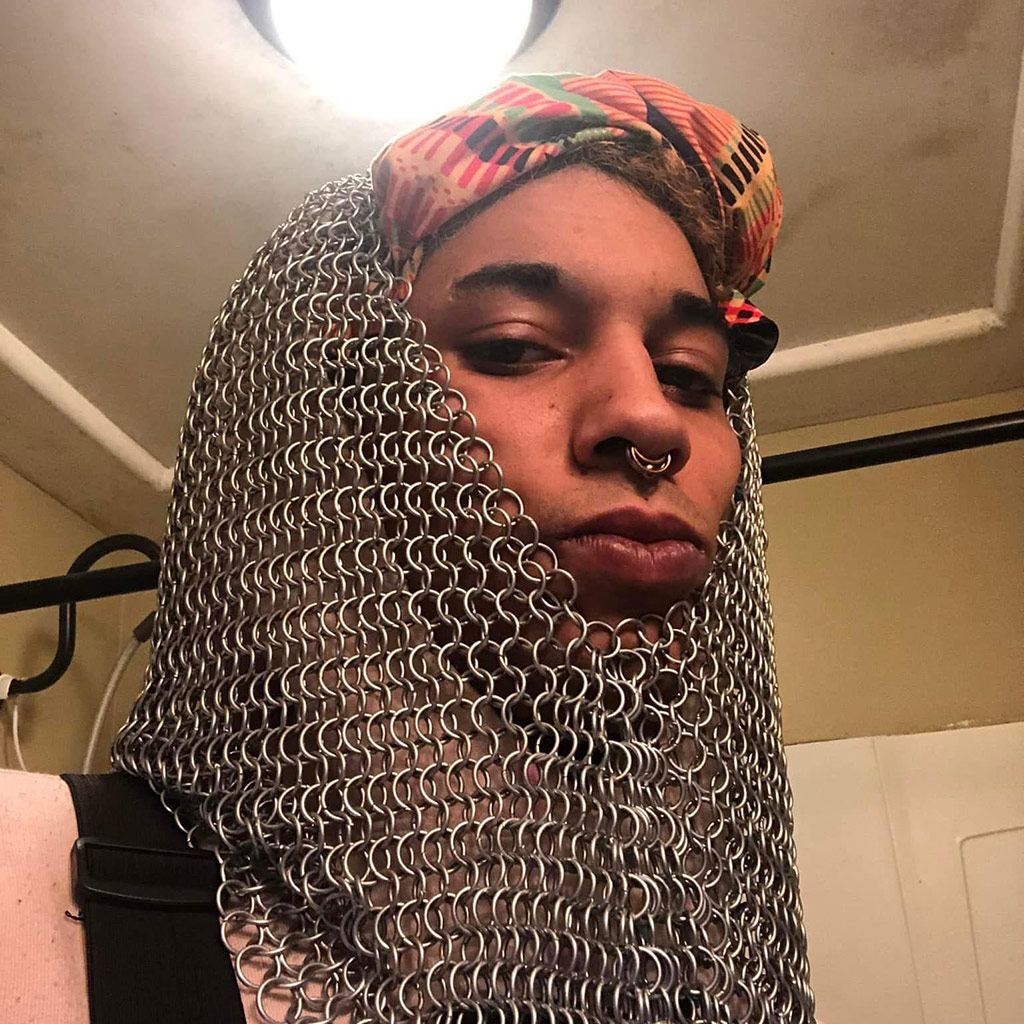 COMBAT//MOMMY
Lo-fi experimental musician Chance C. Crafton, aka COMBAT//MOMMY, is presently working on her next album, DOG DNA, and exploring new sounds to build upon her already playful, genre-skipping style.
"Above all, music to me is supposed to be about expression and fun, and at the end of the day, whatever you feel best about is what is best. It's gotta love you first," says Crafton.
Crafton has recently acquired new gear which has expanded her musical options when she least expected it; she believes it will likely change her style, moving forward.
"I consider myself a classically trained musician (pianist)," Crafton shares. "And that structure of practicing and consistency and technique is something I really do pride myself on. Like it's the disciplinarian in me that informs a lot of the artistic vision I've had over the years with these projects, I guess."
Regarding BAZZOOKAFEST and its focus on BIPOC communities, she says, "As we know, there just isn't a space that even considers centering our people, so I believe it's necessary for events like these to take place. A lot of new ears and eyes are willing to see things when presented in an informed and organized way."
Da Qween
Coming fresh off a recent KEXP performance, hip-hop artist Donte Johnson, preferably Da Qween, is presently finalizing their next project, a seven-track visual EP called Qween of Hearts, which will follow with a record release show in October. Watching them onstage, one feels them radiating with a sense of ease, fluidity, and comfortability, which seems to reflect their approach to performance.
"I'm such a vibe person," they say in their KEXP interview. "So I feel like: I am a rapper who raps over a lot of different things, because… there's a lot of different emotions to portray; there's a lot of different vibes and moods. Sometimes I don't stick with genres too well."
"I always use the phrase, 'Help people get free with the power of music,' in my bios, because I know that I have the innate ability to shift space, and when people get to experience complete vulnerability, it's an offering of comfort letting you know you can be yourself here," Da Qween shares with REDEFINE. "I'm up here doing me, so you can do you. I've always wanted to be the artist that shows possibilities to other queer Black people who rarely get to see Black queer rappers spitting — ;ike actual bars, flow, hip-hop. I wanted it, and I became that to show other artists like me that you can truly do whatever the fuck you want. But you gotta care about it."
Supercoze
After recently organizing the inaugural QTBIPOC So Dreamy Fest, nonbinary indie pop musician Cody Choi, aka Supercoze, has been focused on playing shows, creating new material, and hopes for an EP and tour in spring 2023.
"What really excites me about what I'm doing right now is all of the connections I've been making with other creative people and artists that I really look up to as well as just making friends with people that are like-minded in the scene we're in," they say. "I'm also excited about the ways in which we've been building our own platforms, and how we've been able to create the scene that we've really always wanted but didn't necessarily have access to or saw in the years prior."
Their music trends towards the lighthearted and vibrant — often uplifting and full of feel-good emotions, even as they might sing of mental health.
"My philosophy around what I do with my work, and in general, is to try and put in more healing and light into a situation, rather than taking or adding a negative energy to it," Choi says. "So I'm just always hoping to heal from things, and that also helps others heal… and trying my best to push forward like a good energy for everyone."
BAZZOOKAFEST Schedule
Below is the entire BAZZOOKAFEST schedule, which is subject to change. Please visit bit.ly/bazzookafest2022 for up-to-date information on the event!
FRIDAY, AUGUST 19
3:00-7:00: DJ Pre-Show
7:00-8:00: Beauty Boiz Presentation ft. Jaiden Grayson and other musicians
8:00-8:30: Ballroom DJ
8:30-9:00: Mini-Ball Category (Runway) w/ CarLa, Elle, LuChi
9:00-9:20: CarLa & Elle
9:20-9:30: Ballroom DJ
9:30-9:40: Rens ft. Elle
9:40-10:00: Ballroom DJ
SATURDAY, AUGUST 20
12:00: Market Setup
3:00-5:00: Market & DJ Pre-Show
5:00-5:20: Combat Mommy
5:30-5:50: Supercoze
6:00-6:30: Brujita XO
6:40-7:10: Da Kween
7:20-7:50: Down North
8:00-8:40: Bijoux
8:50-9:30: Shaina Shepherd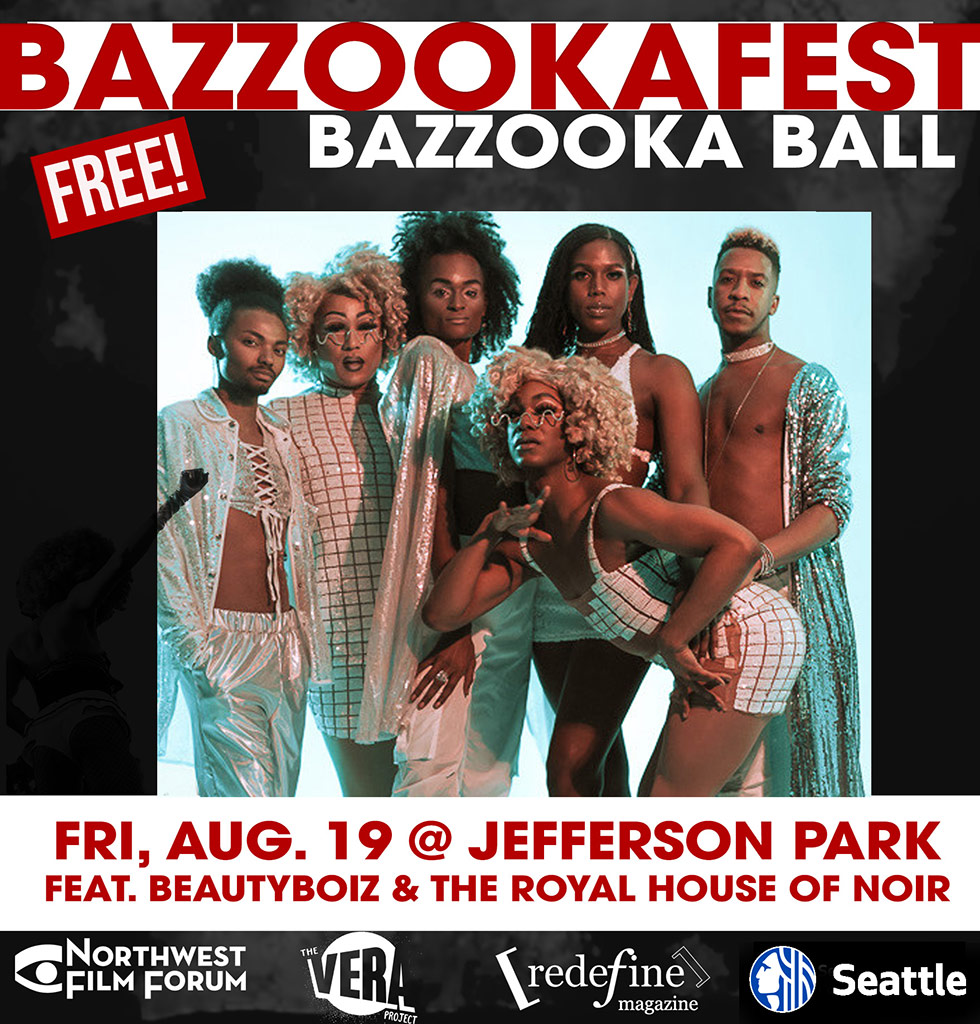 Ω