It's the Spring Equinox, and I am at the Showbox in downtown Seattle, surrounded by the excitable chatter of a relatively young, mostly BIPOC audience that is dressed adorably and ready to impress. We are waiting for R&B musician David Debrandon Brown aka
Lucky Daye
to take the stage, and right in front of me, a group of young women fawn over what is to come. They're "nervous" about Brown's impending sexiness, they say, collectively wishing for him to take off his shirt and drip his sweat on them. It's a joke — sort of, one would imagine — but by the end of the night, it would seem that Lucky Daye would make most of their wishes come true.
In the half hour it takes for Brown to take the stage, the crowd is so jazzed that even the filler music, whether it be Miguel, Frank Ocean, or SZA, became fodder for them to sing in group karaoke unison. It certainly helped that the evening's opening act, LA-based R&B musician Joyce Wrice, had brought the charm. The half-Black, half-Japanese vocalist kicked the show into high-gear with a 45-minute set, full-on with back-up dancers, her own enviable dance moves, and wind blowing through her gorgeous curly locks. In addition to her own tracks, she showcased compositions made in collaboration with Freddie Gibbs and Kaytranada, which hyped the crowd, and would later sing a duet with Lucky Daye as well.
When Lucky Daye finally did take the stage, repping New Orleans, his set began with four heavy-hitting tracks. First off was the title track from his latest full-length, Candydrip, followed by "Feels Like," my personal favorite from the new record. Ripe for spring, "Feels Like" is a dose of playful, falsetto-laden, radiance, and the only track on which Brown bust out the bass and joined the rest of the band in playing an instrument. Following that was a tried-and-true favorite from 2019's full-length, Painted, before he circled back to "NWA" from the new record.
It was a powerful lineup out the gate, with huge energy that felt bigger than the britches of the venue. Though the sold-out show held more than 1,000 attendees this particular evening, the clearly-seasoned three-piece band was all big drums, righteous synths, and guitar solos that felt better-suited for an arena space. Also contributing to the hugeness was Lucky Daye's multi-faceted persona. The Southern singer doesn't just sing, but raps, narrates, and offers up spoken word — all while effortlessly oozing sex appeal. One need only look to the sweaty-sticky risqué album cover of Candydrip; its sticky-icky photograph embodies the energy of Lucky Daye's entire show, which is playful, sensual, and certainly aware of the swoon-appeal it has to offer. 😉 Onstage, Brown was shining in silver, donning thick chains, thick earrings, and sick grills, while singing of thick girls. "'Cause your eyes match good vibes like fat ass and thick thighs," he recites in "Intro," the opening track to Candydrip. So many swoon as he does so.
Likewise, as if predicting the fantasies of the young women, Lucky Daye loses items of clothing throughout the evening, and though the entire process unfolds like a gradual striptease, it's also understatedly casual, as though he has done it a million times. Yet the crowd is so damn expectant that even the not-particularly sensual first layer — sunglasses — elicits an overly robust cheer. To say nothing of the many stages to follow: his flowy sky blue silk shirt coming unbuttoned, then removed to reveal a simple white tank; that white tank later ending up around his waist without my noticing, only to reveal a hard body glistening with sweat.
What was most impressive to me, though, was that Brown spent nearly the entire set effortlessly twirling, whirling, and jumping back and forth across the entire length of the stage. He did so while singing his heart out, and never did he miss a note or a melody. The performance embodied a spirit of play, as he gracefully acted out certain lyrics with facial expressions or full-body movements so expressive that I can't recall the last time another musician had covered so much physical space in so short a period of time, without any of it feeling forced whatsoever.
Following the first four tracks, Lucky Daye dug into some deep cuts, including "Bag," a Col3trane song which features vocals from Lucky Daye. It was an easy favorite. True, half its lines simply said, "All in my bag," and there was even mention of a chihuahua — but the track presented a welcome respite. It was stripped down compared to what had been presented up until that point, and allowed the audience an opportunity to clear the crisp mechanics of Lucky Daye's voice.
I welcomed these moments — for if there is one critique I have of the show, it is that it sometimes felt too bombastic to connect with. The majority of the performance was enjoyable and effective, but on rare occasions, I felt myself yearning for fewer bells and whistles. While introducing "Misunderstood" from Painted, for instance, Lucky Daye inquired with the audience if he could "get vulnerable" and "get into his feelings a little" — but the band felt comparatively so amped up on that track that I wasn't believing Lucky Daye was truly allowing himself to get into his feelings. In those instances, I hoped for more differentiation between the slower, introspective tracks and the dancier, extrospective jams. Ultimately, too many songs ended up with extremely over-the-top guitar solos and chaotic drumming for my tastes — maybe save it for closer to the end and the end only — but I guess the people may have loved it, so who am I to judge, maybe.
All that said, there were moments of gorgeousness when the intimacy was absolutely felt. Once was during Candydrip's album closer, "Ego," which speaks to heartbreak and checking one's own ego in the name of love; Brown sat at the front and center of the stage, baring his soul with a vocal delivery that held all of the tenderness the lyrics expressed. There were other moments of this throughout the evening, such as when Lucky Daye repeated a refrain, "Don't cheat that girl," as if addressing the men in the crowd, then made a side comment that he was simultaneously issuing a reminder to himself.
Audience members were also brought on stage unexpectedly, essentially serving as partners for Brown to act out certain lyrical themes and stories. The first two flanked each side of him as impromptu backup dancers and seemed to surprise the musician himself. Later on, the act was more premeditated; a young Black audience member dressed in a long white dress was introduced on stage during "Love You Too Much." In response to her presence, the man next to me shouted out, "A queen is on stage!" — and that was clearly the point: to allow Lucky Daye to express the emotions of loving someone too much to a queen who was actively in front of him. In return, this audience member took full advantage of the opportunity, touching Brown back sensually as much as possible — to the point where it was borderline awkward because it seemed a bit distracting from Lucky Daye's mission at-hand, which was to entertain an entire audience and not lose focus. Regardless, the spontaneous nature of it was joyful to witness.
Lucky Daye's second full-length, Candydrip, was released in early March, and I've actually listened to it plenty of times on repeat since. But watching Brown perform it live — along with practically all of the best tracks on his previous records — brings nuance and appeal to songs I may have previously glossed over. Standouts along these lines include "Fuckin' Sound" from Candydrip, which practically walks one through the motions of lovemaking, and, well, hints at the sounds that might be associated with that. Yet the track never veers into overly lude territory; instead, like a Lucky Daye show, it is a glorious feat of foreplay. Respectfully.
"Over," a crowd-requested favorite from Candydrip, closed out the evening. Arguably the most heartfelt performance of the evening, it was all of the passion and lyrical nuance Lucky Daye's albums encompass, speaking to the devastating allure of being pulled back into a lover one is trying to leave. As anticipated, the finale culminated in a heavy banger of instrumental solos, complete with heavy metal riffs and all. Arena-ready, I say. Arena-ready.
Lucky Daye's career first began in 2018 with his EP, I. He's come a long way six, including six Grammy nominations, and it's obvious that he has a big personality, big voice, and big vibes that are suitable for big dreams. Don't be surprised if his unique brand of sunshine-heavy, feel-good storm soon takes the U.S. by playful force, because I think he is more than fit for it.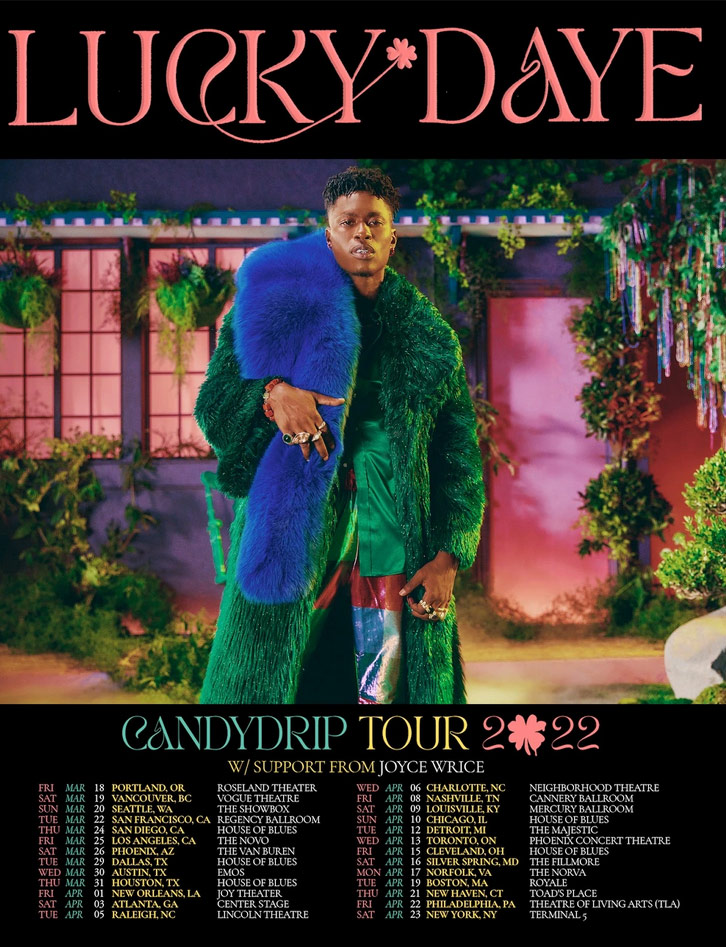 Ω