The first time I saw Seattle photographer
Eirik Johnson
's
Leviathan
series, I was both transfixed and confused. What exactly was I looking at? One piece depicted great swaths of navy blue, striped with light like layers of sediment. Another showed a vertical stream of burnt sienna orange that spills into black, gelatin-like waves below. Were these Rothkos, perhaps? Nope. They were ships.
A few years ago, Johnson began photographing the hulls of barges docked on the Duwamish River, which runs from the Cascade Mountains to Seattle. From his nimble sea kayak, he ventured closer and closer, until his photographs lost all sense of scale. As Johnson explains, "Light would bounce around beneath the hulls and from beneath the surface of the river. The images became much more abstract, [and] they referenced sculpture and painting more than photography."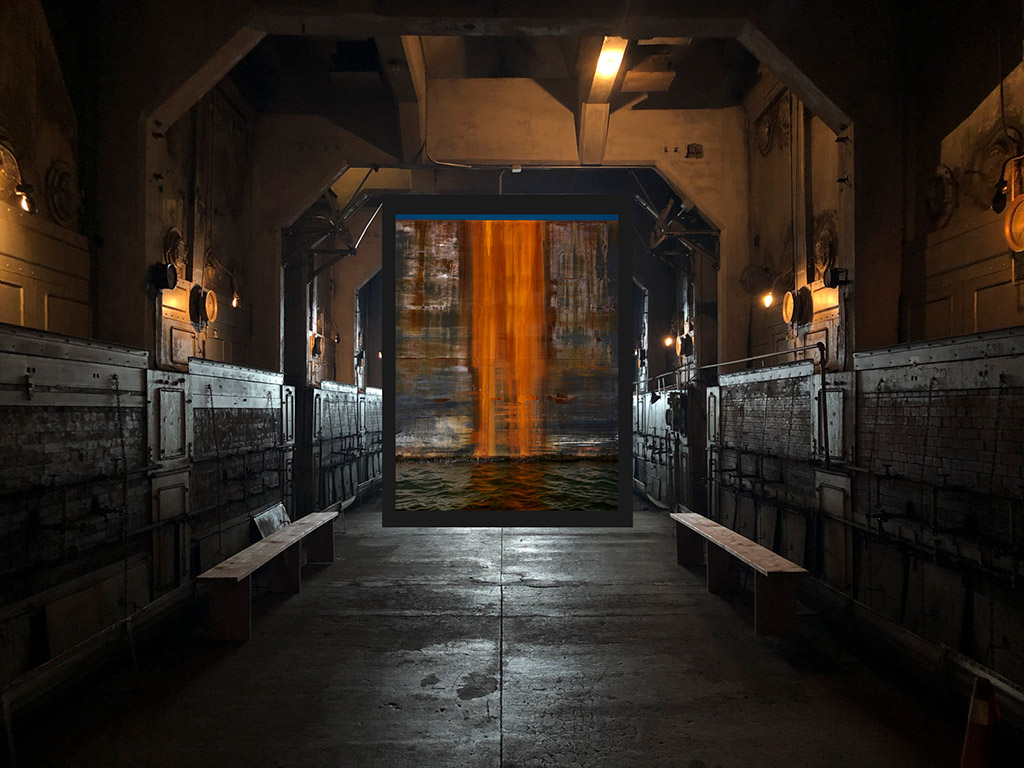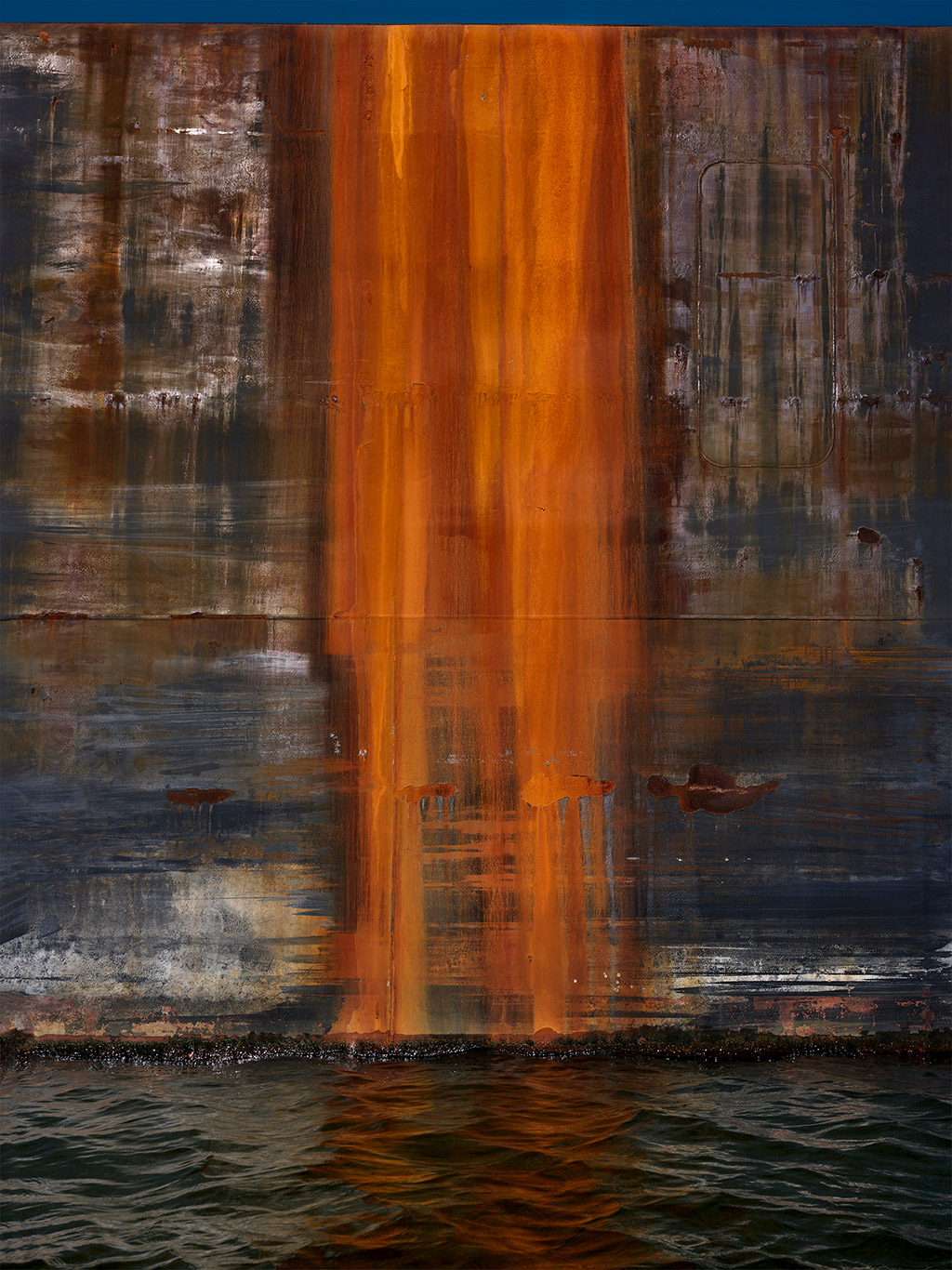 And those otherworldly, phosphorescent jewel tones? They're the accretion of pollution. Over the course of voyages from Seattle to Alaska, or from Hawaii to Seattle, the hulls collect rust, salt, algae, barnacles, and mussels. All of that detritus, man-made and otherwise, flows into the Duwamish River. As a result of shipping and other industrial activities, the river's level of pollution is staggering. In 2001, the Environmental Protection Agency deemed it a "Superfund" site, designated for its high levels of hazard waste; they have since poured hundreds of millions into cleanup. Johnson's photos, with their perverse beauty, remind us of the hidden cost of oceanic commerce.
The photos are aesthetically pleasing, yes, but their meaning is much deeper. "Those layers of debris [are] core samples of the journeys that these things have done. They reference the ugliness of pollution [and] the ugliness of transoceanic global commerce," reflects Johnson. "It's a beauty that can also remind you of that dark side of things — that side that we don't like to really discuss — which is that it takes a toll to move physical goods across oceans. There's a hubris tied up with these images."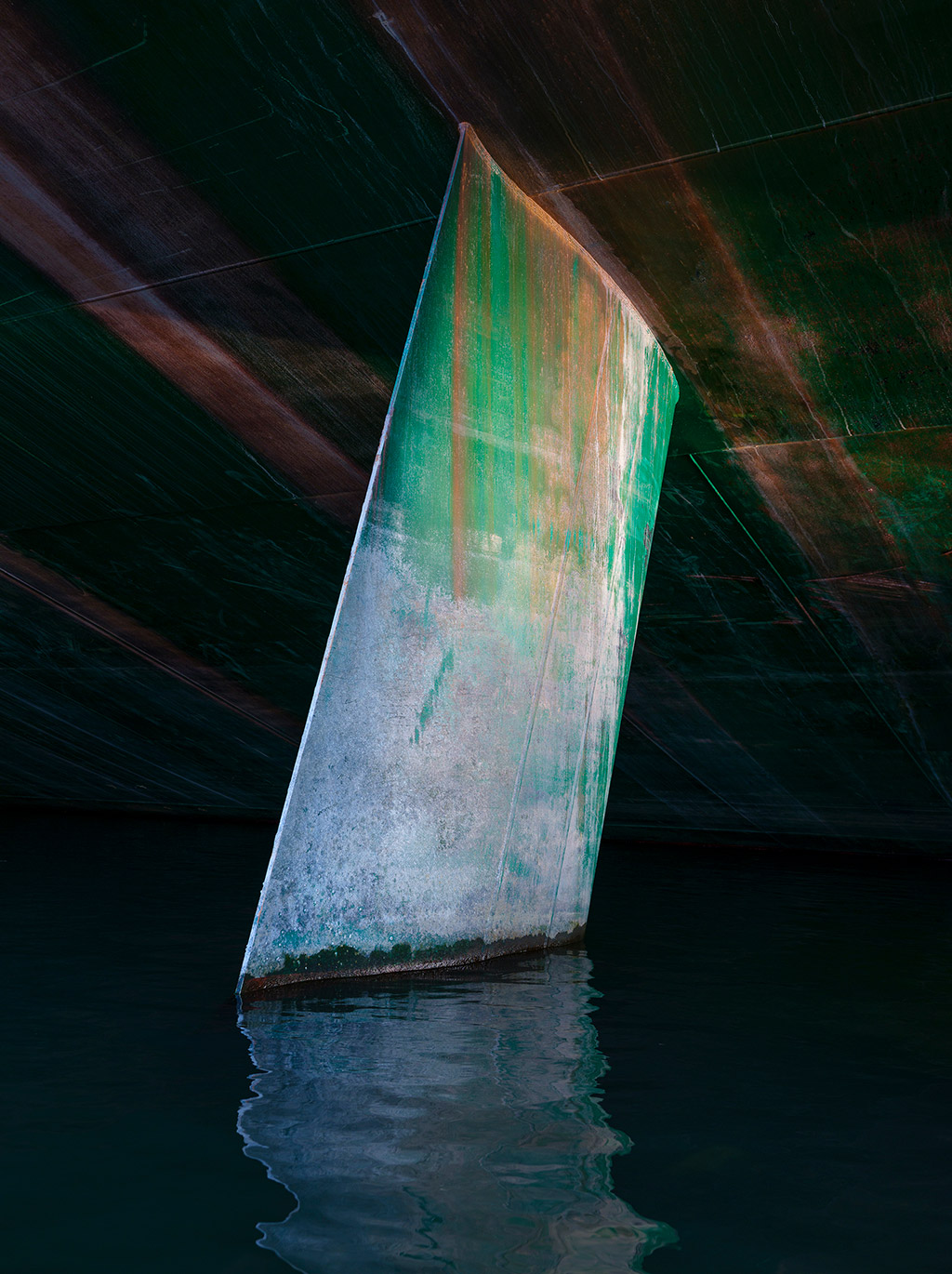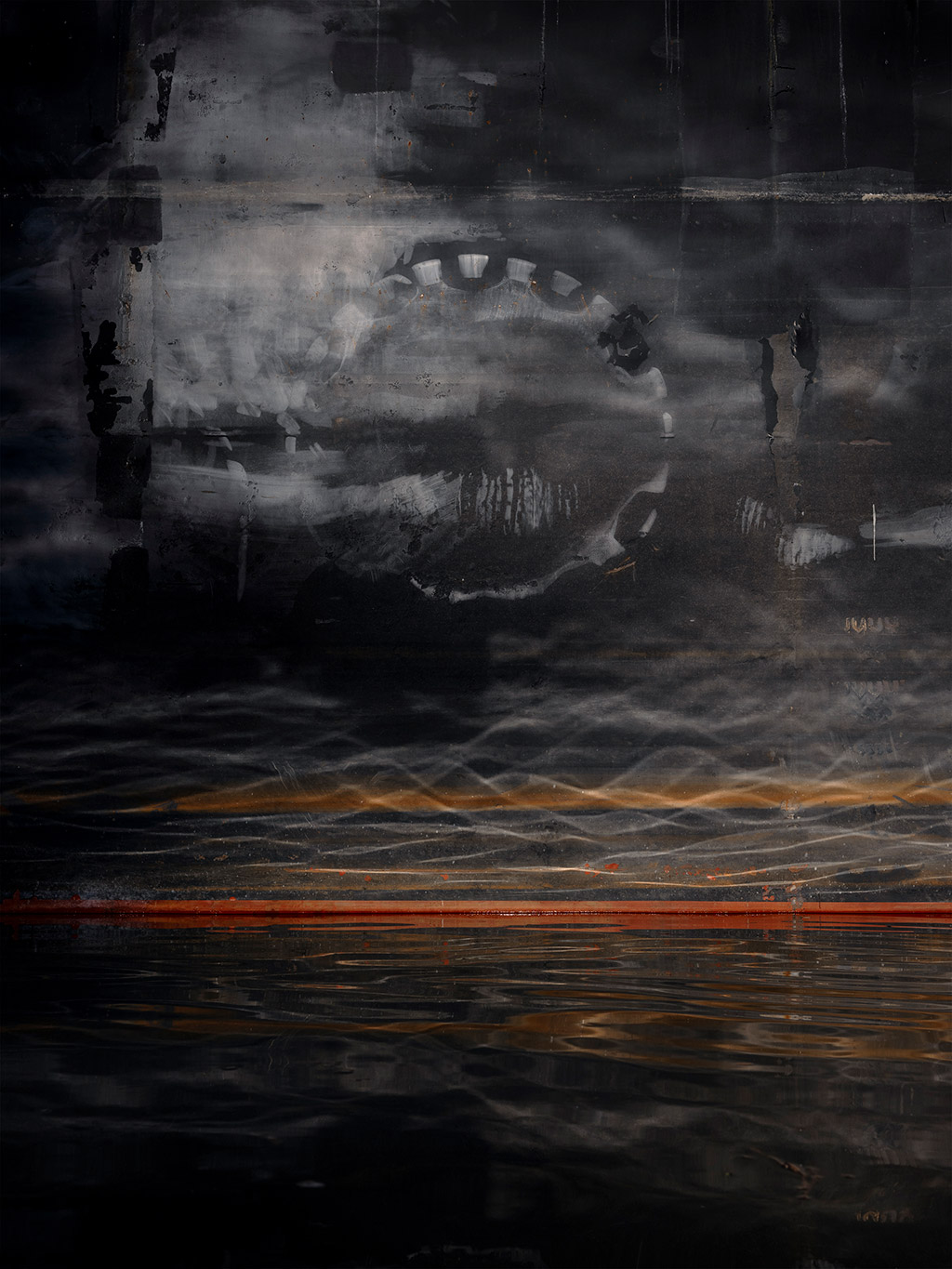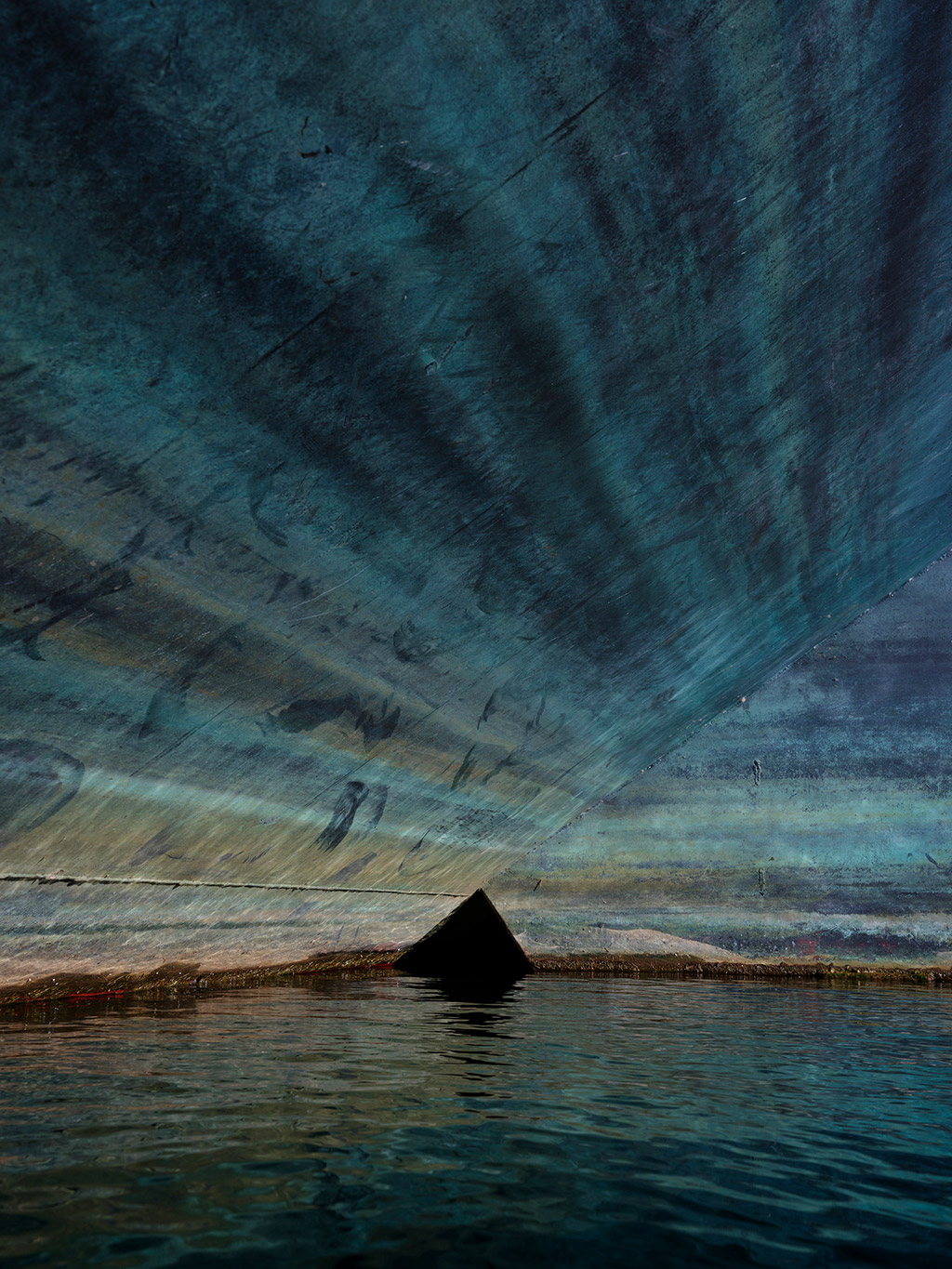 As part of Johnson's Leviathan Rising show — which takes place at the Georgetown Steam Plant in South Seattle from May 13th to 21st — these photos will be projected at an epic scale of around 13 by 17 feet. As with his past series which have focused on the now-defunct Alaskan Way Viaduct and the Elwha River dams on the Olympic Peninsula, Johnson has a way of making industrial structures feel achingly human. His work marries aesthetic experimentation with rigorous examination of social and economic issues.
Johnson's photos of the Duwamish River will be accompanied by a sound piece inspired by the din of the river. He used an underwater microphone, or hydrophone, to capture the range of sounds: a tugboat propeller that sounded like a heartbeat, say, or the thud of mud sliding off a pier. Then he "sampled" these recordings to craft a multilayered sound piece, which will fill the cavernous, cathedral-esque main turbine hall of the Georgetown Steam Plant. Johnson compares it to an orchestral piece with different movements.
"I am hesitant to say, 'Oh, This is what I was intending,' [because] I really didn't know what I was intending," he says. "I was just responding to the sound and trying to think about a longer musical piece that had an ebb and flow, a beginning and an end."
By contrast, the photographs will be projected in the darker, more "intimate" boiler room of the Georgetown Steam Plant, which once provided Seattle with electricity and is now an arts and education space.
"You walk through the turbine hall, [and] you'll feel the sound; you'll experience it in a physical way," says Johnson. "Then you walk up over this sort of catwalk and into this long nave-like cavern of the boiler room. You'll still hear the sound, but you'll really then focus on the photographs. I almost think of the sound as a primer for the photographs."
Connecting the Georgetown Steam Plant with the Duwamish River and Leviathan Rising
The Georgetown Steam Plant's history is inextricable from the Duwamish River — a river named after the original Indigenous inhabitants of the land, who are still present in the area today. In 1906, the steam plant was built on the banks of the river, but when the river was straightened by enterprising settler-colonialists in 1913 to allow for larger ships, the plant was suddenly a half mile from its water source. When Leviathan Rising is unveiled, the sound piece will transport the visitor back in time to the Duwamish's primordial path. Johnson's work reminds us of humanity's awesome — or fearful — power to remake and break landscapes.
The plant fell victim to bad timing in another way; it was powered by coal just as Seattle was shifting to hydropower. Now it's remembered for its cutting-edge Curtis turbines, which were groundbreaking when they were first developed in 1906. The ones in the plant are now the last operational ones in the world, and the steam plant was also critical for powering Seattle's electric street cars amidst a booming population.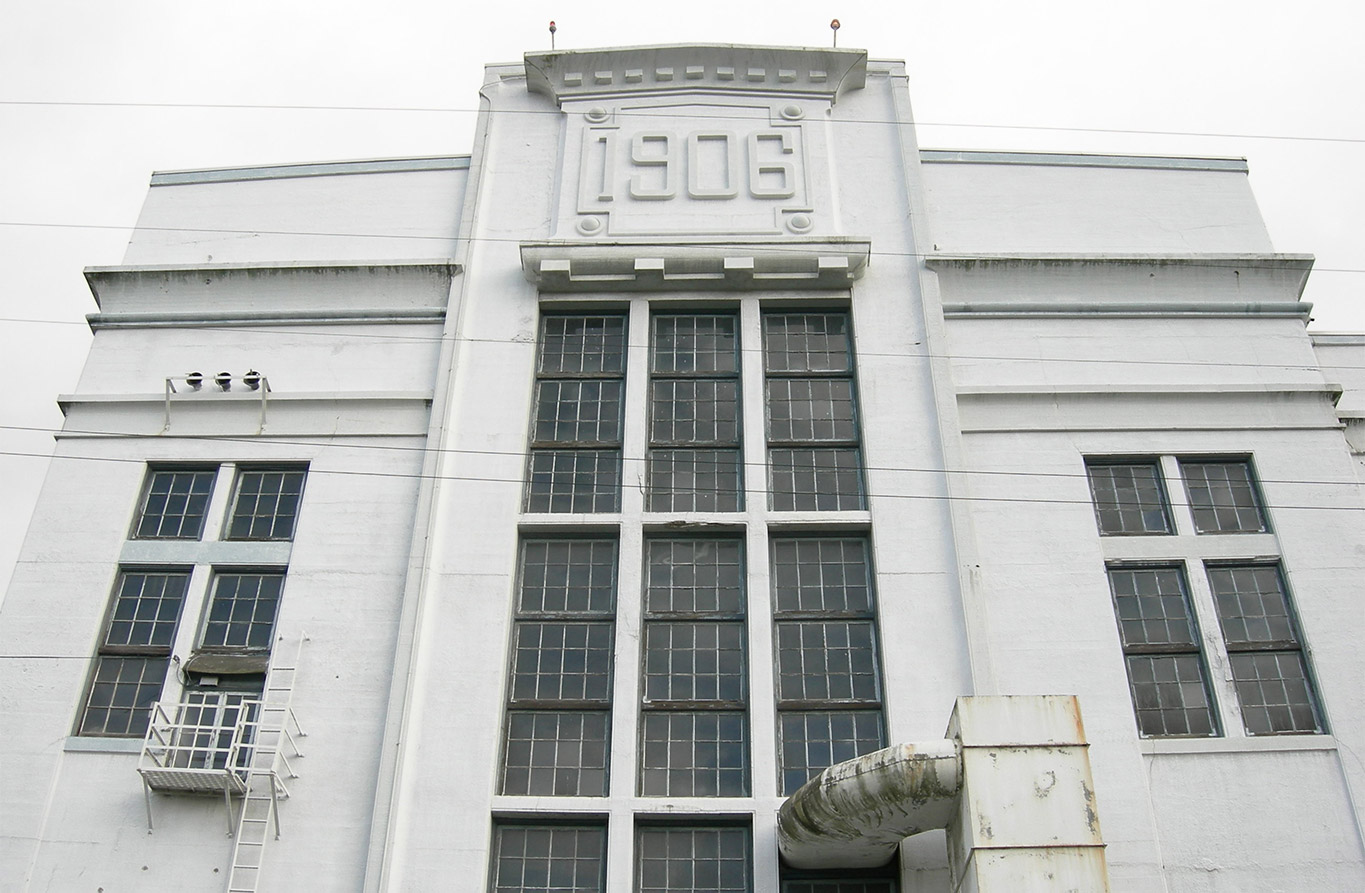 Photos of Duwamish River and Georgetown Steam Plant by Joe Mabel (via Wikicommons)
In 1977, the plant was fully decommissioned after decades of emergency-only use. It was declared a National Historic Landmark in 1980, and, later, a City Landmark and Historic Mechanical Engineering Landmark. In 2018, Seattle City Light, which owns the plant, began looking for a community partner to bolster programming in arts and STEM (or STEAM, appropriately enough). The Georgetown Steam Plant Community Development Authority (GSPCDA) signed a 60-year lease in 2021, and their first order of business is making the building more environmentally-friendly, earthquake-safe, and accessible. To help pay for upgrades, GSPCDA rents out the space for photoshoots and private events; they also sponsor exhibitions like Johnson's, as well as aerial acts, durational dance performances, drawing classes, music video shoots, and more.
Genevieve Hale-Case, the nonprofit's Executive Director, describes the plant as a draw for artists and techies. She explains, "We look at machines now, and you can't really tell what's going on… you look at the machinery that's in the steam plant, and everything's out in the open, which means that it becomes a really incredible teaching tool. That's a big part of what we're envisioning: having kids be able to really understand how electricity was generated, and also just use it as a place to be inspired about technology."
Similarly, Johnson describes the plant as "one of the most unique architectural spaces in Seattle, or in the Northwest really."
Leviathan Rising's third chapter is a series of daguerreotypes made in partnership with photographer Daniel Carrillo, who is an expert in the medium. Daguerreotypes were an early type of photograph that used silver-plated sheets of metal.
"Each one is a unique object," explains Johnson. "They're very jewel-like and special, quite different [from] a large reproducible photograph."
For their subject, Johnson and Carrillo chose glass floats — the delicate orbs used by Japanese fishermen in the 20th century to keep their nets afloat, which sometimes washed up on the shores of Seattle. With their bubbles and blemishes magnified, the resulting daguerreotypes "look almost planetary or cellular," says Johnson. Each one is small, spanning eight to ten inches, but their implications are global. Oceans connect the world, and these floats are the tangible evidence of countless long-haul journeys.
"You don't know what you're looking at initially," says Johnson. "Once you understand the context, this whole world of global commerce and history starts to become apparent, but at first blush, you're entranced by the strange wonder or beauty of the thing."
As the "Blade Runner-like" sound piece envelops the main turbine hall of Georgetown Steam Plant, visitors can peruse the daguerreotypes on the wall. Johnson hopes the sonic and visual elements — each otherworldly in its own way — will complement each other. The exhibition's title refers to the biblical sea monster, but with a twist.
"The work is taking over the architecture of the steam plant for a period of time, and surfacing," says Johnson. "This oceanic beast is going to rise up for a period of a week and expose itself, and you'll be able to participate with it before it goes back beneath the surface."
Leviathan Rising is simultaneously freighted with history and urgency, asking us what the river's future holds. The show is a rare, fleeting chance for visitors to ponder the Duwamish's tangled history from inside of a Seattle landmark.
See and experience Leviathan Rising at the Georgetown Steam Plant in Seattle from May 13th to 21st, 2023.