The 20th edition of the
True/False Film Fest
runs March 2nd to 5th, 2023, in Columbia, Missouri. Well-known for an emphasis on community over industry — as demonstrated by the beloved annual parade and prevalence of local artists and townsfolk involved in the fest — True/False Film Fest also boasts an impressive music profile, with buskers before every screening and a robust concert schedule curated this year by Music Coordinator Ashwini Mantrala.

The music program features 39 acts across 11 concerts, and True/False contends that, "This collection of creatives symbolizes the wide range of narratives, communities, and emotions that have come to define the story of this decade's experimentation so far."
Here are a half-dozen notable electronic-leaning acts playing this year's festival. And even if you won't be at True/False, you can still take in the music through Aswhini's
playlist showcasing most fest musicians
.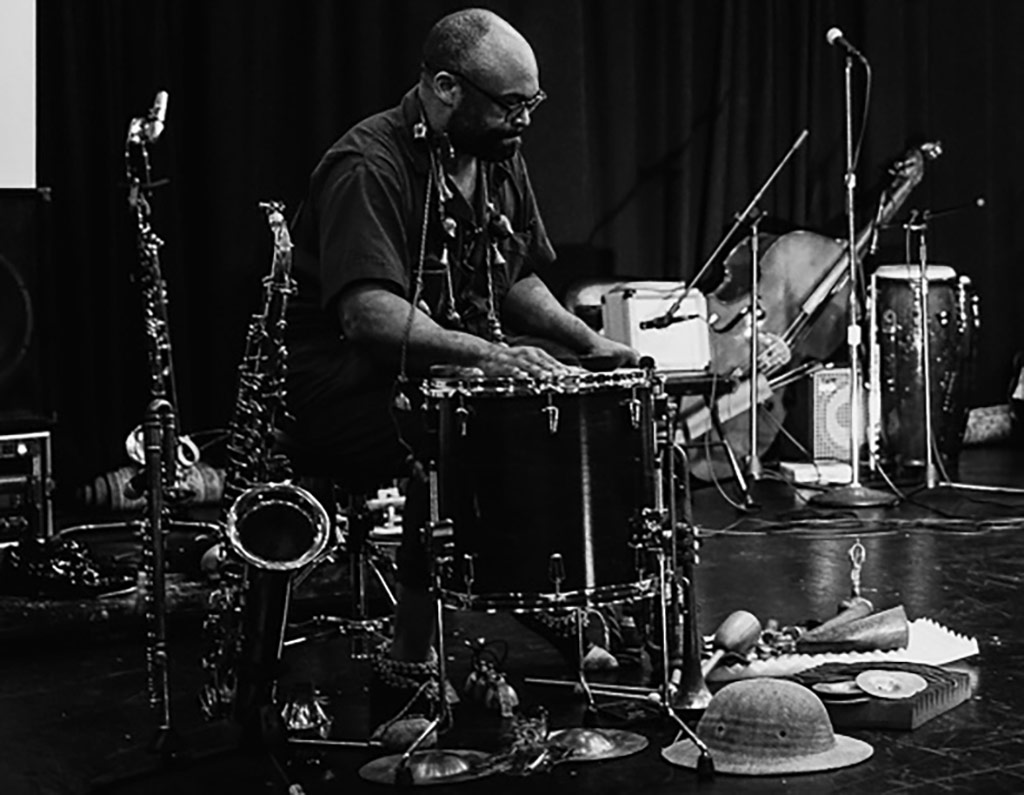 Abstract Black
Thursday, March 2 at 8:00pm – Thursday Night Berlin Showcase @ Cafe Berlin (M&T) – TICKETS
Friday, March 3 at 7:00pm @ The Globe (Abstract Black) – Pre-Film Set for Going to Mars: The Nikki Giovanni Project
Friday, March 3 at 10:00pm @ The Globe (M&T) – Pre-Film Set for Moosa Lane
Saturday, March 4 at 2:00pm – Willie Wilson @ Ragtag (Abstract Black) – Pre-Film Set for How to Have an American Baby
Saturday, March 5 at 5:00pm (M&T) – Willie Wilson @ Ragtag The (Abstract Black) – Pre-Film Set for Mafifa
Nashville-based artist Abstract Black (Jayve Montgomery) is up for numerous sets, including a March 2 showcase as half of the experimental drone duo, Montgomery & Turner, and a number of sets before film screenings.
Invoking comparisons to Esperanza Spalding and Thelonious Monk, the multi-instrumentalist lists no less than 20 instruments — from oboe to "park bench" — on his 2019 album Circles with Self.
In the album's liner notes, he writes, "After witnessing the Sun Ra Arkestra in Memphis October 2018, I used the month of November to create these compositions, quick mantras really, which focus on using the sound circle (loop), to reimagine an ensemble, in the tradition of Great Black Music ensembles like the aforementioned and the Art Ensemble of Chicago, yet comprised of self solely. This recording stands to document my adherence to the practice of sonic improvisation in the out of doors."
Abstract Black layers in each level of instrumentation with careful method. On "Saturnalian Rings," for example, he makes sure to leave space for the individual voices of a saxophone or clarinet to sing before adding percussive textures. "Fife Gap" sounds ripe for an underwater scuba ritual, opening with flitting jingles and cowbells before a bass clarinet line invites a deep dive beneath the surface, paired with a playful piccolo. Abstract Black minds the balance of many rich textures with the power of a pregnant pause, to moving effect.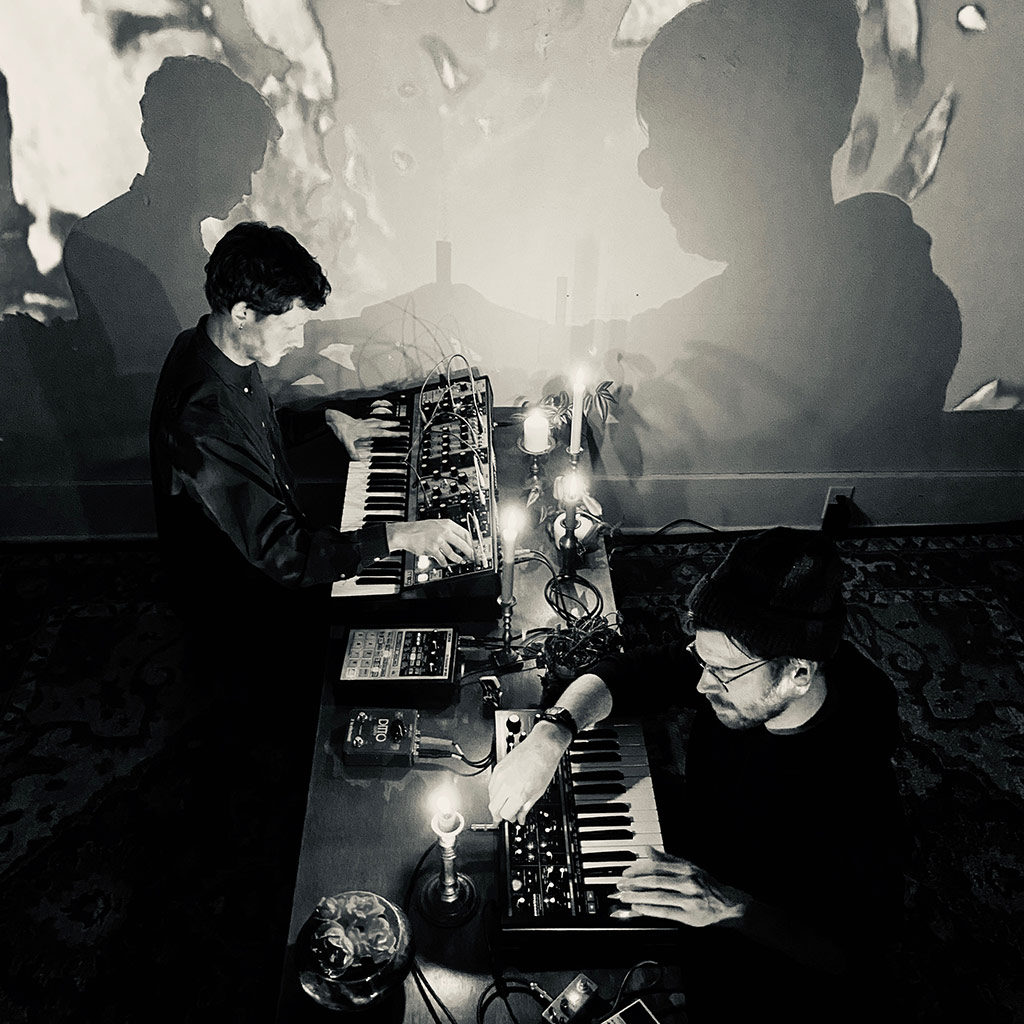 Marble Faun
Thursday, March 2 at 8:00pm – Thursday Night Berlin Showcase @ Cafe Berlin – TICKETS
Missouri-based experimental electronic duo Marble Faun plays March 2nd in a Café Berlin showcase that True/False promises will be an "exploration of unorthodox sounds."
In a recent Tweet, they cited the following as "8 films to get to know me:" Ghost World, Safe, Showgirls, The Devil, Probably, L.A. Plays Itself, Badlands, Rosemary's Baby, Memoria.
The full range of feeling-tones in these films emerge in Marble Faun's music, which is strange, eerie, kitschy, intellectual, pensive, philosophical, unsettling, remote, sly and otherworldly. Each track on their 2020 full-length album, Synthetic Afterlife, brings to mind a different kind of movie scene. "Terminal Wave" sounds straight out of a marshy bog populated by vaguely menacing cyborgs as they prepare to face off against a fleet of UFOs about to land. "Brotherhood of Sleep" could serve as the soundscape for a video game level set in an unnerving dream world. The ethereal yet disquieting flutes on "Ba'al" could accompany Mia Farrow on her harrowing journey into the maternal underworld. Things take a warmer, more hopeful turn with the gentle electronic riffs of "Digital Renaissance."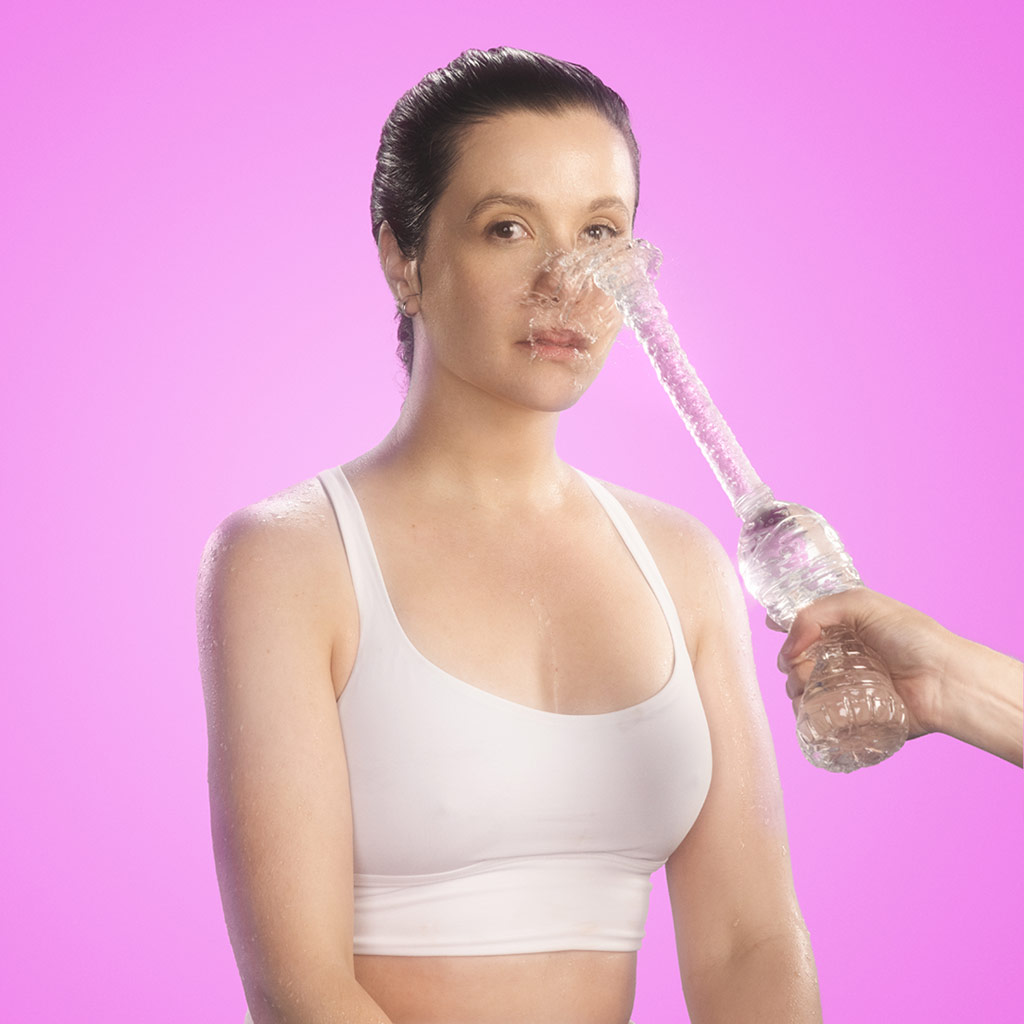 Jessy Lanza
Thursday, March 2 at 11:00pm – Showtime Theater @ The Blue Note – TICKETS
Canadian singer and electronic musician Jessy Lanza headlines the Blue Note Dance Party on March 2nd — this time, as DJ, rather than live performer. As True/False notes, she's "club music's most exciting vocalist," now "sharpening her DJ abilities to a fine point."
Accessibly postmodern, Lanza's musical influences range from hip hop and funk to soul and R&B. The confluence of her diverse palate, educational roots in jazz, and professional background as a music teacher, make for a truly distinct sound marked by high octave vocals and unusual club beats.
Lanza spent the height of the pandemic honing her DJ chops as a way of channeling an offering to the world. When she released her DJ-Kicks mix in 2021, she said, "I made this mix to connect the dots. The songs I included are ones that people respond to everywhere regardless of where in the world I'm DJing. I made this in pursuit of the bleary 4 AM feeling; the moment when you hear sweet soul-burner vocals with drum patterns that won't let you go home. There always has to be melody — whether it's vocal or rhythmic, there has to be something catchy, something joyful and ultimately something that will connect with the listener."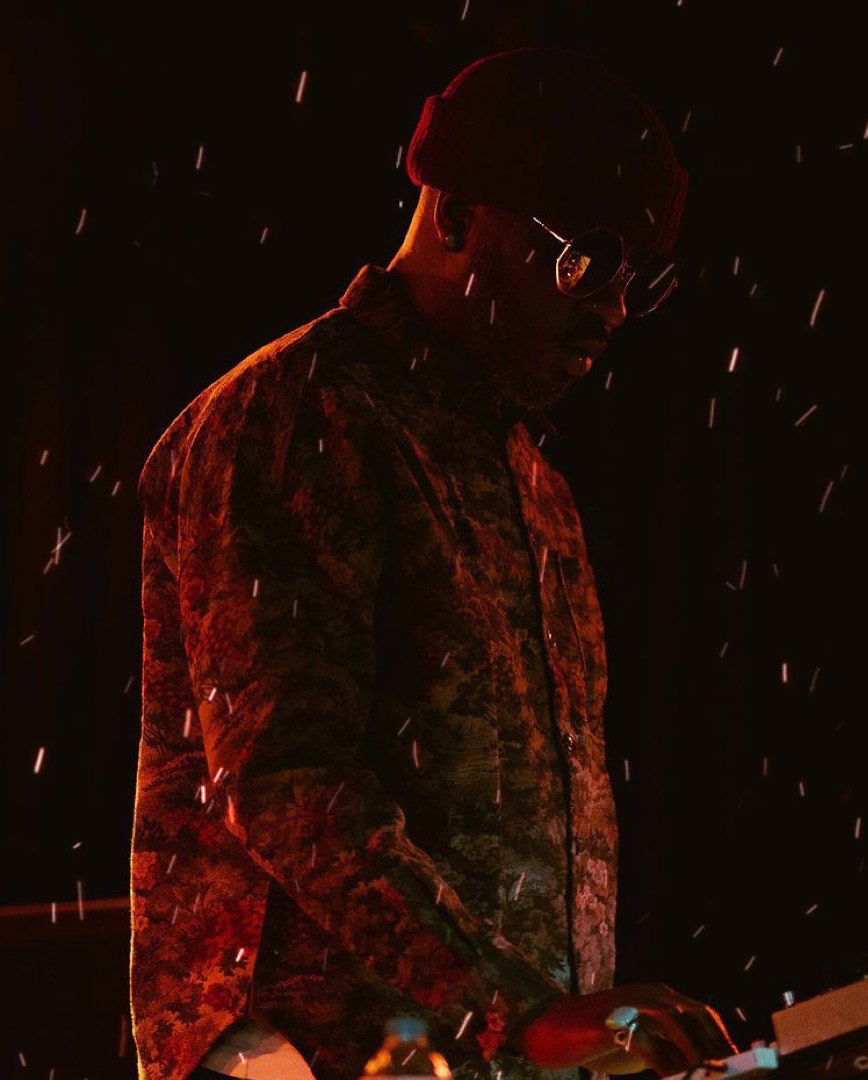 Oui Ennui
Saturday, March 4 – Scheduled Maintenance Party (SECRET PARTY)
The utterly distinct voice of self-described avant-guardian and non-diasporic afrofuturist Oui Ennui is just as evident in his written missives as his sound.
Exhibit A, from the pure gold liner notes of his milestone 2022 album, Water Softener, notes, "Welp. 30. Not my age for several summers now, but my 30th release. As anyone who knows me will attest, I am a ridiculous person. Absurdity is my love language, because existence is absurd. Case in point: On my 30th birthday I had dinner at a vegan restaurant. They wouldn't let us eat the cake we'd brought, and ultimately asked us to leave, because we couldn't prove it wasn't made using eggs. 😒 Your move Marie-Antoinette. More often than not, the lingua franca of my solipsistic multiverse serves its constituents well, but only by a nose."
Wondering aloud about an ambitious self-assignment to create and release an album every month while battling long-haul COVID, Oui Ennui writes, "Why do I do this to myself? I guess I desire for my obsession to be validated externally and/or for my lonerism to have a decent ROI. Have I inadvertently subscribed to grind culture?! Ugh. Much to my chagrin, I now have a brand *cringes in 4K*. But at what cost? The goddamned brand I created causes me to work as soon as I get home from work, exacerbates existing existential dread, and ensures that I'll be on prescription Vitamin D in perpetuity. This math ain't mathing."
But the music is music-ing, and the True/False audience will be lucky to witness it. Oui Ennui concocts compelling tapestries with many instruments, driving percussive beats, and glitzy synths, such as on Water Softener track "What We're Not Gonna Do." The song gives Janelle Monáe circa Archandroid, with a frenetic, fast-driving beat tangling with a cascade of delicate, yearning synths.
Oui Ennui plays at Scheduled Maintenance on March 4th, during "the infamous super secret party of True/False."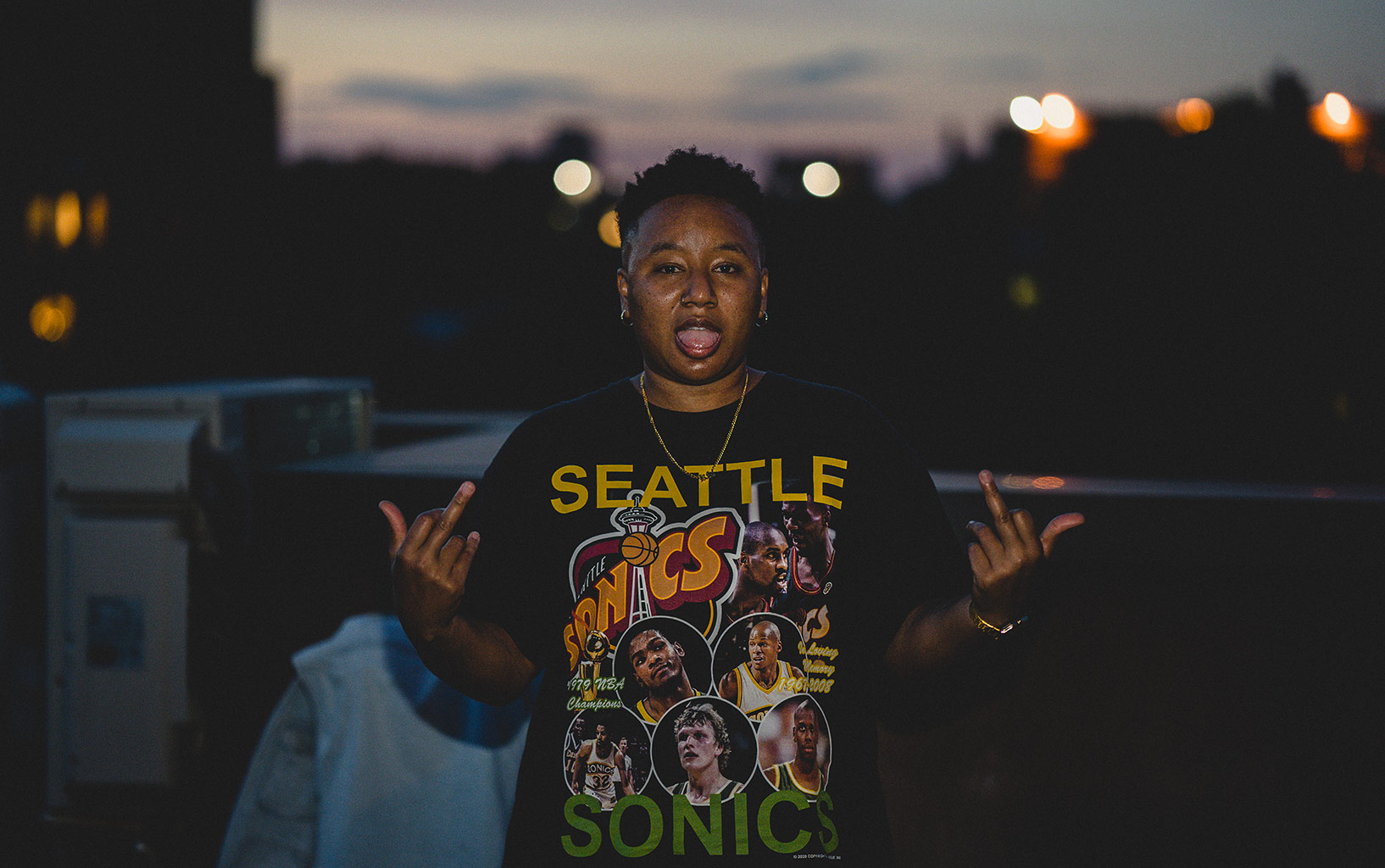 Stas THEE Boss
Friday, March 3 at 8:00pm – Friday Night Berlin Showcase @ Cafe Berlin – TICKETS
Saturday, March 4 – Scheduled Maintenance Party (SECRET PARTY)
Pacific Northwest MC, DJ, and producer Stas THEE Boss hails originally from Hilltop in Tacoma, Washington. With deep roots in the Seattle music community, she was previously half of the genre-merging group THEESatisfaction, host of KEXP's weekly hip-hop show Street Sounds, a member of the Black Constellation (Shabazz Palaces, Maikoiyo Alley-Barnes, Nicholas Galanin, Nep Sidhu and Erik Blood), and has released records on Sub Pop Records.
Her always smooth sound ranges from down tempo beats beneath quicksilver rap to the bouncy house beat of 2022 single "Don't Crash," a meditation on screen overload. On the track, she likens the dissociative distractions of scroll-spiraling to the overindulgence of substances, while ultimately steering clear of judgment to instead provoke us to face the mirror.
These days, Stas is based out of Atlanta and Portland, Oregon, but continues to collaborate with and support Seattle artists. She plays the March 3rd Café Berlin showcase and the "super secret" Scheduled Maintenance party on the 4th.
Ω