Self-taught experimental musician and interdisciplinary artist,
Ruhail Qaisar
(Ladakhi), has recently presented
Fatima
, a haunting debut full-length album released on Aisha Devi's label imprint,
Danse Noire
. Paired with a beautiful 48-page lyrical and photographic book,
Fatima
explores instances of personal and collective trauma and tragedy in Qaisar's hometown of
Leh
— a mountainous desert region located in Ladakh, a long-contested area bordering China and India.
In this poetic Q&A interview, Qaisar describes the area as "considered geographically uninhabitable by most in the rest of the mainland" and generously offers insights into his childhood there, prior to many modern conveniences. These early experiences helped shape his relationship to place as Leh undergoes environmental catastrophe, and also offers a framework of comparison for some of his other interests, which include "the collective unconscious as a traumatic megasystem" and "geotraumatics," or trauma experienced by the land itself, often due to humanity.
Fatima captures all of these sentiments through dark, dissonant compositions which move seamlessly among ambient, noise, drone, and post-industrial genres. While Qaisar reflects that joy certainly exists in Leh and speaks of some of the practices of survival for the area's Indigenous Ladakhi people, he also notes that his personal experiences have more strongly resonated with the "tragic" than the "joyous."
He shares, "In my compositions, [as] I attempt to interpret and color those atmospheres of either the slow imminent winding build-ups or the unexpected rattling pummels, they naturally come only in the shades of bleakness… I am a sonic chronicler of the various traumatic and tragic occurrences."
---
Q&A Interview with Ruhail Qaisar
Fatima is based on your hometown of Leh. Can you describe that region for us, and why it can be seen as a site of trauma and decay?
Leh is the central town in the Union Territory of Ladakh, situated at 3,500 [meters] above sea level. Time works differently there. It is not particularly only entrenched in trauma and decay; that would be false. Yet in my journey growing up, I particularly have had immense impressions drawing either from personal or impersonal catastrophe, in a small community, geographically considered inhabitable by most in the rest of the mainland, living with no telephones, with 4 hours of electricity and regular blackouts.
Through the nineties, the collective unconscious teems with local mythos, both ancient and contemporary, fables and real-life occurrences that intertwine at various interstices, of which I prefer the surreal tragedies that take place in a landscape that amplifies them, and how these narratives strike blows in the corners of my mind.
Even after access to television and 24-hour electricity and 4g internet, I experience and still revel in the mythos and the climatic nature of how our story as a people develops collectively as well as individually. We had flash floods in 2010 which was an extreme catastrophe, trash from a barren valley snowballed with the water and the debris and ended up cascading down on multiple localities laying waste to the telephone exchange, the radio station, the hospital, the bus stand, airport, bridges, inner roads. 71 localities were damaged, 255 were dead, 200 were missing, and 1000s were rendered homeless. You can still see the marks of the debris flow on the mountains.
I was still in middle school. This was time out of joint; life changed suddenly, and we were sent back to our past, coupled with an extreme external natural tragedy collectively. No phones, no lights, no TV, no internet, and the fear of another flood, military relief camps, disappearances, funerals, people, landscape and economy in utter disarray.
The Landscape was scattered in ruins, sculpted in hauntological totems, structures erected with expectations, eradicated. Even the rescue operations were hampered by damaged roads and bridges. It took years to recover the material property damage, and some wounds it inflicted on the inhabitants still fester.
Living through such experiences, I have registered the tragic more than the joyous, and my interpretations of these experiences are deeply personal and firsthand. And in my compositions, [as] I attempt to interpret and color those atmospheres of either the slow imminent winding build-ups or the unexpected rattling pummels, they naturally come only in the shades of bleakness.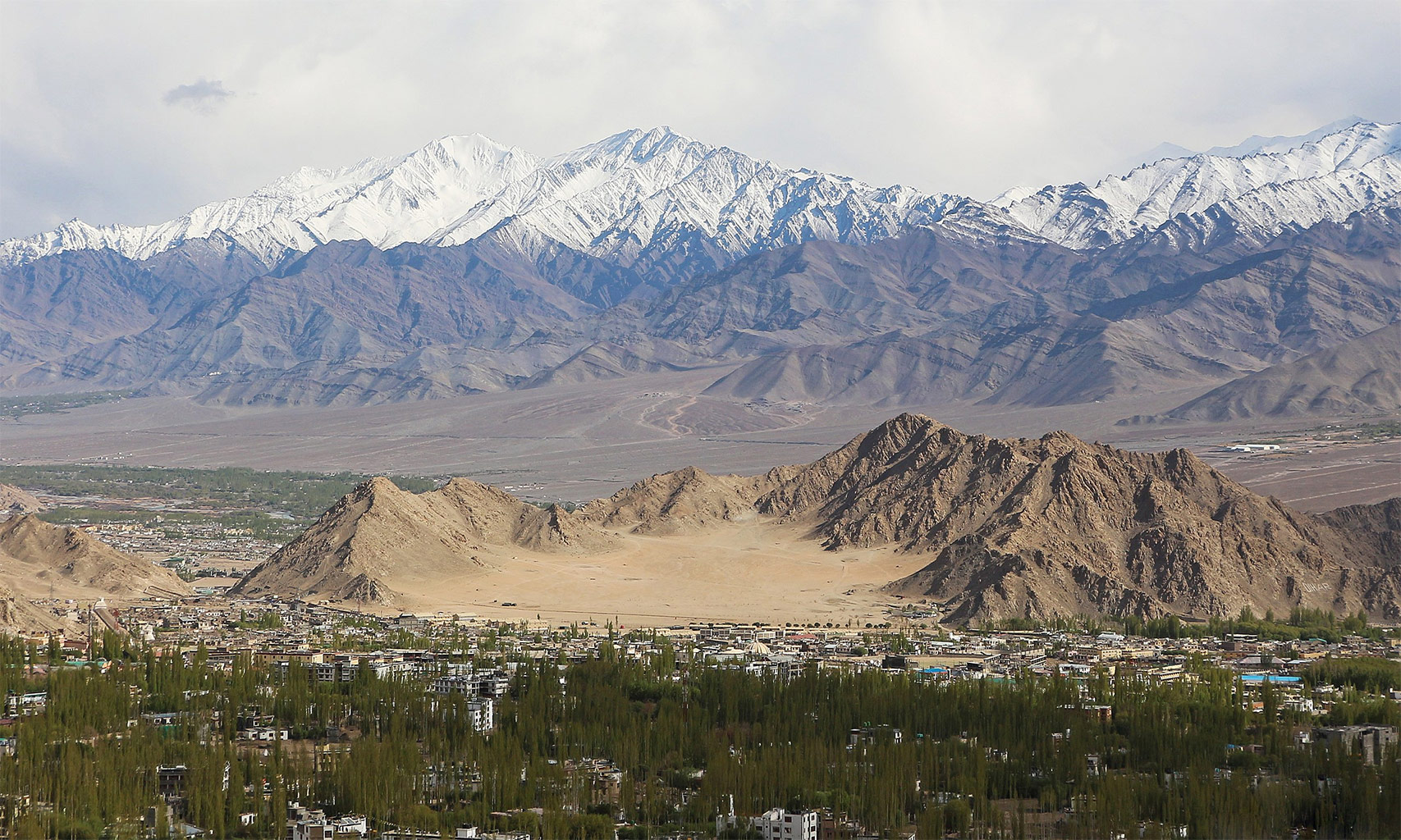 View of Ladakh Range (actually Zanskar range) from the Shanti stupa, Leh, India. Photo is attributed to Bernard Gagnon (under a Creative Commons, CC BY-SA 4.0 license).
The vast barrenness of the landscape and its geology is also a huge factor. The Ladakh Range is composed of granite rocks of the Ladakh batholith, which is bounded by the Shyok suture zone to the north and the Indus suture zone to the south.
During India's northward drift, Tethyan's oceanic lithosphere was subducted northwards beneath the active Andean-type southern margin of Asia, resulting in the intrusion of the Trans-Himalayan alkaline batholith along the 2,500 km length of the collision zone. The final stage of intrusion is marked by a series of cross-cutting leucocratic granite exposed at Chumathang in Ladakh and around the Gilgit–Indus River's confluence in Pakistan.
The subject of the collective unconscious as a traumatic megasystem intrigues me, along with geotraumatics. During the Archaen [Eon], the molten core was buried within a crustal shell, producing an insulated reservoir of primal exogenous trauma — the geocosmic motor of terrestrial transmutation, looping of external collisions into interior content, impersonal trauma as drive-mechanism. The descent into the body of the earth.
So, Ladakh isn't only a site of trauma and decay. Its definitions are as vast as its landscape, but I am a sonic chronicler of the various traumatic and tragic occurrences. These traumatic mega-systems exist everywhere, and so far, these occurrences and their patterns and affectations interest me.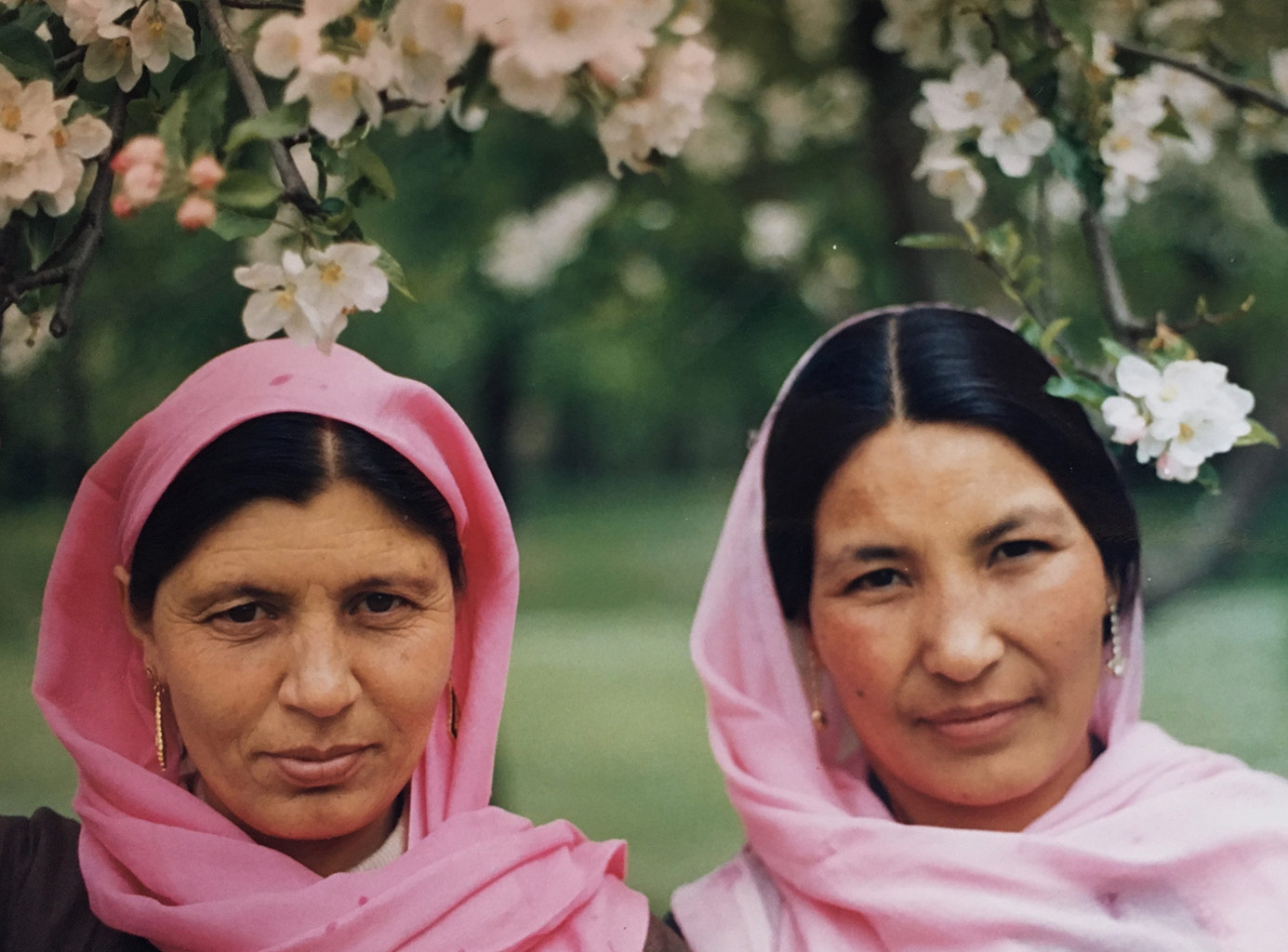 Fatima's Poplar, and the associated track, from the 48-page book which accompanies the Fatima album release.
Why is the album titled Fatima?
Fatima came as a dedication to my grandaunt, who passed away from a tumor a few years ago. She was where we got our milk from back when I was a kid; she had a barn in the backyard with two cows. She was, for me, also a symbol of innocence.
As the work of the album progressed, there came other allusions to the moniker.
Fatima is also the name of a medium appointed by [His Holiness] The Dalai Lama. Now, this is an anomaly again, and an intriguing transgression. The medium comes from a very religious and orthodox Shia-Islam background, and in her trance states, she transgresses her religious background, and becomes a medium for a revered deity in the Tibetan Buddhist pantheon and delivers prophecies.
What is amusing is how a person from the Kargil region, who grew up speaking a different dialect of the Ladakhi language in her trance state, prophesizes in archaic Tibetan.
So in a way, these occurrences ended up validating my yearning for a pan-Ladakhi identity tied more to the land rather than socio-religious dogma.


Namgang, and the associated track, from the 48-page book which accompanies the Fatima album release.
Your music has a harshness about it that mirrors the perpetual conflict of your local area. As an artist, what drives you to capture this sound or feeling?
My area hasn't always been in perpetual conflict; there have been stable years always — sometimes even for a decade — but the borders and the frontiers have always existed, whether it may be the Indo-Pakistan War in 1999, which I have memories of, or my Granduncle's anecdotes from the 1969 Sino-Indian war. Living at the frontier always heaves the psychosphere with ominousity and fear: fear of sudden conflict and being the first to experience it.
My mother lost her brother in 1989 under very mysterious circumstances during a conflict between Buddhists and Muslims. She still hasn't had any closure with the case, and [none] of the suspected people have been tried in any investigation, mostly because of their social status and privilege.
Even while I was composing Fatima in 2020, there was a Chinese intrusion, and I saw 500 war tanks go by my house.
The decay is more because of the late capitalism post, and its effects, leading up to heavy environmental catastrophes, both immediate and long-term; for example, the flash flood or the melting glaciers.
Currently, Ladakh is in a state of uprising because when the right-wing party in power abrogated our neighboring state, Kashmir, of its special status and filled it up with armed forces, they baited us Ladakhis with the promise of autonomy under the status of a Union Territory, which was a hollow ceremonial footnote on their manifesto to quickly cash in on the vote bank.
There were no basic provisions such as land protection and environmental and cultural safeguards. Since we are mostly a tribal population, Ladakhis fear that the central government without these safeguards can perpetuate actual decay through mining, pollution, and hyper-tourism, which in such a fragile environment, could lead us towards apocalyptic futures, considering our self-sustainable agrarian origins.
Other than the stark mundane realities, I feel the vastness of the landscape, and the distinct characteristics of how sound travels physically, along with how sounds — especially vernacular and quotidian in small communities like ours — hold immense power.
I have always been receptive and sensitive to all sounds, screaming into gorges as a kid to hearing back the echo, to hitting electric poles with pebbles.
Since the climate is cold, primarily, we still thankfully have no use for modern inventions such as fans or air conditioners. The many hums of urban machines are nonexistent; the silence allows the natural sounds to interplay in dramatic structures if you just keep an ear out on a silent night. If you are lucky, they occur with such precision you almost feel like you had a schizophrenic experience, unconscious laments of the land.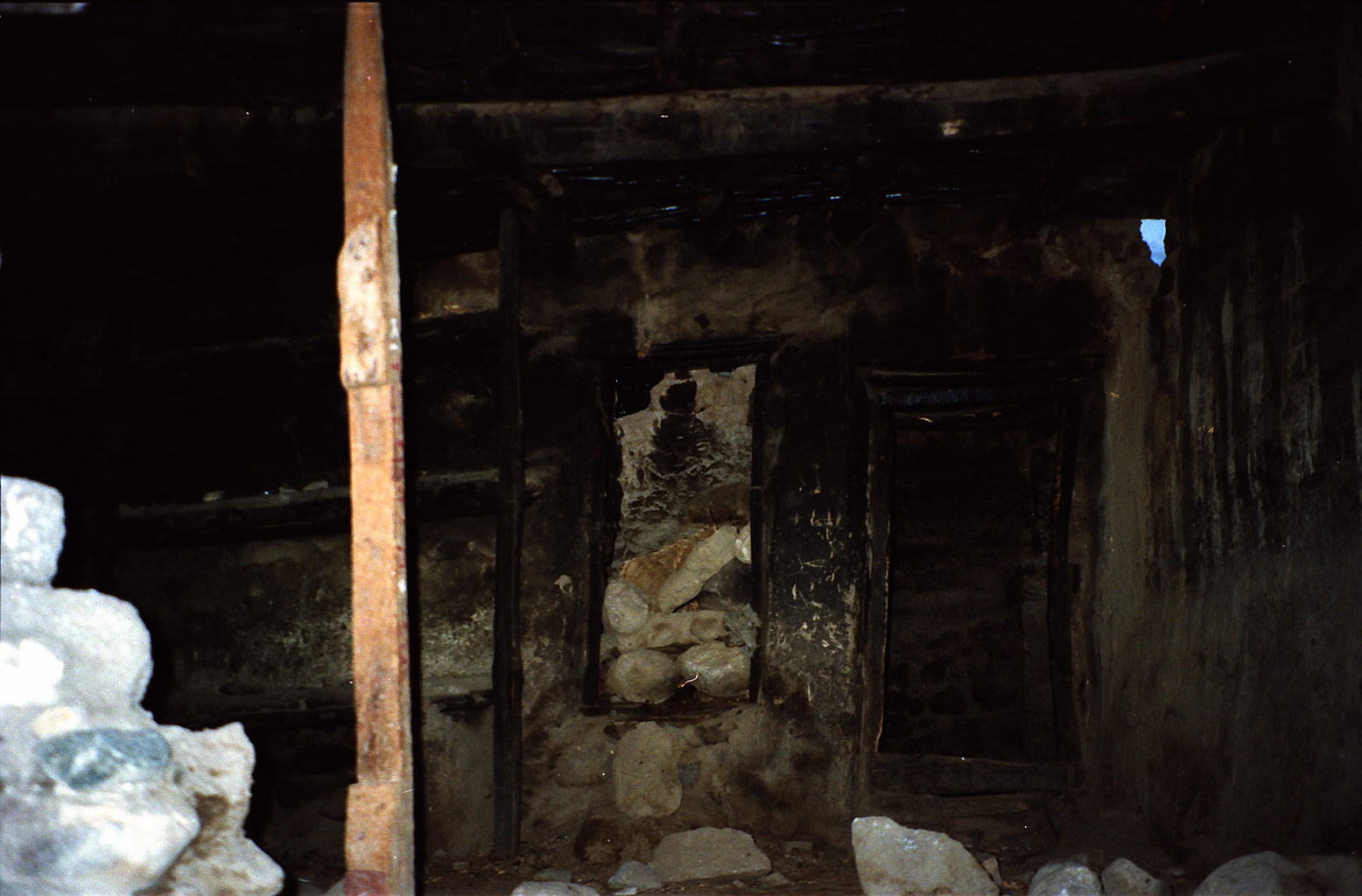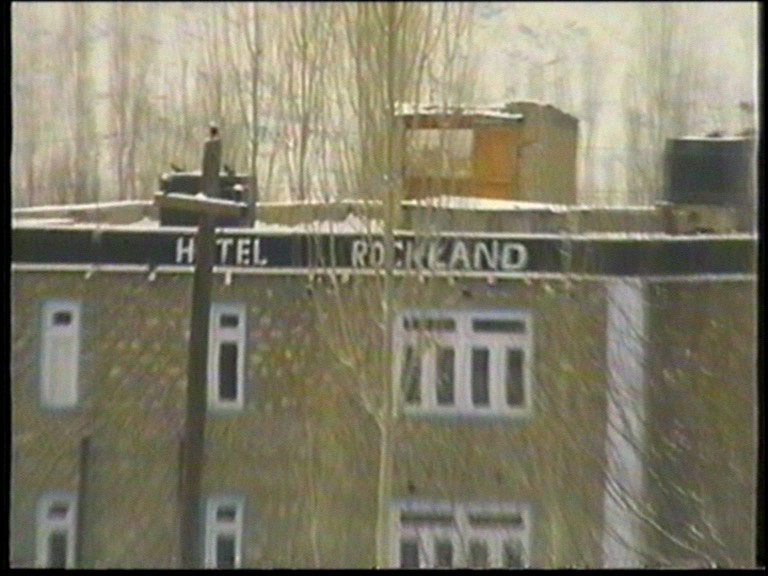 Abandoned Hotel of Zangsti and its associated track, from the 48-page book which accompanies the Fatima album release.
How much do others in your area use art to cope with the trauma? If not through art, how do they navigate the sense of ongoing conflict?
Song, dance, and ritual have always been a part of the community; they serve the function of deep catharsis through mythos. The Ladakhi traditional folk music — though mostly unchronicled — in its eventual development, holds vast reserves of songs… of joy, sadness, and in-between. There are many festivals where people get together. Most people are deeply religious as well, and they navigate their lives through the practice of the teachings.
I am not a very social being, so I found my own ways to deal with things. But there are many local artists working with different mediums.
I also don't feel that everybody is obliged to take things the same way as I do; the trauma aspect is very personal to me and ties in with my family history. The entire town isn't traumatized, nor is it always in conflict, but yes due to late capitalism, the behaviors are switching; psychological aspects are emerging [to] the front that were never considered.
When the land itself — which people were so close to — is commodified in ten different ways, to sell it to the mainlanders, then issues like this are likely to surface sooner or later.
Can you walk us through your songwriting process for this particular album? Do you start with particular sounds, concepts, and feelings?
I think it is merely mindstates. Some of the songs came quickly, and some took varying degrees of sculpting and chiseling. If a narrative, a memory, or a sound has had a profound effect on me, it either finds its way as a sonic motif or an entire composition. This all has to work automatically; if forced, then it fails and crumbles down in a nameless void, never to return again.
Then one has to wait in suspended animation, knowing the time is not right yet, but await the moment with cold reptilian patience.
There is a mention of recollections and "a conjuring of metaphysical totems" through your music as well. Could you expand upon that and how those come through you?
These totems exist locally and are only known to a local mind. I guess it would take a mind which has been constantly processing time and its adverse effects on the space and people, tying it in with ancient and recent history, and forming a conjecture of some overarching symbology. The stupas, monasteries, half-collapsed archways in the old town of Leh, petroglyphs near the border, military trucks thrown off in deep gorges, the traces of Bön shamanism, animistic altars in the mountains, elusive meditation caves. There is no dearth.
My attempt was to only evoke how I felt about these times and spaces and amalgamating them into a sonic montage.


Painter Man and its associated track, from the 48-page book which accompanies the Fatima album release.
The book accompanying the album release is beautiful, featuring writing, many photographic images, and text in both English, Urdu, and Tibetan. It features many types of images and offers a fuller picture of the story behind the music. How did you select the images and text in the book? What were you hoping to convey?
Since my family history is half the context behind this album, I went to my maternal grandmother's house and dived deep into her photo albums… I found a polythene bag abandoned in another shelf full of beautiful images, a rejected portfolio of my father's paintings, some VHS screengrabs from my visual piece, Cenacle 97-98.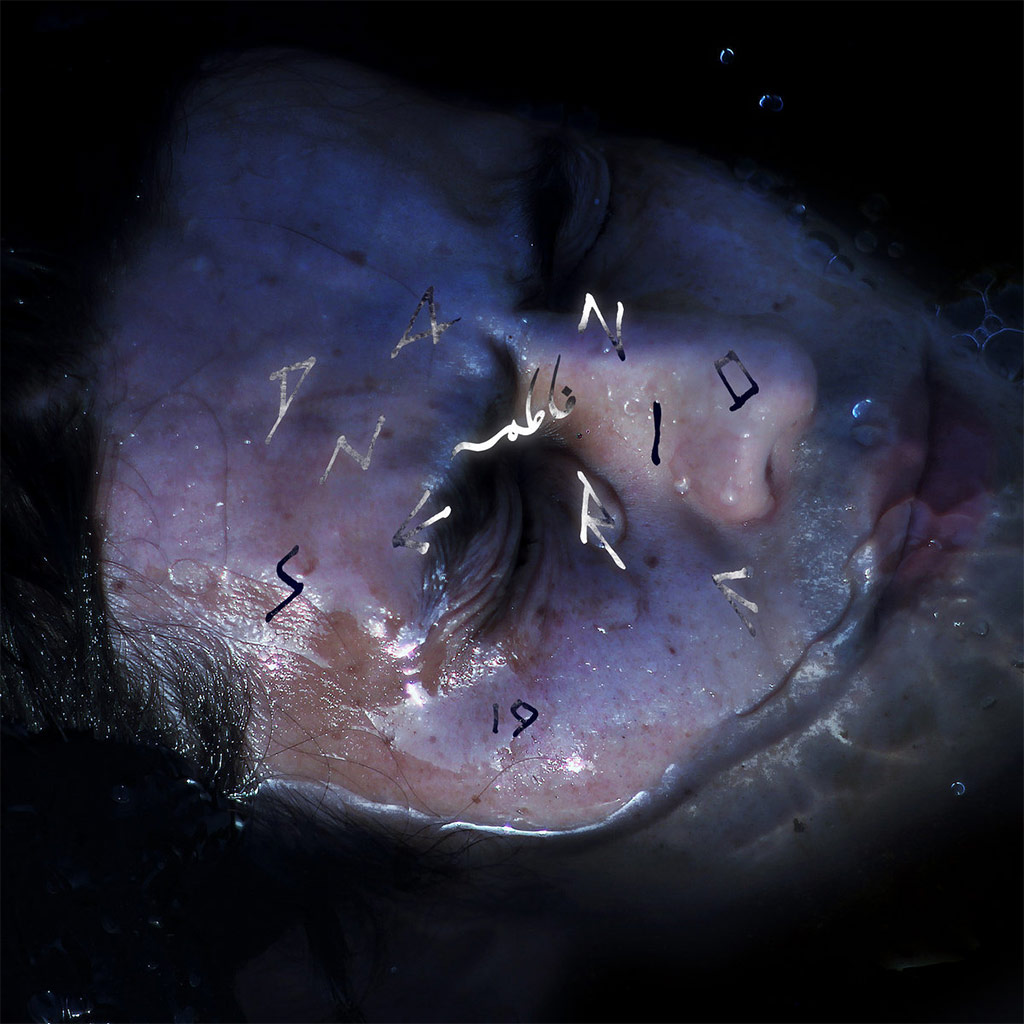 Album cover artwork for Fatima. Photography by Rana Ghose; Design by Niels Wehrspann; Cover Urdu text by Aastha Gupta.
Your album cover is beautiful; how did you conceptualize it?
During the pandemic, I found myself lured to swimming every day in the backwaters of the Indus River, which runs through my village, I feel its some form of baptism and slow immersion into a pool of apparitions — the Indus also being a very primal water source for civilization.
Diving deep into the darkness can at times serve as a means of catharsis. Now that you are on the other side of this album, how has creating it impacted your perception of the reasons that you created the album in the first place?
The darkness never leaves; it is a strange lure that I wrestle with constantly. And at least through varying forms [of] its soul-grabbing chaos or the lulling comfort, I only can reach certain conclusions and exert lightning through the dense fog. It is an endless cycle, in this age, mental health is always in constant decline; I just feel lucky and privileged that my coping mechanisms bear fruit.
Fatima Full Album Stream
Ω