In honour of the Year of the Water Snake and the festival's ninth year running,
Symbiosis Gathering 2013
took us to the stunning isolation of Woodward Reservoir in Oakdale, CA to lose ourselves in an unbeatable line-up, and to then find ourselves in poetry, trees, healing domes, sacred fires and endless dives into the lake (for which we are all grateful). With an emphasis on the magic of transformation, Symbiosis provided an enchanted space of bio-psycho-spiritual healing, environmental and sociocultural conscious learning, and a unique source of musical inspiration. Among the many loved and soon-to-be loved artists was the powerful voice of
Lynx
, the free-flowing explorations of
Mount Kimbie
, and the ever-passionate words of
The Coup
.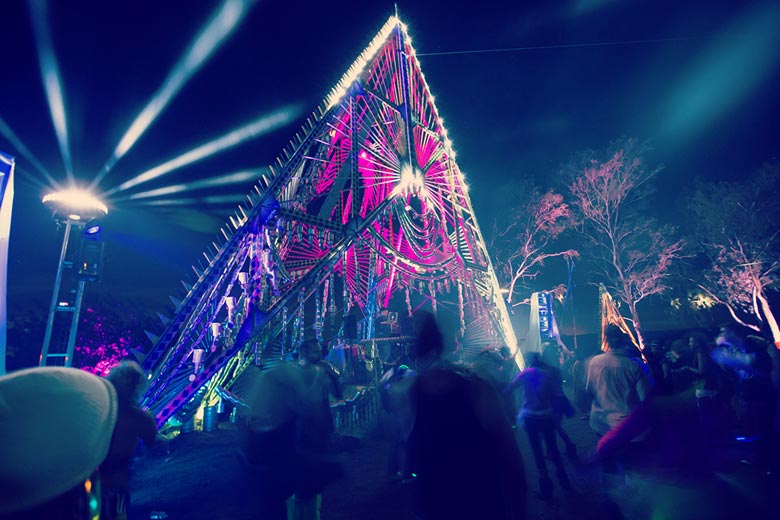 Photography by Setareh Vatan
Lynx
Out of the untamed medley of transcendental ritual and primal movement that coloured the ether emerged, like a wild cat to the stage, Lynx: a woman whose roar resonated with deep earthy sounds that, like any shamanic heartbeat, carried the audience into a trance. Lynx's style marries folk, electronica, and traces of indie pop with her own beat-boxing, into a highly satisfying cross-genre hybrid, arousing overwhelming appreciation from a crowd immersed in continuous proclamations of love. With her first album, October 2010's
On The Horizon
, this Bay Area-brewed artist has been charming the world with her strong vocals for some time, and yet my first taste of her at Symbiosis was certainly a highlight of the festival for me, as it no doubt was for many others. Lynx creates a raw, sensual atmosphere throughout songs that swing from downtempo to upbeat rhythms. Her lyrics evoke archetypal imagery of a profound feminine power.
On The Horizon
presents a magical copulation of the inner unconscious in a poetic dance with a surreal surface world, as Lynx sings of existential ruminations amid romantic sentiments in a lyrical journey that hints at a negotiation of the self. At a festival focused on the partnership between two states of being, Lynx reaches symbiotic perfection through both technical eclectic success and a smooth voice that seduces the audience into watery world balanced between the emotive and the physical, leaving the crowd soaked in enjoyment and hungry for more. Luckily for all of Lynx's pre-existing fans and the new ones she created at Symbiosis (such as myself), her new album,
Light Up Your Lantern
, will be released on October 22nd.