22 Oct

Kate Bush To Release New Album, 50 Words For Snow (& Music Video Retrospective)
The legendary KATE BUSH releases a brand new studio album 50 Words For Snow on Anti-Records on November 21.
The album features 7 new tracks set against a background of falling snow, with a total running time of 65 minutes; through a highly evocative musical and lyrical landscape this haunting album once again pushes the boundaries.
" I can feel him melting in my hands…."
50 Words For Snow is KATE's second album release of 2011, following Director's Cut which was released in May to massive critical acclaim.
The new album features a small number of special guest musicians including Elton John, Andy Fairweather Low and, on the title track, the British writer/broadcaster/raconteur Stephen Fry.
KATE BUSH has been cited as a huge influence on a range of artists from newcomers like Florence and the Machine and Feist to established artists like Tori Amos and Bjork; she has also been praised by figures as diverse as OutKast, Tricky and Sex Pistol/PIL legend John Lydon who said; "Kate Bush supplies me with all the clues and it's up to me to put the answers together, and that surely is what we are all looking for".
Writing about Director's Cut British rock weekly NME said; 'Kate Bush is the most influential British female artist ever. No Kate Bush – no PJ Harvey, Cocteau Twins, Bjork, Tori Amos, Joanna Newsome, Goldfrapp, Bat for Lashes; it's not only female solo artists either – Radiohead, Suede and Patrick Wolf are all fans whilst her distinct falsetto is evident in the output of Anthony and the Johnsons".
Here is her new track, "Wild Man":
Kate Bush – "Wild Man" by antirecords
50 WORDS FOR SNOW TRACKLISTING
1) Snowflake
2) Lake Tahoe
3) Misty
4) Wild Man
5) Snowed In At Wheeler St.
6) 50 Words For Snow
7) Among Angels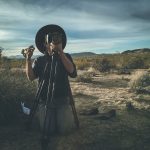 Vivian Hua 華婷婷 is a writer, filmmaker, and organizer. As the Executive Director of Northwest Film Forum in Seattle and Editor-in-Chief of the interdisciplinary arts publication, REDEFINE, much of her work unifies her metaphysical interests with her belief that art can positively transform the self and society. She regularly shares human-centered stories through her storytelling newsletter, RAMBLIN' WITH VEE! In 2020, she will [hopefully] begin production on a comedic Asian-American series entitled Reckless Spirits.
Ask Vivian about MARSHMALLOWS, cuz she's gross... and being tips for being frugal while nomading!