What communicative force lies behind the deliberate disfiguration of a photograph? What discourse would otherwise remain mute in original form, were it not liberated through ruin? Brazilian artist and architect
Lucas Simões
explores topographic aesthetics in fragmented portraiture through his papercut series
desretratos
("unportraits") . Overwhelming the voices of intimate friends as they narrated their suppressed secrets, music subtly informed the ambiance of Simões' imagery, but the most significant power of influence was the character of each portrayed individual. Simões slices the temporality of scenes in a person's life, solidifying within one image a progression of time and its evolving lyricism. Within the physical evidence of a single instance, Simões nonetheless relates a
series
of intensely personal moments. His experiments allude to the inherent capacity of deconstruction as a medium for transcendent visualization.
"In this series of works, I invited intimate friends over to tell me a secret as I took their portrait. However, my intention was not to hear their secret, but to capture the expressions of each one at the moment they revealed their secret. I also asked each one to choose a song for me to listen to in my earphones while I photographed them. And, after the photo session, I asked each one if the secret had a color, and these are the colors the portraits carry. From this photo shooting session, I chose 10 different portraits to cut and overlap." - Lucas Simões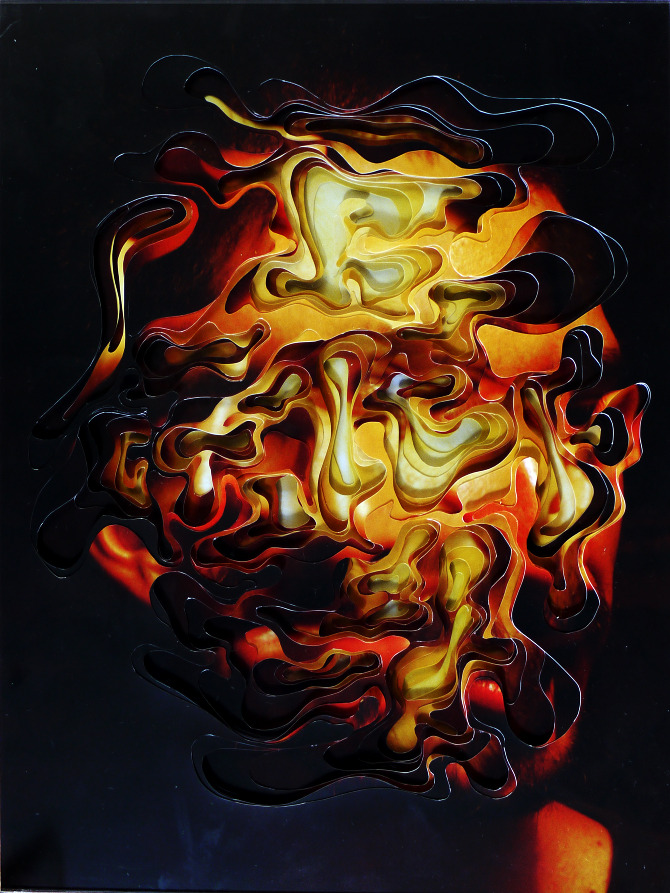 Elements of familiarity -- the curling of a rogue nostril, the glimmer of an irregular tooth, a pupil preserved -- reveal themselves in an otherwise unidentifiable mass of un-face. Adding an intimacy to the dynamics of photographic process, the relationships between Simões and his friends provide yet another palette of interpretations to a multidimensional portraiture. "A nice relationship is when it's full of will to know the other, knowing that you will never discover enough of the other," reflects Simões. "A good relationship keeps its mystery and that is what these portraits represent: mysteries."