As far as I'm concerned, pop music is
the
most exciting frontier for musical innovation. From the mainstream radio-friendly mash-ups of Beyonce, Ke$ha, Lady Gaga, and Justin Bieber down to your favorite neighborhood indie pop band or danceable electronic act, pop music is encompassing of a wide world of sounds, full of ground-breaking firsts. Yet it's safe to say that in the current indie music climate, with its constant breaking and building of narrow-minded subgenres like dream pop, vaporwave, chillwave, and the like, oversaturation often leads to myriad bands which sound more or less identical. Of these, most lack a truly distinguishing spark that makes them stand out. Which is why I get really excited upon the discovery of pop bands who don't easily fit in anywhere, and are able to -- if not reinvent it -- at least give the wheel a furious and energetic spin. My latest and greatest finding lies in
Royal Canoe
, a group of musicians from the uncommon birthing ground of Winnipeg, Canada. While undoubtedly considered "indie pop" by any wide-casting use of the term, Royal Canoe aren't actually easy to define, especially with non-abstract terminologies. With two drummers, two keyboardists, and four vocalists, the six-member band is kind of all over the place stylistically -- yet somehow, it just works.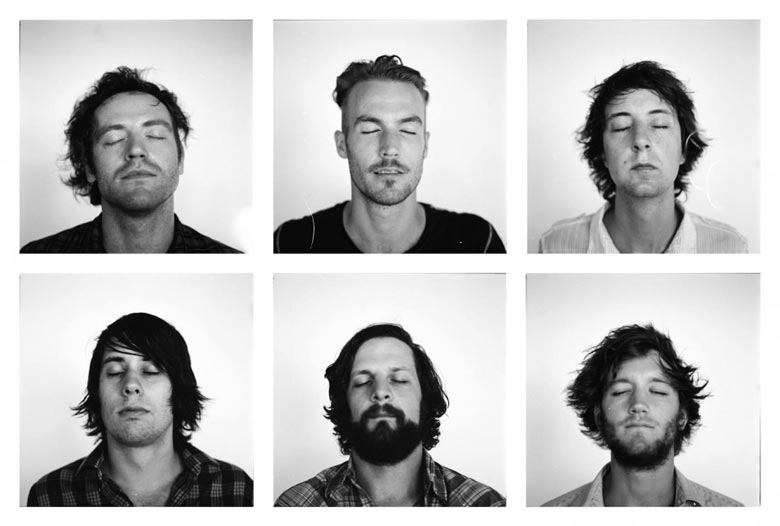 After talking to Royal Canoe's vocalist and guitarist
Matt Peters
, I came to realize that what sets Royal Canoe apart from other indie pop bands is not exactly the genre tags they fall under -- of which there are many -- but their fascinating communal character. For a pop band, they are remarkably tenacious. They make a point of having extremely high standards for creation and performance, in service of being the best musicians they can be. Any self-imposed rules they have set for themselves are balanced by a willingness to share artistic duties, as well as an openness to inspiration and experimentation.
"I think everyone definitely has an appreciation for letting their voice be heard but also trying to reach a greater good..." -- Matt Peters