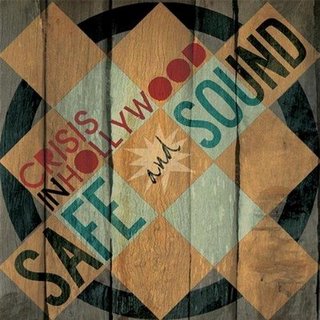 The last time Bayside singer, Anthony Raneri, attached his name to a non-Bayside band, I lambasted them and got all kinds of crap for it. But I stand by my review of that other band, and so with that in mind, it should be understandable that I'd be reluctant to hear Crisis in Hollywood, a band that Raneri has produced.
Safe and Sound starts off with a bombastic title track and it pretty much goes up hill from there.
There are several reasons why I should hate this band: they play a sophomoric brand of pop-punk, their singer, Adrian Snyder, sounds like "Evening Out with Your Girlfriend"-era Patrick Stump and, if anything, they sound suspiciously close to defunct Chicago outfit, Knockout. But those are the exact reasons why I found this band so charming.
These days, pop-punk bands are relegated to being nothing more than DayGlo t-shirts and cheap gimmicks (Fight Fair, Freshman 15, etc.) and the bands that are good own up more to their hardcore roots than their power pop side (Fireworks, A Loss for Words). Crisis in Hollywood is a pop-punk band that isn't cheesy and doesn't try to downplay their sound by having ill-placed breakdowns.
Songs like "The Upside" and "Walking Right into a Nightmare" are two tunes that display the band's variety in songwriting well. As a whole, "Safe and Sound" recaptures the consistency of listening to a mid-'90s Fat Wreck band – there are mostly fast numbers here, with a few mid-tempo spots, such as "Don't Overact," to break up the monotony.
The sign of a great album is that it plays like a mixtape; it's moody, yet aesthetically pleasing. Safe and Sound is one such record, and I think that this band definitely has the chance to outshine some of their lesser peers.
Ω