20 Jul

Capitol Hill Block Party 2010: Pre-Festival Picks
chbp picks for friday, july 23rd
holy fuck
Weirdo, beat-driven noise from Nova Scotia. Unexpected great dance music. -KC
MAIN STAGE @ 9:15PM
shabazz palaces
Intelligent rap featuring Ishmael "Butterfly" Butler of Digable Planets' fame, that breaks the standard rap mold and reinvents it all at the same time. -PW
MAIN STAGE @ 6:00PM
bear in heaven
These Brooklynites create super catchy, emotive music and have great taste in synthesizers. -KC
(VIDEO INTERVIEW)
+ MAIN STAGE @ 5:00PM
head like a kite
The ultimate party band. Expect back up sings, guest MC's, pandas, grim reapers and more from this dynamic duo. -KC
+ NEUMO'S @ 8:45PM
mahjongg
K Records band blending worldly influences into an experimental, tropical noise mash-up. Whoa. -VH
VERA STAGE @ 8:15PM
chris pureka
Coming all the way from Northhampton, MA, Chris Pureka is a singer-songwriter with deliciously androgynous stylings and just plain solid songwriting. -VH
VERA STAGE @ 7:00PM
usf
U.S.F. (aka Universal Studios Florida) are Seattle locals who have transformed their bright starbursts of sound into a multimedia experience. -VH
VERA STAGE @ 5:00PM
helms alee
An absurdly loud noise trio from Seattle put on this Earth solely to destroy eardrums through massive waves of distortion. -PW
CHA CHA STAGE @ 9:45PM
the absolute monarchs
These Seattle-based garage rockers with post-punk leanings sound as though they put on a helluva show. Yet another reason to hit up the Cha. -VH
CHA CHA STAGE @ 7:45PM
---
chbp picks for saturday, july 24th
blonde redhead
Female-led dreamy, shoegazey pop from NYC. This is their only Seattle performance prior to the release of their new album, Penny Sparkle, so you can expect to hear a lot of new material.
+ MAIN STAGE @ 9:00PM
obits
These dudes have been in bands like Drive Like Jehu, Hot Snakes, and Pitchfork, and practiced for a whopping three years before ever playing live. After that many rehearsals, they're guaranteed to put on a killer show. -KC
+ MAIN STAGE @ 3:30PM
Here We Go Magic
Luke Temple leads this quintet through windy psychedlic folk masterpieces. -KC
?
!!!
!!! (aka Chk Chk Chk) fuse electronic, dance, funk, world, and punk into something way too likeable. -PW
MAIN STAGE @ 7:30PM
atmosphere
Atmosphere are the flag-bearers of introspective and self-deprecating rap. Slug is a bi-polar kid on stage — just one whose ups and downs you don't feel bad about witnessing. -PW
MAIN STAGE @ 10:30PM
blitzen trapper
This Portland folk-rock outfit is becoming the new standard bearers for the Americana sound. Plus, with all that plaid and beards, they are Northwest to the core. -PW
(DESTROYER OF THE VOID REVIEW)
+ MAIN STAGE @ 6:00PM
black breath
A Seattle metal outfit with a penchant for ruthlessly evil riffs. Bring a neck brace; your head will need it afterwards. -PW
VERA STAGE @ 6:30PM
zola jesus
The project of opera-trained vocalist Nika Roza Danilova, Zola Jesus craft an all-encompassing moody atmosphere that explores beauty in the mind's dark places. -VH
VERA STAGE @ 10:45PM
grand hallway
With eight members and a diverse slew of lush instrumentation, Grand Hallway are a brilliant live band to see. -VH
(INTERVIEW)
+ VERA STAGE @ 9:30PM
spurm
A playful band influenced by electronica, funk, and jazz in the most unpredictable of ways. -VH
CHA CHA STAGE @ 4:45PM
past lives
"… a torrent of angular carnage and righteous fury."
(TAPESTRY OF WEBS ALBUM REVIEW)
+ NEUMOS @ 9:00PM
feral children
Combining boatloads of energy with drumming fury and an unconventional stage setup, Feral Children have consistently blown away showgoing crowds. -VH
(INTERVIEW)
+ CHA CHA STAGE @ 9:45PM
---
chbp picks for sunday, july 25th
real estate
If Delorean is the soundtrack to a summer beach party in Ibiza, then Real Estate is the soundtrack to a beach party in the Pacific Northwest. For those who enjoy breezy vocals, twangy guitars, and well-crafted pop songs. -KC
MAIN STAGE @ 5:00PM
the maldives
The Maldives are a local country rock outfit that is all the rage right now, and with good reason. They are classic enough to appease the old timers, but pack a rock punch for all the young'uns as well. -PW
+ MAIN STAGE @ 2:45PM
truckasauras
The "Truck" are comprised of four dudes, a bunch of sequencers, drum machines, Game Boys, and a live video editor who mashes up VHS tapes of WWF matches from the '80s. Not to be missed. Enough said. -KC
NEUMOS @ 9:15PM
cynic
Cynic practically wrote the book on fusing death metal and jazz over a decade ago. After a long hiatus, the band that helped defined the term tech-metal is back and shredding across the nation again. -PW
VERA STAGE @ 8:15PM
victor shade
The new alter-ego from local MC, Ra Scion, whose previous group Common Market created some of the most literary sound raps on the planet. Expect the same intensity, and the same intelligence. -PW
VERA STAGE @ 7:00PM
ravenna woods
Three clever bearded lads from Seattle who play some foot-stomping acoustic jams. The guitarwork alone puts this band a notch above the competition. -KC
+ VERA STAGE @ 4:15PM
wet paint dmm
Yelping, drumming, and boatloads of reverb make Wet Paint DMM an explosive band that runs the energetic all-ages show circuit. -VH
CHA CHA STAGE @ 7:45PM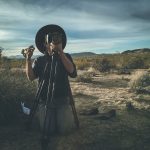 Vivian Hua 華婷婷 is a writer, filmmaker, and organizer. As the Executive Director of Northwest Film Forum in Seattle and Editor-in-Chief of the interdisciplinary arts publication, REDEFINE, much of her work unifies her metaphysical interests with her belief that art can positively transform the self and society. She regularly shares human-centered stories through her storytelling newsletter, RAMBLIN' WITH VEE! In 2020, she will [hopefully] begin production on a comedic Asian-American series entitled Reckless Spirits.
Ask Vivian about MARSHMALLOWS, cuz she's gross... and being tips for being frugal while nomading!