The album cover for
Flying Lotus
' latest EP,
Pattern+Grid World
, features a close-up portrait of one of Portland illustrator
Theo Ellsworth
's intricate, feathery characters. With an album title like
Pattern+Grid World
, Flying Lotus certainly could have taken the artwork into any number of stereotypically "cool" directions, but instead, he chose to go with the soft rippling drawings of Ellsworth. And from this was born mutual inspiration, with artist inspiring musician and musician inspiring artist.
Below, we spoke briefly with Ellsworth behind his process of creation. You can also read our previous interview with Ellsworth here.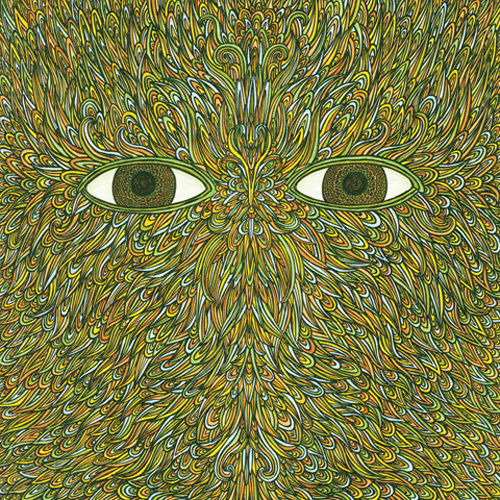 How did you get the gig to design the Flying Lotus album cover?
He read my comic Capacity a while back and wrote me. He originally asked me to do art for an earlier album, but I had too many deadlines to juggle at the time. There was something about him and his work though, and I kept wishing I could've done it. So when he contacted me about his new EP, I jumped at the chance. I hadn't heard his music before he originally contacted me, but he's one of my favorite musicians now.
How did the creative process go? Did you have rules/ideas to work with, or did you go off of your own feelings?
We talked on the phone a couple times, and he sent me links to some of my art that reminded him of what he was picturing. It felt like we were pretty much on the same page right away, and it just flowed from there. Warp Records sent me a copy of the unmastered EP and I played it a lot while I worked. It really gave me the sense that the music was the atmosphere that dictated the imagery.
Are you working on any other music-related art in the near future?
Flying Lotus and I are actually talking about some future collaborations. Nothing I can quite talk about yet, but if it all comes together, I'll be pretty excited.
Read our more in-depth interview with Ellsworth about his work.

Above: A poster designed by Ellsworth that came with the EP.
Ω