02 Jun

Katmari Damacy– Oops, We Mean Julie Lindell!

Does anyone else out there really, really love the game Katamari Damacy? If you haven't played it, the premise is very simple: you have a little ball you roll around, and you gradually pick up larger and larger objects until you have an amazing sphere of ridiculous chaos. You can roll up entire buildings and even whales! Seattle artist Julie Lindell's migratory bundles of sticks and found objects are looking at "how tree branches are responding to environmental pressure" and present the notion that "organic matter has awareness of climactic disturbance and is mounting a protest." It seems to me that Lindell's work doesn't adequately translate between theory and final result, but I like these branch nests anyways– although granted probably not for the reasons the artist would like.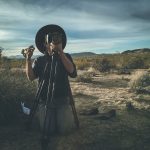 Vivian Hua 華婷婷 is a writer, filmmaker, and organizer. As the Executive Director of Northwest Film Forum in Seattle and Editor-in-Chief of the interdisciplinary arts publication, REDEFINE, much of her work unifies her metaphysical interests with her belief that art can positively transform the self and society. She regularly shares human-centered stories through her storytelling newsletter, RAMBLIN' WITH VEE! In 2020, she will [hopefully] begin production on a comedic Asian-American series entitled Reckless Spirits.
Ask Vivian about MARSHMALLOWS, cuz she's gross... and being tips for being frugal while nomading!