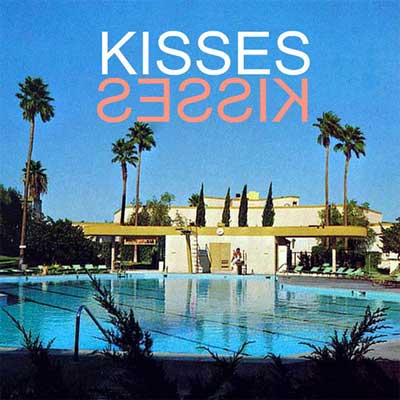 With every one-word, disgustingly pleasant band name, like Houses or Lovers, comes a flood of inferred qualities — those of washed out Polaroid aesthetics, massive synth usage, and healthy doses of male-female vocals. It is almost too convenient, then, that the Los Angeles-based male-female duo Kisses shares all — yes, all — of those same qualities. But unlike the aforementioned bands, the duo's debut album, The Heart Of The Nightlife, has more than just a couple of good jams. It delivers quality disco pop throughout.
Listen to "Bermuda" – DOWNLOAD MP3

Founded on positive vibes, The Heart Of The Nightlife is actually a bit more than just mindless bobble-head dance fodder. According to vocalist and guitarist Jesse Kivel, "Great pop music is about escape," and the duo certainly manages to craft an atmosphere suitable for escape. Their melodies, while simple, take listeners to places where beaches and sunshine are just an arm's length away. The lyrics are deceptively simple as well. When Kivel is singing, "And it's hard to know what you want/ And it's hard to say what you've got," the sorrow of confusion seems poorly captured — until one takes a brief moment of contemplation to realize that the lyrics are actually relateable to the core.
What serves to aid the duo's step away from lame predictability is an obvious dedication to blatant pop music; there are no attempts to shield it beneath mountains of reverb or lo-fi recording tricks. The Heart Of The Nightlife is crystal clear and utilizes simple songwriting structures and arrangements to full benefit. As a debut album, The Heart Of The Nightlife is an impressive release chock full of potential singles. Congratulations to Kisses for going beyond the pre-conceptions which come attached to a band name as puke-worthy as theirs.
Ω