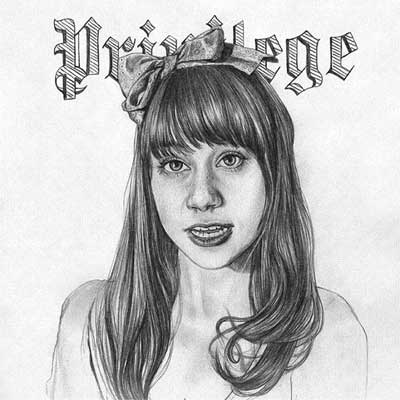 It is only after listening to Parenthetical Girls many times over do you realize why the name of the band is so apt: the song lyrics sound like long stories, ripe for parenthetical sentences. There is an epic nature to Privilege, Pt. 2: The Past, Imperfect, and the orchestral instrumentation that characterizes the band's past albums is still very present. This EP sounds like it could be the soundtrack to a frenetic Tim Burton movie, if Tim Burton would have actually made any good movies in the past 10 years. The quirk factor is present in a big way in all of Parenthetical Girl' music, and there is a need for a listener to suspend reality when listening, because some of the stories just seem too unreal. This music will not fade into the background; it forces you into the world of the very literate, but very complex, mind of Zac Pennington, lead vocalist and core group member of Parenthetical Girls.
What is so beautiful about this EP is how complicated it sounds. The varied instrumentation is a highlight: in "The Common Touch," the emphasis is on the clarinet opener, followed but heavy guitars and big, bombastic drums. Pennington carries us through all of these songs with his strong narrative voice that rises above all of the background noise. "Weaknesses" feels large enough to fill a room with its melancholy, emphasized by the subtle whine of violins in the beginning, and then by a constant delicate hum in the rest of the song. The tone changes drastically with the massive, almost techno beat of "Young Throats," but it's back to the squeal of saxophones and the societal analysis ("We all salivate when the bells ring") on "Present Perfect (An Epithalamium)."
The EP sounds a little inconsistent in terms of sound, and there is an undercurrent of electronica that Pennington seems to be playing with. It is a good sampling of Parenthetical Girls for newcomers, and a nice transition into what might be a new phase.