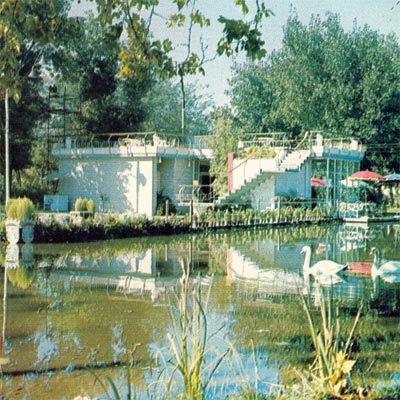 Ambient bedroom pop pioneer Matt Mondanile, aka Ducktails, manages to break into untapped psych-pop territory on his new album, while appeasing those who long for his forgotten demo cassettes. And while Ducktails III: Arcade Dynamics takes an impressive step towards the sound of his other band, Real Estate, the album retains that distinctly Ducktails hypnosis, a sound that only Mondanile has perfected.
I can recall the first time I heard a Ducktails' song. It was "Backyard," from the Underwater Peoples summer compilation, and it was a strange microcosm of noise and brilliance. The drums sounded like someone rapping on a hollowed-out door and the tambourine seemed to be played by a drunk person, but at the same time, there was Mondanile's guitar hissing and whirling through this strange track. It was obvious that Ducktails was onto something, and on his last album, Landscapes he showed signs of breaking through that "chillwave" stigma which has followed his career. Arcade Dynamics sheds the lo-fi ignominy of 2010 and plays as an effortlessly beautiful album.
"Hamilton Road," released prior to the album as a 7″ single and featured prominently at the beginning of Arcade Dynamics, features the new approach that Mondanile took on this album. Instead of the formally dense fog that was once a Ducktails track, Mondanile goes light on the guitar and uses vocal melody to guide "Hamilton Road." And it's not just the use of more vocals on Arcade Dynamics that makes it unique; it is the way in which Ducktails presents a song that reveals a paradigm shift — for the better — on this album.
Listen to "Hamilton Road" – DOWNLOAD MP3
The highlight of Arcade Dynamics is the amazing "Killin' The Vibe." A four minute jam that features backing vocals from Panda Bear and Dent May, along with help from members of Woods. The blissfully perfect pop jam is a summation of everything Ducktails has released, both in spirit and execution. "Killin' The Vibe" makes use of more empty space and ambiance than any Ducktails track to date, and Mondaile's reverbed guitar rhythm perfectly compliments the, "Don't go killin'/ Killin' The Vibe" chorus chant. Both charming and genuine at the same time, the track displays Mondanile's ability to write the perfect pop song.
Despite the upgrade in production and focus on vocals — the two most distinguishing characteristics of Arcade Dynamics — Mondanile still delivers some quality psych-influenced tracks. The ten-minute outro, "Porch Projector," is a slow-drifting ethereal movement set to the sounds of random street chatter and crackling fireworks. Although his signature guitar tone is still the conductor on the longer and more hypnotic tracks like "Porch Projector," Mondanile seems rather content with taking his time and admiring the world, instead of crafting more dense and intensive work.
For a man who's made a living making extremely specific-sounding music and bolstering a catalogue that, up until Arcade Dynamics, could be listened to as one long playlist, Ducktails has taken a leap forward in pop stylings and production value. Arcade Dynamics still might not be for everyone, but singles like "Hamilton Road," "Art Vandelay," and "Killin' The Vibe" should not go unheard.